Victoria Grønsedt was born in Hong Kong, and now, aged 21, she runs her own home improvement store in Kalundborg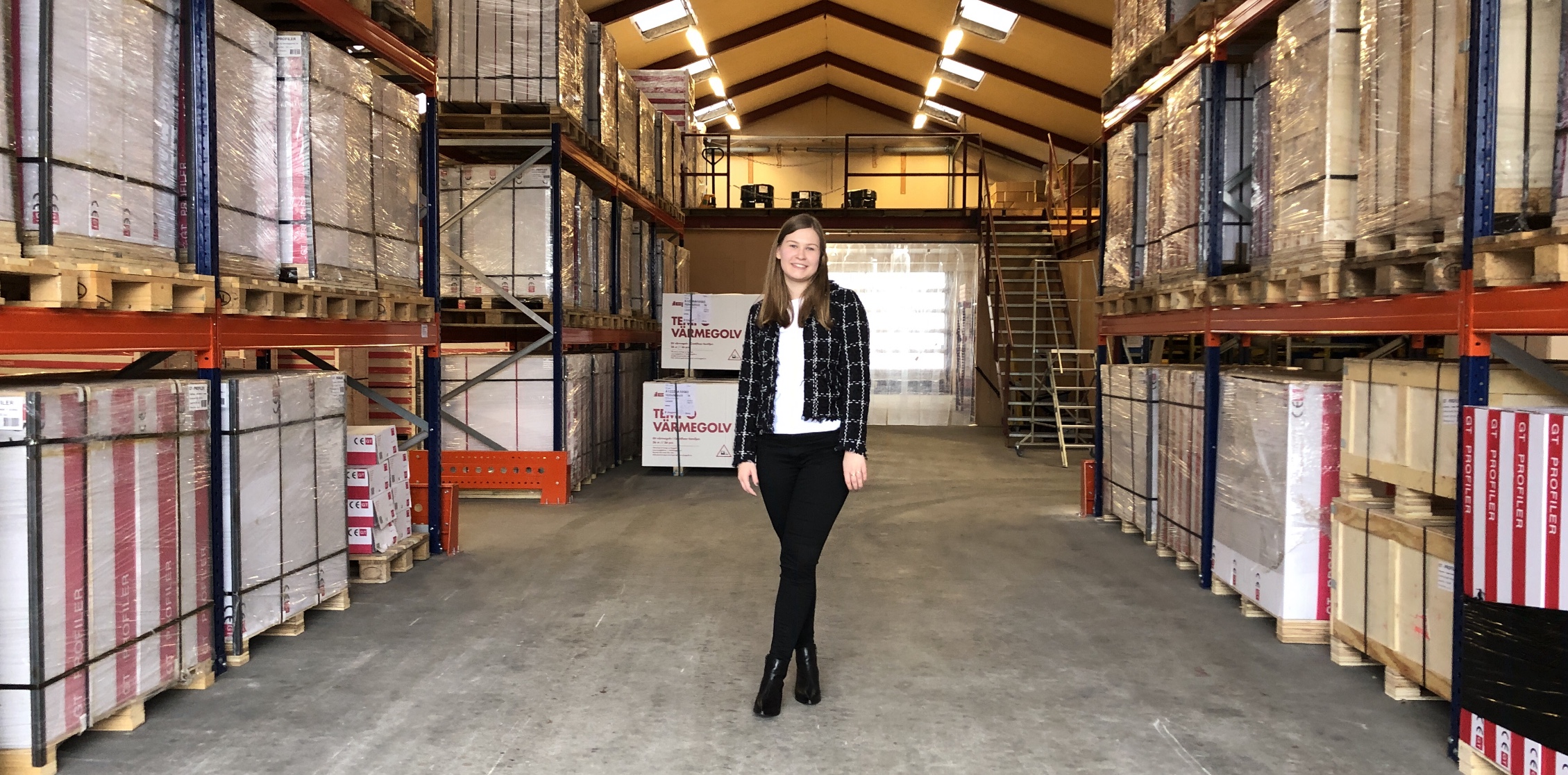 She has lived in East Asia for most of her life and speaks three languages fluently. But back when her international friends were talking about attending Oxford or the London School of Economics, Victoria Grønsedt chose CBS. Soon after, the opportunity to start a business came along, and she seized it.
When Victoria Grønsedt visits friends and suppliers or eats out, she can't help but look at how the ceiling is constructed, inspect the window frames and doors or carefully look for brand stickers on the bathroom installations.
"I guess you could call it an occupational injury. I'm just curious to see if the elements come from the same suppliers as I use, or whether it's a supplier I don't know about and should consider having in my portfolio," says Victoria Grønsedt when CBS WIRE meets her in her office in Kalundborg, about 100 kilometers from Copenhagen.
As the owner of the home improvement store, Fixdithus, Victoria Grønsedt has spent the past three years becoming well acquainted with floor heating pump systems, brass fittings, joint fillers, plywood and floorboards, all of which she sells from her website and warehouse in the industrial area of Kalundborg. In addition to juggling her master's Cand.comm studies at CBS, that is.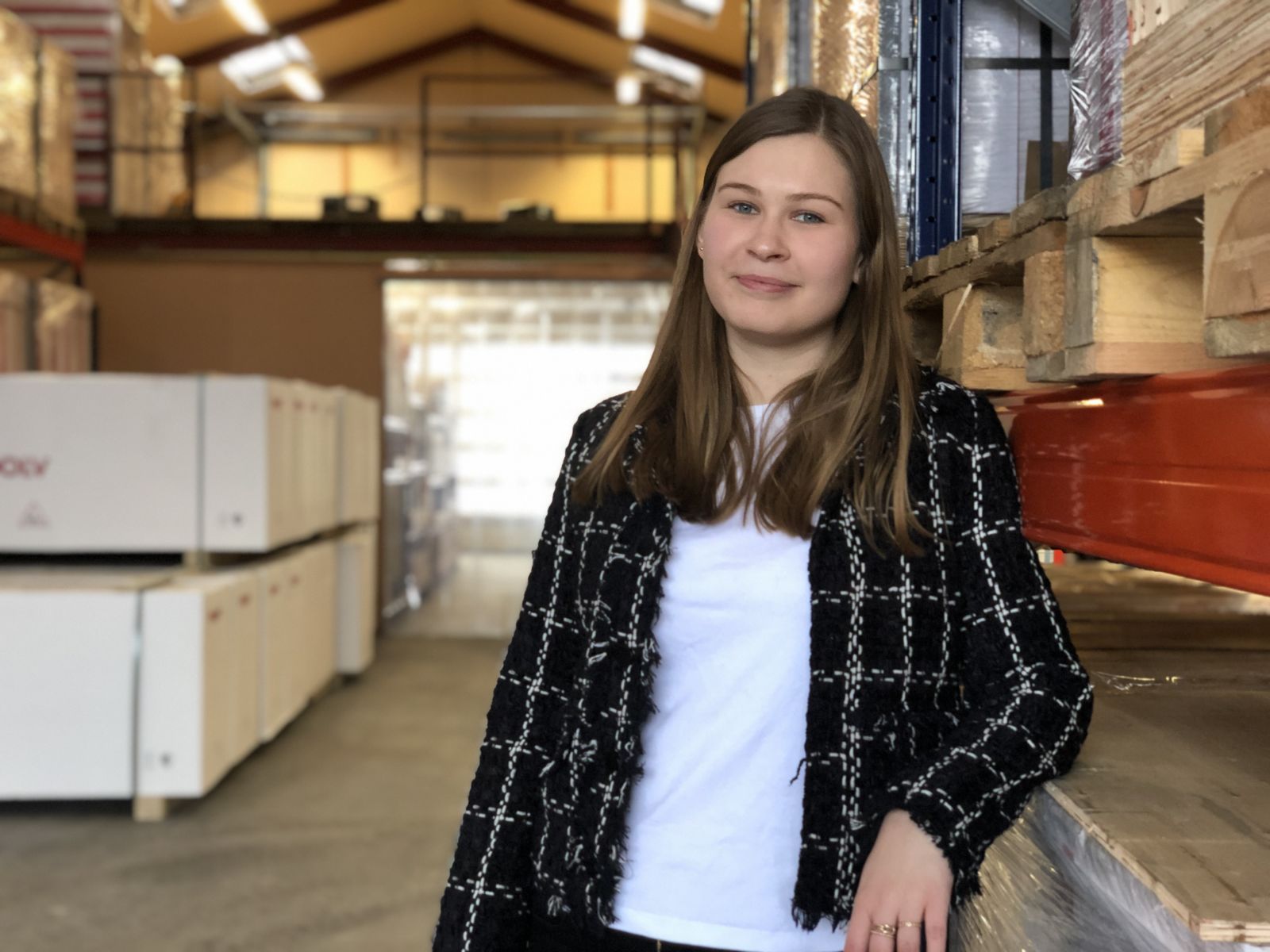 There are several things about Victoria Grønsedt that catch your attention. She runs a business in a field that she is not afraid to call "male dominated and conservative at times", and at the tender age of 21. Furthermore, she has an unusual background story that does not exactly point in the direction of bathroom interiors and insulating materials.
Victoria Grønsedt was born and bred in East Asia, mainly Sanghai, Hong Kong, Malaysia and Singapore. She speaks Danish, English and Mandarin fluently, and for quite a while, she thought she too would study for a degree in law at Oxford or the London School of Economics just like her international friends. But then Victoria Grønsedt began to have other ideas.
"I knew I wanted to get back to Denmark, although I had only spent two years and my holidays here. And I knew I wanted to start my own business at some point, although I didn't think it would be at the age of 19 and only one year after moving to Denmark," she says.
"Dad, I know nothing about it"
In the Fixdithus warehouse, one of Victoria Grønsedt's two employees is unloading pallets of floorboards with a forklift truck. Floor-to-ceiling shelving systems divide up the space and are packed with different sorts of building materials.
In one corner, there are brass fittings, pumps, showerheads and various kinds of screws. These are the remnants of the business run by Victoria Grønsedt's grandfather, which was in the field of plumbing and heating. And this is where Victoria Grønsedt's business began to take shape.
When her grandfather retired, there was numerous items still in stock, but with no one to sell them. Victoria Grønsedt's father, who didn't want to overtake the business while living in Asia gave Victoria Grønsedt the idea to purchase the remaining stock left by her grandfather.
"He told me that I was good at branding and was creative and he asked if I wanted to give it a shot and sell the rest of the materials. I said to him 'but dad, I know nothing about it'. But I did it anyway," she says and continues:
"When people called and asked me questions about stuff such as floor heating, I didn't know what to answer them at first, so I would call my dad or grandfather and ask for advice. I have also looked up a lot of things on Google and follow various do-it-yourself groups on the internet."
Slowly and steadily, Victoria Grønsedt sold her grandfather's remaining stock and, with the income that generated, started to develop the shop further and stock a broader selection of DIY products.
"I managed everything. The logistics, purchases, branding, communication, sales, finance and so on from my apartment in Copenhagen, all while studying at CBS too. At times, it has been extremely stressful, but I have never come close to quitting, especially not since I hired two employees. They have made it easier for me to keep studying on the side," she says and explains that her ambition is to make Fixdithus the largest portal for building materials.
When asked if she has a special interest in building materials, she says:
"I don't mind if I sell elements for floor heating or luxury shoes, I just want to run a business. What I like is making a business work and grow. That's the interesting part. Yes, it can be stressful if something isn't working, but I love that moment where you are the one in charge and have to solve the problem," she says.
Just do it
Victoria Grønsedt knows that she stands out in the field. Both because of her age and her gender. During her three years in the business, she has met only one female supplier, and although there are some "stuck up and conservative" men in the field, she has noticed that her age and gender can be an advantage.
"When I talk to suppliers and customers, they remember me because I'm young and because I have my own do-it-yourself center, and a lot of the people I talk to think what I'm doing is cool. Sometimes, when I talk to suppliers they ask to talk to the CEO, but then I have to tell them that it's me," she says.
I've come to realize that when you act seriously, people take you seriously

Victoria Grønsedt
When Victoria Grønsedt approaches a possible supplier, she always makes sure that she knows what she's talking about. She researchers their products and compares the prices from other suppliers in order to get the best bargain. And being thorough and serious about what you do pays off, she says.
"I've come to realize that when you act seriously, people take you seriously. And I want to say to any other women who are thinking about starting a business in a male-dominated field, just do it. Don't let your gender be an impediment."
Victoria Grønsedt explains that it was only a matter of time before she would have started her own business anyway. Her father has been running his own firm for 12 years, and always said that he hated having a boss. He wanted to decide for himself.
"I guess I have been brought up to be an entrepreneur, and I very much look up to my dad's firm," she says.
Although Victoria Grønsedt's mother, father and younger brother still live in Shanghai, she is not planning on returning to her life in Asia. She wants to finish her degree at CBS and continue running Fixdithus.
"At times, it's hard to be far away from my family, but my sister recently moved to Copenhagen to study as well, so I'm not entirely on my own," she says and continues:
"And in terms of the business, I have no exit strategy as of yet. I'm not even close to being done with Fixdithus."