Research by "total rookies" that ties criminal records to bankruptcies makes the grade at top US journal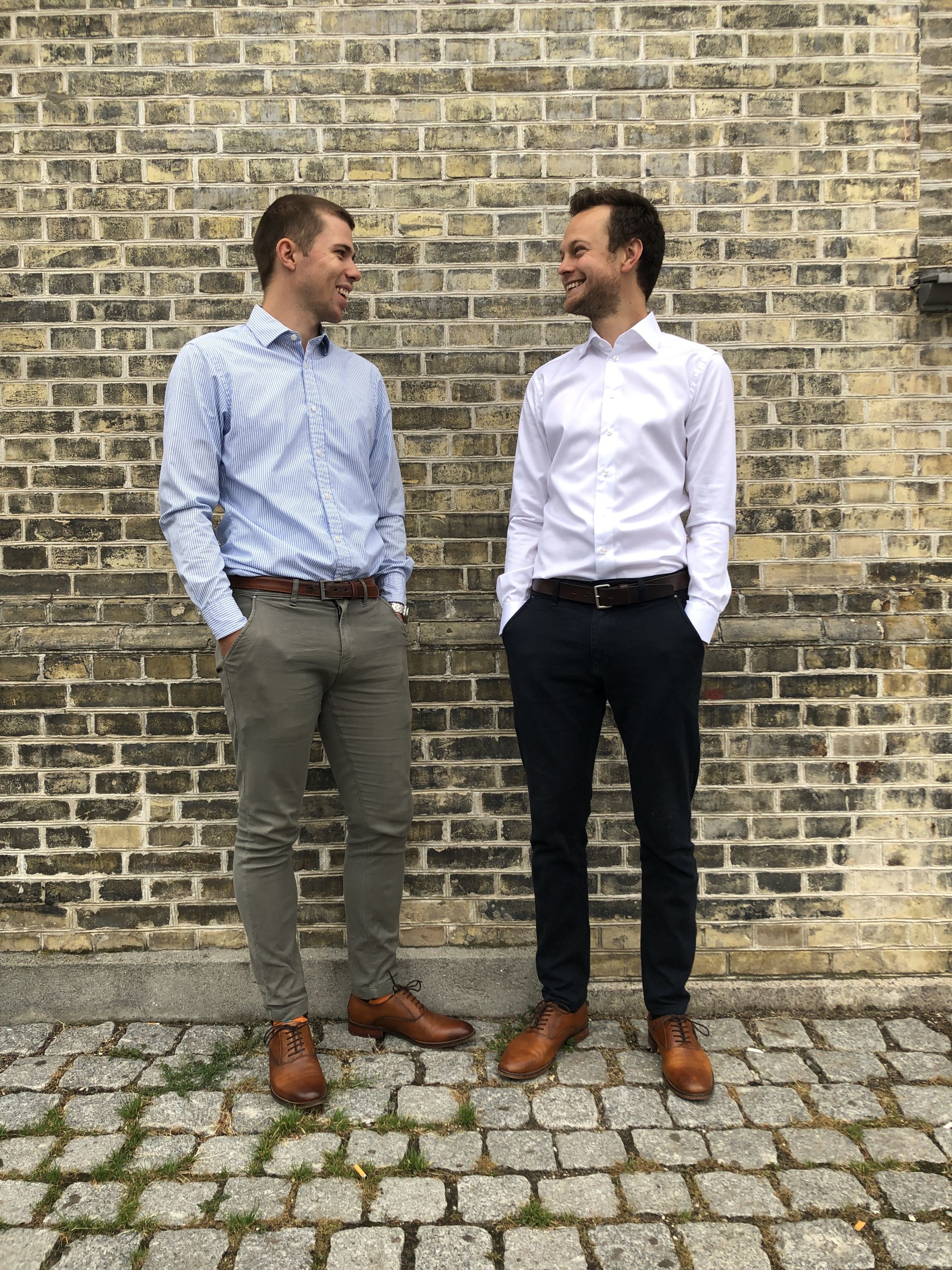 Only very few established researchers in Europe succeed in getting research published in the highly acclaimed journal Review of Accounting Studies, according to the Head of Department of Accounting at CBS. Now, two junior researchers have achieved what is "almost impossible".
"I remember it was the middle of the night when I received the email that the paper had been accepted for the conference. I was so excited and tried to call Morten several times to share the news," says Kasper Regenburg, Industrial PhD Fellow at the Department of Accounting, on Teams.
Morten Seitz, Postdoc at the same department, laughs and continues:
"I had just become a dad the week before, and Maja, my daughter, woke up, and I saw that Kasper had tried to call me. I called him back, and he told me the great news. I was so happy about it I had to drink a beer to celebrate before heading back to bed. It was crazy," he says.
Why is Morten Seitz using the word "crazy" about having a paper accepted for a conference – something all researchers experience at least once in their career? Because the conference in question is run by one of the best scientific journals in the field of accounting, Review of Accounting Studies, explains Carsten Rohde, Head of the Department of Accounting.
"A couple of years ago, we conducted a survey that revealed very few European researchers succeed in getting papers accepted for the conference and published in the journal. And without an American co-author, it would be even harder. So what Kasper and Morten have done is nothing short of fantastic," he says.
So what exactly does their paper show?
Based on data from Statistics Denmark, Morten Seitz and Kasper Regenburg have shown that businesses are more likely to go bankrupt when their CEOs have criminal records and when more of their employees have criminal records.
"Not because the CEO or the employees commit crimes while they are hired, but with their behavior and personal traits, they are more likely to make decisions that are not in line with the survival of the business," explains Morten Seitz.
Kasper Regenburg adds:
"Various types of research show that people with criminal records tend to take risky decisions. In a business context, these could be decisions that are short-sighted, and maybe not good for the business in the long run."
According to the two researchers, such decisions can be connected to steep growth, large investments and creating more debt, which is also what they find in their data.
"And all these factors can increase the risk of bankruptcy," says Morten Seitz.
A criminal peer effect
The research by Kasper Regenburg and Morten Seitz also shows that the risk of bankruptcy increases along with the number of employees with criminal records that work for a business. But the two researchers cannot set a specific 'tipping point' for how many employees with criminal backgrounds a business can handle before it is likely to go bankrupt.
"We believe there is a peer effect between employees, their co-workers, and their CEO. There's social learning. You probably know yourself that if you hang out with a certain group of friends, you take on some of their behavioral patterns. So if you work with many people with criminal backgrounds, statistics show that you are more likely to adopt criminal traits and commit crimes yourself," explains Kasper Regenburg.
Sometimes papers are rejected after three rounds back and forth with peer-reviewers and you have to find another journal. We had only presented our paper for our colleagues at CBS before submitting it

Kasper Regenburg
When asked who can use the research, the two researchers are hesitant. Because although they say the results are "robust", it is a sensitive area.
"Should employers and banks ask for criminal records? And should this information be publicly available? That is a sensitive area. In Denmark, crimes are deleted from the record after 3 to 5 years as a means of encouraging people back onto the labor market, and so their criminal record does not haunt them forever. Therefore, it would be rather sensitive if you had to show your criminal record every time you applied for a job or wanted to take a loan," says Morten Seitz and continues:
"In the US, they are much more liberal. Here, every violation of the law is recorded forever by default. Criminal records are also readily available through private companies conducting background checks. For example, all US brokers have their life-time criminal records publicly disclosed at brokercheck.com."
Kasper Regenburg adds:
"Anyone who is interested in the results is, of course, free to use them, but we will not make specific recommendations for banks or the like based on our research. This is one paper, and we would need more research to suggest such recommendations."
A matter of months – not years
Kasper Regenburg and Morten Seitz describe themselves as "total rookies" in academia, but nonetheless, when the research was taking shape and the two researchers had to find somewhere to publish it, the prestigious journal was the best match.
"The Review of Accounting Studies has previously published papers on bankruptcies and personal traits, so naturally, we wanted to submit somewhere that already publishes pieces that match ours," says Kasper Regenburg.
And the process has been swift. They started working on the paper in late 2019, submitted the paper in May 2020, and in August that year, received the email that the paper had been accepted for the conference. It got its final acceptance in May 2021, which means that it will also be printed in the journal.
"If you look at other papers, they can be years in the process. Maybe six years, and in the meantime, you present various versions at conferences, get input and feedback, adjust the piece, submit it and then it will go back and forth between you and the peer reviewers before it's accepted. If it ever is. Sometimes papers are rejected after three rounds back and forth with peer-reviewers and you have to find another journal. We had only presented our paper for our colleagues at CBS before submitting it," explains Kasper Regenburg.
And for him, being able to publish a scientific paper during his PhD studies has already meant a great deal.
"In September, I will be visiting the University of Chicago, which is one of the best universities within accounting and finance. And I'm sure that getting an exchange position there would not have been as easy without this paper. It definitely boosts my job options, as it's very rare to publish something before you finish your PhD," he says.
Morten Seitz, who is a postdoc, and therefore a little further in his academic career than Kasper Regenburg, agrees that publishing a paper of this kind has its advantages.
"When you are in academia, all sorts of uncertainties can be related to your job position, so it's really, really good to have had something published. As soon as you have done so, you have proof hat your research is relevant and important. Most often, when conducting research, you work on a project for years not knowing whether it will ever get published, so it's a great personal achievement," he says.