New CBS president wants to bring the technical and natural sciences to CBS
Building bridges sums up new president, Nikolaj Malchow-Møller's agenda for CBS. He wants to bring the natural and technical sciences, the business community, and society around us closer to CBS. He wants to make studying into a lifelong experience, and he thinks that the way to curb stress is to make space for your personal life. And he loves oatmeal, old western movies and Liverpool FC.
From this day, March 1, 2019, the President of CBS is no longer Per Holten-Andersen, but Nikolaj Malchow-Møller.
He comes from the University of Southern Denmark where he served as Dean, and he's ready to take up "the challenge" as President of CBS, as he described it when CBS WIRE called him before is inauguration.
But what can CBS students and staff expect of the 45-year-old professor of economics? What are his ambitions? And can he cook?
We asked him 18 questions! Let's get started.
Why did you apply for the position of President of CBS?
Firstly, because it's a big challenge. And I like challenges. But mostly because I think it's a key function in society. Universities constitute one of the most important and long-term investments that we make as a society. And if I can somehow contribute to making that a better or perhaps an even more successful investment, then that's extremely motivating for me.
Furthermore, CBS is special being THE business school in Denmark with the highest share of students recruited in the private sector compared to the other universities. That appeals to me. And then I know from my time as a researcher at CBS that CBS is a great institution that I certainly would like to be part of again.
What do you think CBS has to offer you? 
A strong, well-respected and international institution with very talented faculty, staff and students. An impressive track record and I think there's still a lot of potential.
And I hope that CBS becomes a frontrunner in developing the business schools of the future.
What can you offer CBS?
Dedication and enthusiasm. But also decency and integrity, and lots of hard work and energy.
And then strategic work is a strong focus of mine, and something I prioritize spending time on, as the President of CBS. And with the changes happening in the labor market and the education sector worldwide, and the increasing political demands and expectations from society and students, we have to continue to work strategically to maintain and even improve the unique position that CBS has today.
What can the students and staff (VIP/TAP) expect of you as a person, but also as the President of CBS?
They can expect that I'm accessible, that I listen, and most importantly that I care.
What are you going to do in your first six months as President of CBS?
Being recruited from SDU and not CBS, it's extremely important for me to get to know the organization. The people: staff, faculty and students. But also, the issues that concern them. Of course, I have some items on my agenda that I believe we as a school should work with, but it's equally, perhaps even more important, that I know what the organization thinks we should be focusing on. And hopefully there's not too much of a difference between the two.
I will also prioritize meeting with our external stakeholders to find out what they expect from us, as well as trying to get them involved in our joint development.
So after the summer holidays, four – five months from now, the themes that form the foundation of CBS' new strategy should be more concrete. The current strategy expires in 2020, and part of my job is to make sure that we get a new one by then.
What do you have on your agenda?
The first thing is STEM (Science, Technology, Engineering and Mathematics) at CBS. If you look at the technical and natural sciences, they seem to be on everybody's mind these days, and probably rightly so. But at the risk of business and social science becoming somewhat neglected. But the ideas from the technical and natural sciences should also be turned into feasible solutions that can work in practice and be commercialized. And that opens up a lot of perspectives for us.
When I was Dean, I met several brilliant technical and natural sciences students who had unique ideas for new products, but perhaps less knowledge about how to turn them into sustainable business ideas. And I think that opens up a lot of perspectives for our students.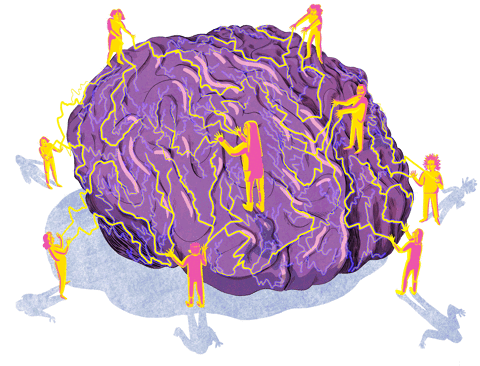 Another subject that I care deeply about is what I call the business programs of the future. You spend five years in the educational sector and then the next 40 years at work. And if we look into the future, I expect education and work to become a lot more integrated throughout a student's life. So when they're enrolled at CBS, it's not for five years, but hopefully for a lifetime. And they will expect our programs to be a lot more flexible and customized, so they can be integrated into their career. And we need to figure out what that will require from us – from our future programs.
A third point is that I would like to see companies even more involved in the educational programs and research at CBS. And that's, of course, a delicate balance, since it must never compromise our independence and our very high quality. And furthermore, I think it's extremely important that it's not seen as a burden by faculty and students, but something they would actually like to engage with.
Finally, I think it's important that we act as one institution. That we don't fall prey to suboptimization, or what I call 'siloization' – that we turn into silos. That's something I really can't stand, as it can be extremely harmful to an organization. With suboptimization, people tend to forget that they're part of a bigger organization and focus on their own interests. And that's something we need to avoid.
To sum up, you could say that I'm committed to bridge building. Building bridges to the technical and natural sciences, to the future, to the business community and society around us, as well as internally at CBS.
The media often write about stress among students and researchers. How will you as President deal with that issue? 
That's a good question. To be honest, I'm not sure I have a very good answer. Stress is, as I see it, a potpourri of jobs with lots of freedom and lots of expectations. Internal and external expectations. And that fits the description of both our researchers and students. As a researcher and student, you can always do more. But we have to accept that we shouldn't always do more.
So what can I do?
I can communicate that I expect people to prioritize. Everyone cannot and should not do everything. And I can try to be a role model and walk the talk. Show that we all need to prioritize.
For example, I've decided to rent an apartment at Frederiksberg. I'll live there from Monday to Friday, typically, and then when I go back to Odense on the weekends, I'll focus on my family.
That will be my prioritization.
So you won't check your emails and stuff like that at weekends?
I'll certainly try not to. I think my family expects that from me. I'll work a lot during weekdays, and will focus on my family at the weekend. That's my ambition for my forthcoming role.
CBS is worst in class when it comes to gender balance among professors. Women only represent 20 percent of the professors at CBS. What will you do about that?
That's another tough question, and it is indeed a big problem. Currently, you could say that you only use part of the talent pool. It's not only an important moral obligation to ensure equal opportunities, it's a foolish business strategy not to do so. I've been thinking about this problem, and I have to admit that I don't think there's an easy solution or just one solution to the problem.
I think one element has to do with how we've organized the labor market. The most demanding years, career-wise, are when you're in temporary positions and need to qualify for promotion. And they often collide with the period where families decide to have kids. And that particularly affects women.
So we need to find ways to help the women. Either by sending fathers on paternity leave, or providing support structures for women when they have children. That could be research assistance and nannies, or we could even invent alternative career paths that deal with this crossover between family life and temporary career positions. And that's not easy to change. But we have to do it.
I think a lot of it also has to do with what's sometimes called unconscious bias. The way we create positions and the way we frame and phrase job openings somehow indirectly benefit men. Changing that requires a very deliberate effort and is something we should increasingly focus on in the future.
But it will not be solved tomorrow. Which is why need to focus on it today.
Do you support quotas for men? 
Not really. However, in one of my old departments they actually introduced the rule that a position could only be filled if you had qualified applicants from both sexes. And that's sort of a quota. It's a very strict requirement, and I haven't seen it elsewhere. It's sort of a commitment device they introduced to force themselves to search more explicitly for female candidates. A way to break old habits. And I'm quite curious and will follow it the following years to see if it's something we should adopt here at CBS.
An issue that concerns the Senior Management is CBS' poor basic research fund. How will you deal with that?
It concerns me too, and I will continue the successful efforts that have been made to raise the basic research funding.
But it is also important for me to say that the basic research funding is not the only direction we should look in.
CBS is extremely dependent on the STÅ-income, and that makes us vulnerable to changes of the taxameter and student behavior. I believe we can diversify CBS' income more. For example, by increasing the amount of external funding, including the so-called revenue-based funding. This is something I think we should consider a lot more in the future.
What do you want students and staff to say about you in three years' time?
Hopefully, they'll say that I listen. That I'm a decent person. That I work hard and try to do my best to bring CBS safely into the future.
What do you want to achieve in three years?
I have no concrete key performance indicators or specific goals. I think that would be foolish, as I don't yet know the organization and what's on the mind of faculty and students. But at some point in 2020, we should have a new strategy in place, and by 2022, we should be well on the way to implementing it.