Sustainable Startuppers: Eat Grim beats food waste with wonky fruit and vegetables
CBS alumni and founders of Eat Grim, Petra Kauka and Carolin Schiemer, found each other through a mutual love of techno music and a great passion for food. Since then, they have saved 700 tons of unattractive crops from going to waste, but their anger still keeps them fired up.
A crooked carrot, a peculiar pepper or a discolored tomato. Since 2018, Eat Grim's mission has been to battle food waste by making consumers eat ugly and discarded fruit and vegetables.
On a subscription basis, they sell veggie boxes packed with various thrown-out organic crops in all sorts of quirky shapes, sizes and colors to consumers and food businesses that want to include sustainable crops in their production.
"Food waste is a major climate sinner and it's terrifying how many veggies are thrown away every week merely because they do not meet the standards we've become used to as consumers," says Carolin Schiemer, one of the two founders and CBS alumni, and goes on:
"It's really frustrating. Food is such a tangible thing – it's an essential and integral part of our everyday lives. Therefore, it's completely insane that food waste still exists. But that's what we're aiming at righting with Eat Grim."
And who knows, by the end of this article, dear reader, perhaps you will be frustrated enough to also begin eating with your mouth instead of your eyes.
Anger, techno and edible insects
Fifty million tons. According to the forces behind Eat Grim, Petra Kauka and Carolin Schiemer, that's the amount of ugly but edible crops that get rejected every year in Europe before reaching grocery store shelves. A quantity that would feed no less than 190 million households all year round.
And that, added to the strain of food waste on the climate, prompted the two founders to engage in the fight against food waste.
"Six percent of total CO2 emissions stem from food waste, and we've seen the problem with our own eyes. We've visited farms where literally mountains of wasted veggies had been set aside to be fed to the horses or thrown out purely because of their appearance," says Carolin Schiemer and continues:
"As soon as you start researching the problem of food waste and get to know the facts and figures, you become aware of how horrifically huge and immensely ridiculous it is. Then, you get angry that no one is doing anything about it. And that anger became the driving force behind creating a platform to connect supply of ugly vegetables with demand."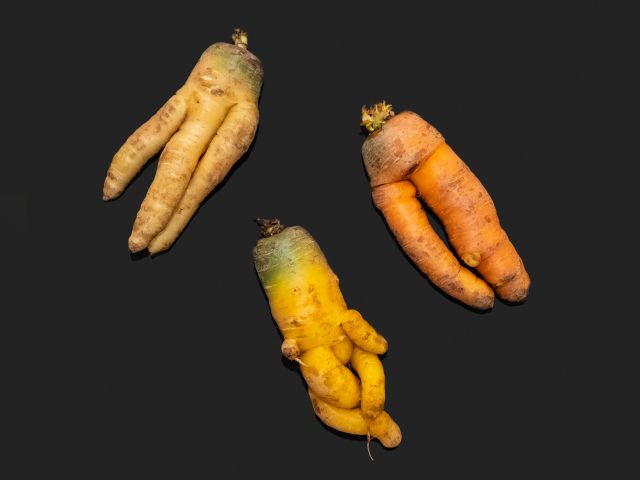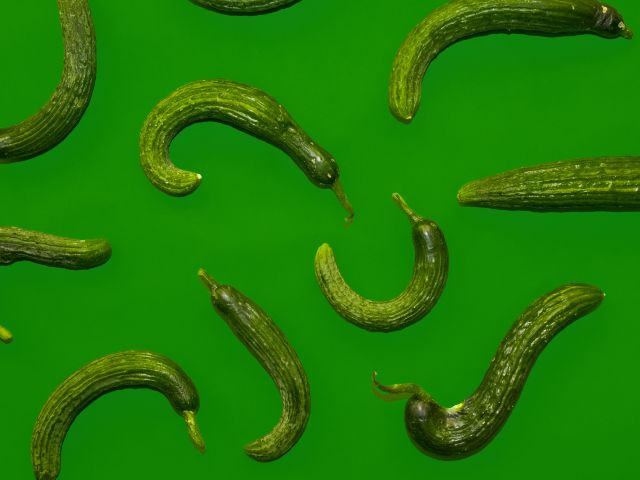 However, before they armed themselves for the fight against food waste, Petra Kauka and Carolin Schiemer took different detours along the way.
"We met at CBS, where we studied Organizational Innovation and Entrepreneurship and we immediately bonded because we were both a bit different from the typical CBS student: We listened to techno music and shared the same interests, such as a passion for food," Carolin Schiemer says and goes on:
"Over the course of our degrees, we studied global food systems from all different angles. For our master's thesis we wrote about edible insects from a sustainability and marketing perspective, and after graduating, we turned the thesis into a chapter that was released in the book Marketing Insects: Superfood or Solution-Food.
However, during their studies, she explains, they also touched on the subject of food waste in connection with one of many projects regarding business-related solutions to societal challenges.
"We made a project where we scrutinized all the facts and parts of the process from the soil on the farm to the consumer's plate. That was when it became clear to us how much food is thrown out every day. So, when we graduated from CBS, we felt very passionate about committing ourselves and devoting our careers to battling food waste," Carolin Schiemer says.
Lost connection
When customers subscribe to Eat Grim, they get to choose between two types of veggie boxes: a Family box filled with a selection of fruit and vegetables that can be used both for cooking and snacks, and a Mixy box containing, well, a mix of both new, sometimes unfamiliar and well-known vegetables. Both boxes come in three different sizes: Big & Beastly, Small & Ugly and Mini & Mean.
The boxes are delivered to the subscriber's doorstep, or to a nearby pick up for a reduced delivery fee, on a regular basis, and besides the fruit and vegetables, the boxes contain information about the different crops as well as where they stem from – an initiative that is not coincidental.
It costs a lot of time and money to become a completely sustainable startup. Therefore, you have to think about areas where you can get the most out of the resources you have

Carolin Schiemer
"As consumers, we have lost our connection to the food that we eat and the people who grow it. At the same time, we've lost track of the seasons. All kinds of vegetables are available all year round in the supermarkets. So, by providing information about where the food stems from and which vegetables our subscribers can find in their boxes, we hope to educate them about the seasonality and put a face on the farmers," Carolin Schiemer says.
She explains that one of the main reasons why consumers have lost this connection is due to the many parts of the process – from the crops in the fields to the cooked meal on the consumer's plate – it can get complex quite fast.
"The journey from the ground to the end consumer is usually very long, but since we work directly with the farms, we cut out a lot of steps in the supply chain. We therefore save a great deal of transport emissions, and the money goes directly to the farmers, which helps ensure a fairer food system. And finally, we save the food from being overproduced and wasted," she says.
Grimdex
Speaking of overproduction, Carolin Schiemer explains that Eat Grim regularly measures the total amount of crops it has saved from being wasted since 2018, and the startup has so far saved no less than about 700 tons of ugly, but edible, veggies.
Furthermore, the two founders have developed a so-called 'Grimdex' – a tool that calculates how much water, CO2 emissions, soil, packaging, and the like, is saved through Eat Grim's operations.
"Among other things, we can use the Grimdex to calculate just how much water, soil and CO2 emissions each box size saves. Thus, the Big & Beastly saves 1,177 liters of water, 2.7 kilograms of CO2 and 7.8 square meters of soil, while the equivalent numbers for the Mini & Mean box are 513 liters, 1.2 kilograms of CO2 and 3.4 square meters," says Carolin Schiemer and adds:
"And we print those numbers on the boxes as well to express transparency and communicate the positive impact a consumer is having on the planet by subscribing to Eat Grim boxes. At the same time, it's an attempt to empower and inspire consumers to make more sustainable choices."
However, there is an upper limit to everything. Even though Eat Grim does save a lot of water, emissions and soil that can be brought back to nature, certain parts of its value chain unavoidably emit CO2. And one of those parts is the transport.
"We use sustainable transport companies whenever we possibly can. For example we use bikes for last mile delivery in inner city Copenhagen – and where the bikes don't reach, electrical vans."
"However, we do receive vegetables from some parts of Southern Europe where that still isn't possible. But right now, we're looking into how we can improve that," Carolin Schiemer says and goes on:
"It costs a lot of time and money to become a completely sustainable startup. Therefore, you have to think about areas where you can get the most out of the resources you have. So, in many ways, you have to see it as a process where you gradually become more and more sustainable along the way."