She explores emotional connections through her art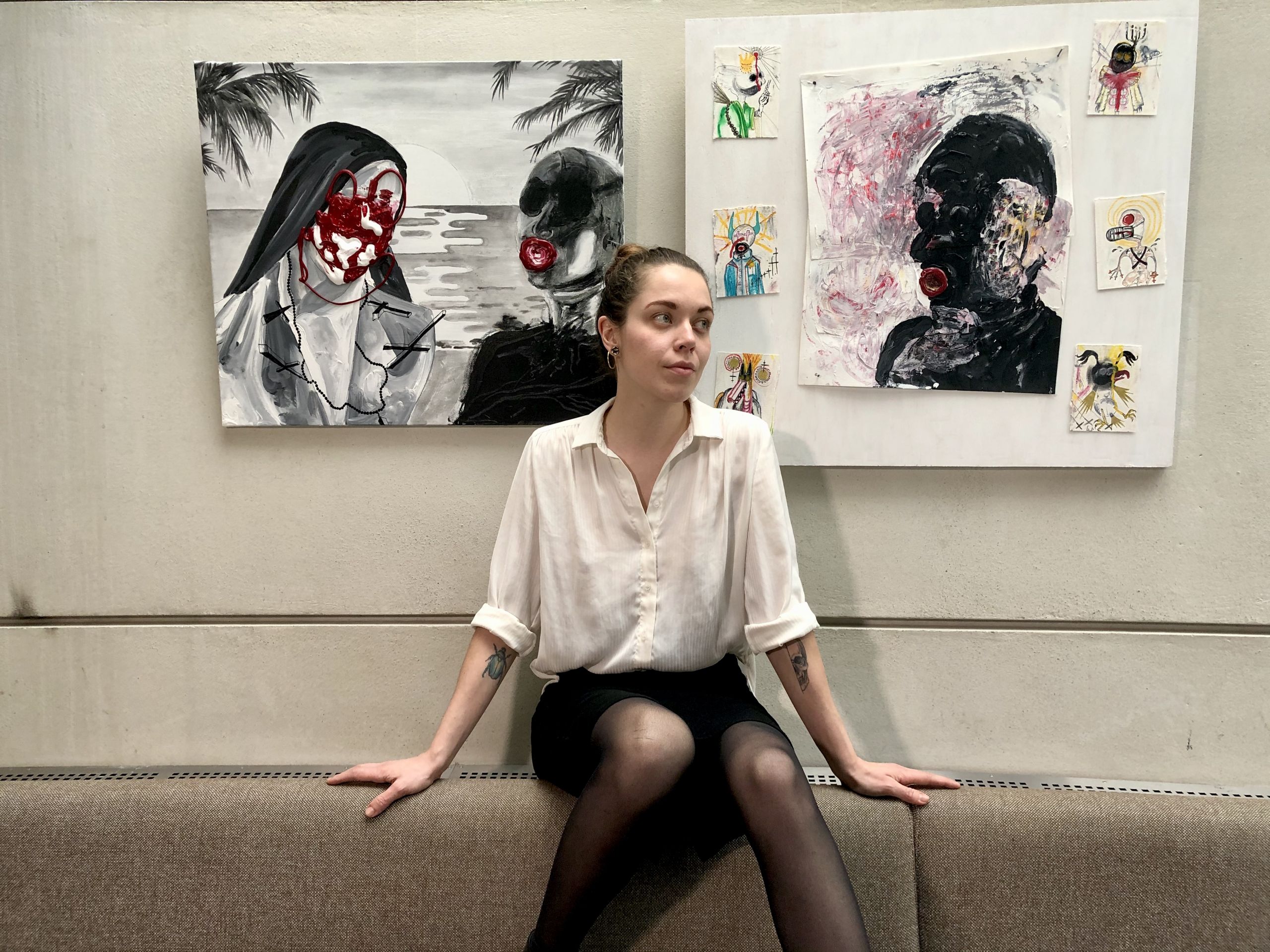 After setting aside her creative talent in her early teenage years, a tragic event brought Helena Sokol, a student at CBS, back to art. She is now using creative expression both as a cheaper form of therapy and as a way to bridge perspectives. 20 artistic pieces portraying relatable emotions and moments of dark rawness are on display at Solbjerg Plads until April.
From passionately drawing Winnie The Pooh to heavy low-brow pieces aimed at sparking thought processes and provoking emotions. Helena Sokol, a master's student at CBS, takes us on a journey with the aim of not only sharing her truth but also encouraging us to reflect on our own.
"My interest and love for art has been with me for as long as I can remember, but I was afraid that after my long break, I might have lost my artistic abilities," she says.
But for Helena Sokol it was like riding a bike again, with a faithful push and pat on the back she was on track once again. Now she has been invited by the CBS art association to exhibit some of her pieces at Solbjerg Plads between 28 February and 2 April.
"A traumatic event urged me back to creating. In 2016, one of my friends died in the ghost ship fire in San Francisco. He had always encouraged my artistic ambitions and told me to embrace my talent," she says.
She created one postcard-sized piece a day as a way of processing, grieving and honoring her loved one, whose life ended so abruptly. This marked the start of Helena Sokol´s artistic career.
One postcard a day became over 80 thought-provoking pieces.
25 kilos of meat from a slaughterhouse floor
"Although each piece is different, they share a theme of sparking personal feelings and reflection, and are intended to provoke," Helena Sokol explains.
She describes how meat and religious costumes continuously appear in her art, influenced by separate events but both related to when she moved to America at the age of 15.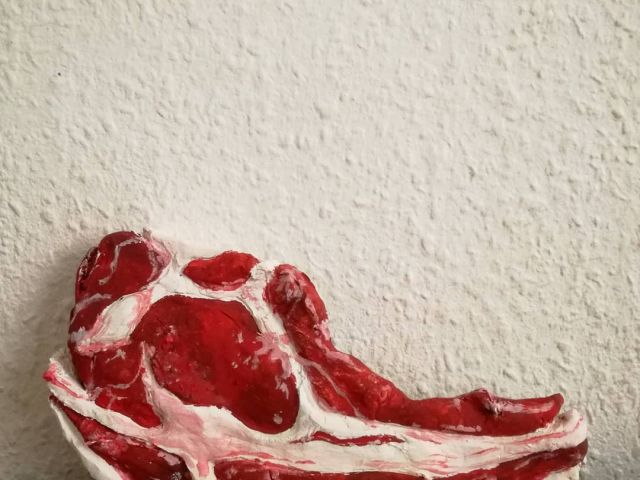 "While staying with a religious family in Illinois, I became fascinated with religious costumes and nuns in particular, and I started reflecting on the desires nuns must have even though they are not allowed to admit it," Helena Sokol says.
"I find the inner hidden desires of humans in contrast to the displayed and accepted ones deeply interesting."
"I had also been vegetarian until the age of 15. My father firmly believed that eating meat was directly linked to bad karma, but I started when I arrived in America, as meat was served at the dinner table and I was reluctant to ask my host family to make me special dishes."
The introduction of animal products to her diet led to an art project that involved picking up 25 kilos of left-over meat from the floor of a slaughterhouse and taking it on a 30-minute bus ride home.
"Everyone knows that uncooked leftover meat smells hideous, so I was very embarrassed standing on that bus ride home," says Helena Sokol with a smile that reflects the absurdity of the situation.
The slaughterhouse takeaway led to a series of artistic pieces and photographs targeting the distinction between good and bad, pleasant and unpleasant, attractive and unattractive and many other themes.
"I took photos in full nudity together with the meat and I think it illustrates the fascinating contrast between something viewed as desirable and something that, in its raw form, is deemed as highly undesirable."
She explains how the photos were also a way of showcasing that embracing the darkness and demons within helps explore the human experience – a perspective inspired by studying her own societally questionable desires through therapy, art and, in essence, self-reflection. For Helena Sokol, art and therapy work in similar ways.
Therapy became a coping mechanism in Helena Sokol´s life when she moved to Copenhagen and was stifled by the demands she felt concerning what and who she should be.
"I understood that I needed help with the anxiety when it resulted in panic attacks that left me curled up on the floor," she says. "I think that everyone should, and I wish everyone could go to therapy. It really is fantastic! But making art is significantly cheaper and has a similarly effect for me."
Helena Sokol explains how her artistic passion flows better later in the day.
"When I create in the evenings, I find that I can look at my life from a birds-eye view and plan my next move, see how my feelings are connected to my decisions and so on.
"But I also don't think I have the disciplined schedule to benefit from having a studio at the moment. It would be like the gym membership we all get, but never really use," she says, laughing.
Good framing is like bathing in whipped cream
Much of Helena Sokol´s art targets the issues of capitalism, including one of her recent pieces made especially for the CBS exhibition.
"This special piece is inspired by an animated film that was banned in Russia during the 60s for criticizing capitalism. It included a man appearing on coins in different settings. I thought about the coin as a symbol and how it reflects our value and what we want as a society," she explains.
With this piece, she wishes to spark conversations in how we approach, deal with and reflect on the issues and contributions related to capitalism.
Even though Helena Sokol believes CBS certainly contributes its share, she is also grateful for what her business-related learning has taught her.
"In theory, we speak about the seven steps of artistic flow where, for example, mistakes are reviewed and time flies. I have recognized many of these book-learned theories in my creative processes," she says.
Helena Sokol explains how she has always longed to explore the middle ground between business and art, while describing the personal and artistic benefits.
This spring, with the exhibition approaching and limited funds, she faced the challenge of framing her work within her means and drew on her knowledge to achieve the best outcome.
"Good framing really can be fantastic. It is like bathing in whipped cream! But since I don't have the money to frame my work in a typically aesthetically pleasing way, I have to find alternatives."
This might include picking up a nice piece of trash and painting it white, for example. In the past, she has using small pins and magnets to hang up her work.
"It actually brought more depth to the art pieces because of the shadowing the pins and magnets created," says Helena Sokol enthusiastically.
According to Helena Sokol, being put on the spot and making do with what you have often leads to equally good results, and it also takes the edge off the pressure to achieve perfection.
"I mean, I would be the first to say that my art is pretty trashy! But that is another important element in the meaning of my art," Helena Sokol says with a smile.