Shanghai: Tips and what to see when you visit
If you ever find yourself with 48 hours or more to spend in Shanghai, you are one lucky person! Shanghai has a lot to offer and it's easy to become overwhelmed when choosing what to see, what to do and what to skip.
I hope the next few tips from my trip will convince you to put Shanghai on you travel list and help you decide what to go for once you're there.
Tips:
1: Walk as much as possible
Shanghai is one of the largest cities in China: a port and a financial hub. So it's easy to conclude that not everything is within walking distance. But don't be discouraged about visiting on foot.
The city is divided in two parts by the Huangpu River: Puxi (the older, more traditional part) and Pudong (the financial district with skyscrapers). The city's downtown, located in Puxi, is lined with streets filled with shops, restaurants and a few large tourist attractions. So you might find yourself wanting to go to a few places in that area. If so, walking will only add more to the experience.
Apart from being a large metropolis, Shanghai is also a city of extremes, and you'll only see that by walking. Also, it's very safe around the city. So why not take the opportunity to get lost in local streets and see how the locals live, work and spend their free time?
On the same side of the river, you'll find the 'French Concession', an area filled with alleys sprinkled with tall trees, parks and numerous locals with European influences.
If you choose to visit, just take a walk. The beauty of the local life will just fascinate you. During the summer weekends, you might find local gatherings in the parks, where elders enjoy dancing and listening to traditional Chinese music.
2. Have your apps with you
Just after getting out of the airport you will soon realize that Shanghai, and China in general, is somewhere where life and technology not only coexist, but are one. To pay for services, to figure out the city or to simply order a taxi you will need some apps.
Metro transportation is the easiest way to get around Shanghai. The issue is that if you're not sure about the stations you'll find it difficult to ask around due to the language barrier.
This map is super easy to use, and it never let me down while I was in Shanghai. First, use Bing or any other search engine that works in China to find the nearest metro station next to the place you want to reach. Once you know that, the app will show you exactly what metro to take and where to change if needed.
Taking a taxi is pretty cheap in China in general. But in Shanghai, you could be unlucky and be charged a higher rate because the taxi drivers know how to work around tourists. Using Didi is like using a taxi and Uber at the same time. The app allows you to book a car and can even give you predefined rates, so have fun with it!
When paying for services, the best way to do it as a tourist is cash because most places don't accept international cards. Even so, you may encounter a few exceptions. In this case, it's very useful to have WeChat. But there are a few tricks around this.
To get a WeChat account, you'll need to be invited by someone who already has one. Your best option is to ask a friendly local (you'll find plenty of them around).
Great! Once you have an account you can use it to make reservations for tours, bars and restaurants.  But you won't be able to pay with it.
To pay, you'll need to give someone cash in exchange for them charging your account. It might be hard to do, but ask locals or hotel staff if they know where you can do it or if they could do it for you. (I literally found out about this trick at the end of my stay in Shanghai.)
P.S. WeChat can also be used for map and location services.
Having a translation app is a must as trying to speak English will be hard. Google translate and its voice translator functionality are going to do wonders for you in so many situations. But, as some of the apps are restricted in China, it might be a safe bet to download Pleco as well. The services that both of the apps provide are similar. The only advantage with Google is that you might have used it before, so you'd be familiar with it. In any case, having a translation app is a must.
3. Give your taste buds a different experience
Food in China is different from the rest of the world, as is its preparation. But don't be afraid to try everything. Of course, be safe and eat in places that are crowded so you know the food is ok from a health perspective. But otherwise try it all! Try the dumplings, the noodles, the Chinese crispy duck, the shrimps … everything. And don't forget about dessert: the fluffy Chinese cheesecake and the cakes decorated with pigs and pandas, which you'll find everywhere around the markets of Shanghai. (
The Shanghai Tower
The tower is the tallest in Shanghai, and the second-tallest in the world after Burj Khalifa. The viewing deck is on the 218th floor and the elevator ride to the top is surprisingly fast, considering that it goes 18mph. The view is exceptional as you also get to see the Pearl Tower and the Financial Center from above.
The great thing about this tower is that the queue is definitely faster than the one at Pearl Tower where you could easily be waiting for two hours.
Yu Garden
Shanghai is a new city compared to the rest of China, so it's harder to find the old traditional buildings here. The Yu Garden is an exception to the rule. It's situated close to downtown, within easy reach and is surrounded by souvenir shops.
As the garden itself is filled with vegetation that provides shade in many places, you can choose to visit when you need a break during a hot and sunny day.
Tianzifang
This was definitely my favorite place to shop for souvenirs. The square is located in the French Concession and is a great mix of food joints and small shops. If you go here, be prepared to be tempted by snacks every step of the way. They have huge ice creams decorated with marshmallows and all sorts of sprinkles, as well as my favorite sausage on a stick. The sausage is covered in dough, two types of cheese, potatoes with a bit more cheese on top, and then it's fried together on a stick. Don't miss it‼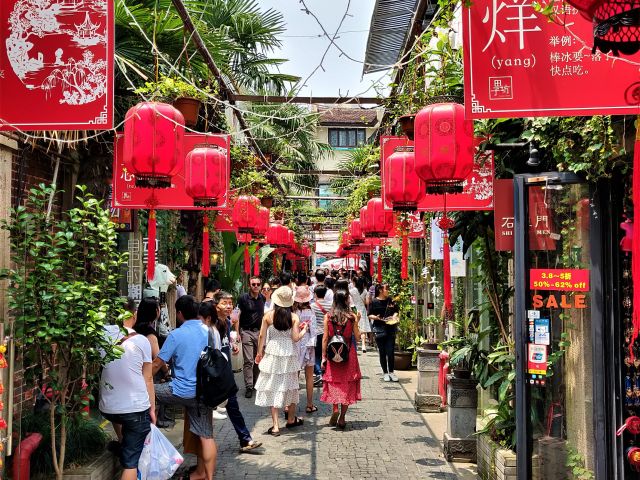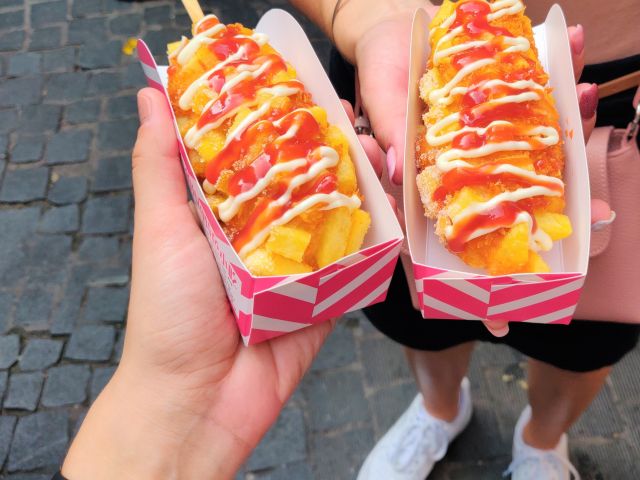 Huangpu River Cruise
Another experience that is a definite must is the Huangpu River Cruise. This is a great evening activity, as after 7 o'clock the buildings along the river are lit up with animations and light shows. To complement this, the vessels play calming, ambient music much to the tourists' delight.
Sky bar alert – Captain Bar
If you don't go to a sky bar, does it really mean you've been to Shanghai? Sky bars in Shanghai are great! You can find many of them on top of hotels with views of the financial district's skyline or within the financial district itself. You can pick and choose fairly easily and, as I said, the choice is endless.
For us, we picked the Captain Bar because we spent a night at the Captain Hostel and we went to the bar out of curiosity. The hostel itself is completely different to what you'll find above. The difference is so huge I'm not sure there's a comparison for it. When you arrive, you'll find what seems to be an old hostel in serious need of renovation. Yet, the private rooms are great, and the bar is more than exceptional.
I hope this convinced at least one person to visit Shanghai because it's really worth it. It's worth traveling around this city and having those memories for a lifetime.