The internship that encouraged me to grow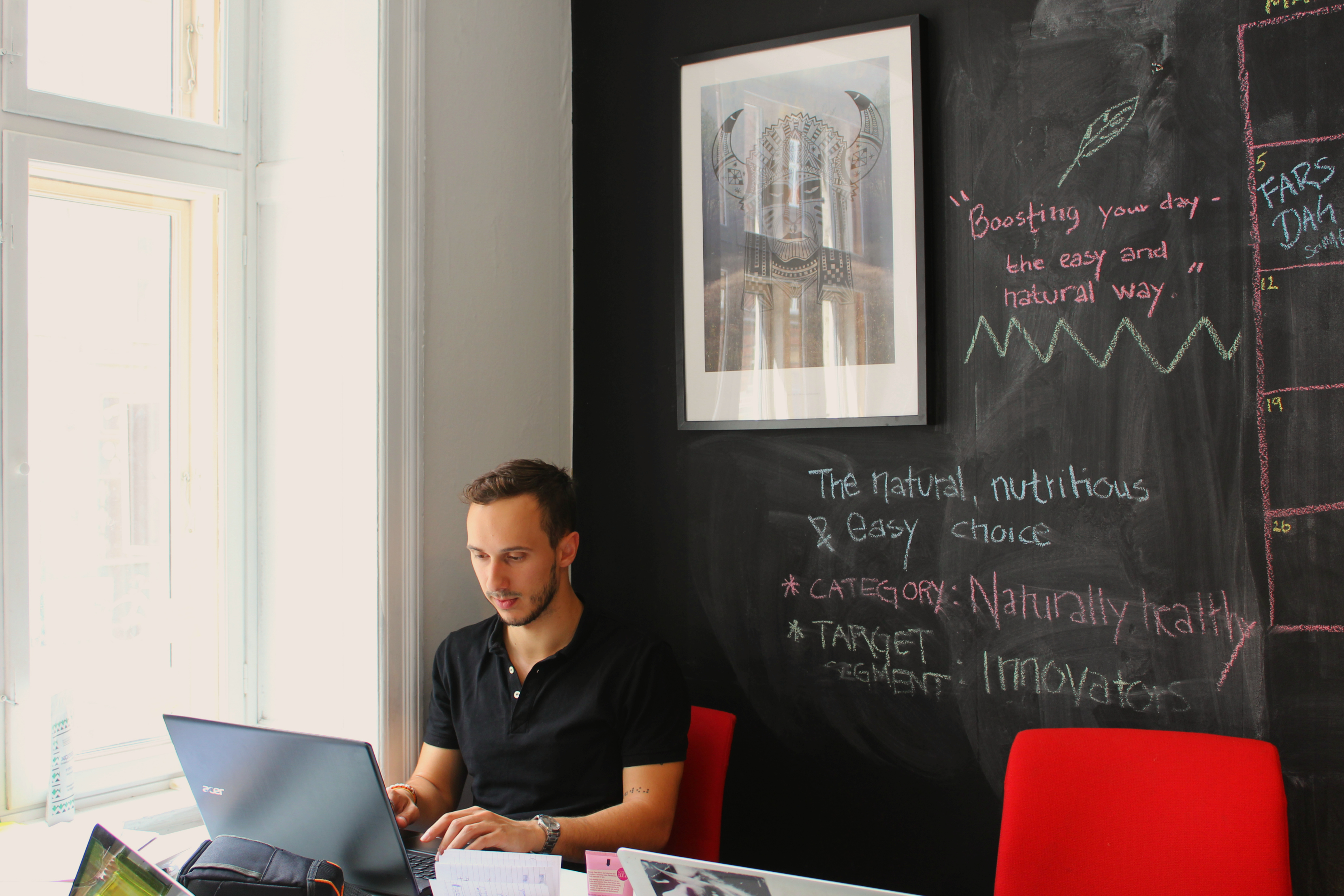 I was completely terrified about the idea of working in 'the real world', but I knew I needed an internship in order to build my future career. My time at Roots Food turned out to be so much more than another company on my CV, as it provided me with friends, memories and personal development. Here is my life as an intern.
On the day I wrote to CSE – the entrepreneurial association of CBS – that I was looking for a part-time job, I had no idea what this second semester had in store for me. Now, several months later I feel very lucky to have been a part of 'Roots Food' and its incredible brand story.
The company was a wake-up call for me. I remember when I entered the office for the first time. There was a man and a woman waiting for me, sitting on a sofa. Even though I did not know them, I could feel that they were really close friends. They were finishing each other's sentences and they were constantly smiling throughout the entire interview. It was not a fake and circumstantial smile. It was genuine and healthy, just like the product they were trying to sell.
Despite being amazingly nice and friendly, I was very stressed when Jackie and Daniel – the names of the two interviewers – asked me questions. I think it was more so the idea of entering the working world that was scaring me, rather than my potential new bosses. After having asked about my personal life, my CV and my expectations, they popped the question: "Do you know Moringa?". Due to the fact that I had spent the night before studying all the minutiae of Roots Food's website, I was well prepared and I knew everything about the Philippines and this little plant that grew there.
Moringa is also known as 'the Miracle Tree'. It grows extremely fast and can be used in its entirety. Therefore, it seems like an obvious choice for an agricultural crop, as it can survive in extreme weather and provide nutrition in a concentration never seen before. And this is why it is defined as a "superfood".
After I finished my interview, I understood that a new adventure was going to begin. The famous "Moringa" they were talking about was already doing one of its supposed miracles. And this is how my first job experience began; with this kind friend duo, who ended up becoming my new and first bosses.
Jackie is the Power Social Entrepreneur of the team. Half-Filipina, born and raised in Denmark, she holds a Master degree in Social Entrepreneurship from CBS, and has done an internship with the Institute of Social Entrepreneurship in Asia (Manila). When the super typhoon hit the Philippines in 2013 it affected over 10 million people. The worst affected province was Tacloban, Leyte, where Jacqueline's grandparents were from. The tragic happenings made her travel to the devastated area and help the local community in the best way she could.
Daniel is likewise a true global nomad and an ex-classmate of Jackie's from CBS. He represents the financial side of the company, as he is a businessman with over 10 years of experience. As fate would have it, Daniel was in the Philippines when the Typhoon hit as well. Together, he and Jackie decided to create a business based on the principles of sustainability and fair trade, in doing so, giving farmers a sustainable livelihood through which they can feed their families. Moreover, they introduced the Danish' consumers to the natural, nutritious and easy choice of Moringa via Roots Food.
Thanks to CBS I not only had the opportunity of meeting these amazing and valuable people through its network, but I was also able to spend a part of my education seeing how a company really works from the ground and up. During these last few months, I helped Roots food in all of the different kinds of tasks that were assigned to me. I started with basic tasks such as printing papers, brewing coffee and labeling Moringa packages in Kitchen Collective. Then, I participated in the marketing briefing, where we discussed all the different parts of the marketing plan. Ultimately, I ended up becoming the SoMe manager and Brand Manager Assistant of the company.
Despite my various job positions and time spent at the company, what I like the most is that the Roots Food team shares everything with me: its knowledge, its past and future projects, its fears and its hopes.
I decided to take a risk, throughout my internship, I finally understood that sometimes it is important to have courage.
Before my internship, I always thought that entrepreneurship was too risky a path for me. I am the kind of person, who sits at the back of the room during lectures. I also think a sentence through three times before raising my hand in order to say something to the professor. But Roots Food unlocked my potential to raise my voice and stand up for things I consider important. The company conditioned me to believe that doing business is not just about financial profit and accounting, but can also enhance one's bravery in order to overcome difficulties, hard moments and rainy days without compromise. In a way, companies are kind of like people; they can be full of values, active players, and inspirational, but they can also just be selfish working machines without feelings and real interests in consumers' lives. We just need to choose what kind of person we would like to be and if we want to believe in ourselves, fighting for our ideas.
In two weeks' time, I have to leave Roots Food's office and I am already missing all the people and the values that I have discovered there. I would like to keep working for them, but as I am going on exchange next semester, I will not be in Copenhagen for a while. Though to compensate for my loss, I have just signed up for the Entrepreneurship and Business Development course at my exchange university. I decided to take a risk, as I, through my internship finally understood that sometimes it is important to have the courage to raise my hand when I know the answer to a teacher's question.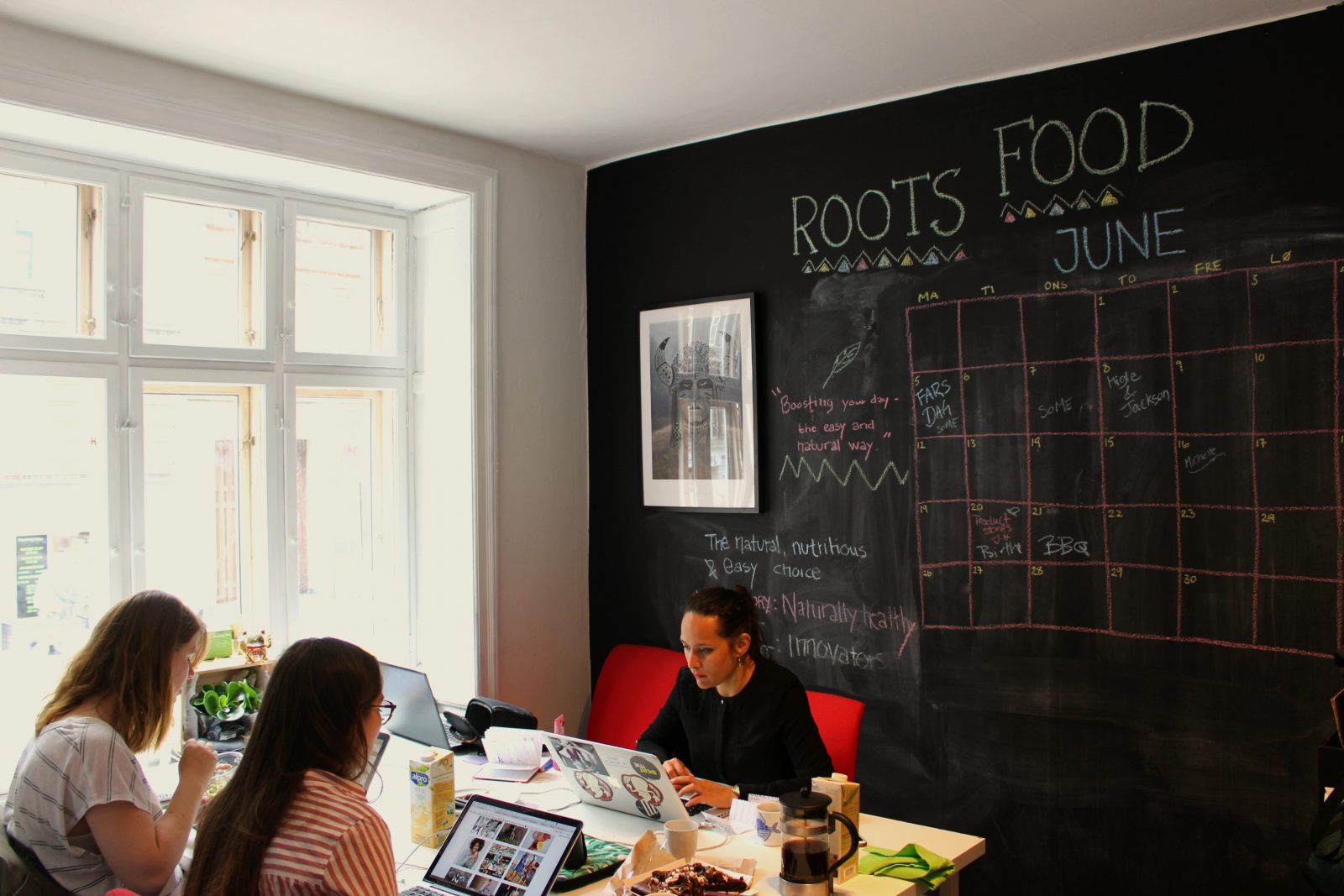 My time at Root Foods made me realize that part-time jobs and internships are a fundamental step in our education and we do not have to avoid or underestimate them. I would suggest just the opposite. Engaging in something we believe in is not only right and fulfilling, but it may also make a difference. When there is a "why" behind your actions, you will discover solid roots that keep you tied to the earth. You just have to be patient, because new branches will grow and allow both entrepreneurs and consumers to reap the benefits.
As for the Moringa, the plant boosts both "my day" and my life, because nowadays I am so excited to start a new adventure, bringing my roots with me. I am just curious to find out what is waiting for me after university and where my branches will take me. The only thing I know is that sowing the seeds of my future has never been so funny, fulfilling and inspirational and that the fruits of my life's tree this time, will not be leaves of Moringa, but opportunities, dreams, and goals that I cannot wait to embrace.
So, despite not knowing where my career is going or where I will go after my exchange and after graduation, I want to thank Roots Food, Jackie, Daniel and this green Filipino plant called Moringa. I am completely sure that they all provided me with an experience and knowledge that will help me along the way, regardless of the company I might end up in. They taught me to live, learn, and work without doubts or fears and for this I am grateful.