"It's good to focus on other things, so that I don't become a huge karate nerd"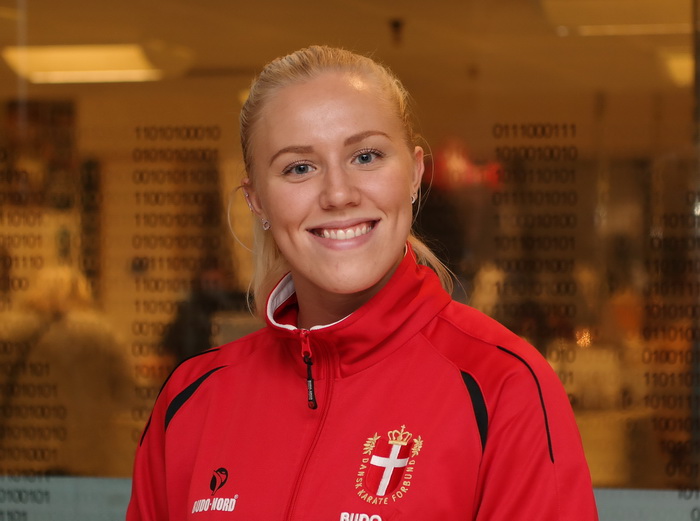 CBS student Katrine Lionett Pedersen is among the best karate fighters in the world. She's Denmark's big medal hope for the Olympic Games in 2020, and she recently won the bronze medal at the European Championships. Soon she's going to turn in her bachelor, but the fight for her career and her beloved sport has only just begun.
Katrine Lionett Pedersen is pretty busy at the moment. Together with her bachelor partner, she's working on finishing her bachelor project in English and Organizational Communication at CBS, which has a submission deadline of one and a half weeks. But when the assignment's been submitted, the celebrations need to wait a little while.
"The submission date of our bachelor project is May 16, but I'm going to Istanbul for a karate tournament on the 15th, so we have to submit a couple of days before. I've talked to my partner about it and luckily, he's completely okay with that," Katrine Lionett Pedersen chuckles.
The tournament in Istanbul is just one in a long series of Premier League competitions that Katrine Lionett Pedersen participates in to collect points for permission to attend the Olympic Games in 2020. Along with the Premier League tournaments, she's just attended the European Championships and the Danish Championships, as well as the Nordic Championships and even the World Championships later this year.
A kind of dual career
When handing out beatings to other karate practitioners around the world is such a success, one might wonder why Katrine Lionett Pedersen chose to study at CBS instead of living off her passion and solely focusing on karate chops.
"I've never had any doubts about getting a further education. You can't really make a living out of doing karate in Denmark, which has something to do with the fact that the sport isn't as big and widespread here as it is in other countries. So for me, studying and doing karate has become a kind of dual career thing for me, which is great because doing two completely different things provides some variation in my life," Katrine Lionett Pedersen says.
"I think it's good to focus on other things so I don't become a huge karate nerd where that's the only thing that matters in my life, and vice versa with my studies. I love studying and learning, but it's also important to break off and practice my passion for karate. This variation gives me a lot of energy in my everyday life."
Similarities between studying and circle kicks
When figuring out which degree she wanted to take, Katrine Lionett Pedersen felt that her heart was beating most for English and Organizational Communication at CBS. A program that is, in some ways, linked to her training.
"I've always been very interested in the English language, and I find organizational communication quite exciting – especially in the area of intercultural differences across different countries. I've practiced karate since I was eight years old, and when I grew up, I traveled to many different countries around the world to attend tournaments. So I think my interest in language and cultural diversity stems from that, because I've always had it at point-blank range," she says.
Not only does Katrine Lionett Pedersen's karate background relate to her degree on a level of personal interest, but also on a more practical level.
"I think karate and studying have things in common as well. Hard work really pays off. If you're ambitious and goal-oriented about something you really want and wish for, you'll succeed. Furthermore, there's something about the process of achieving the goals you set out. To succeed, you have to make some subsidiary goals and be realistic about how you'll achieve them strategically. These are some of the things that I've always worked on, and still do, in my career as a karate practitioner and as a student at CBS," she explains.
Only 24 hours in a day
Katrine Lionett Pedersen is originally from Ishøj in the outskirts of Copenhagen, and although she's moved to the city to study, she still practices at Ishøj Karate Club from Monday to Thursday in the evenings. On top of that, she does strength training and cardio three times a week. In other words: she has a lot on her plate. But she says she makes it work.
I think karate and studying have things in common as well. Hard work really pays off
"I have to prioritize to make it all come together. Of course, there are only 24 hours in a day, and my weekdays are pretty compact. But I'm pretty good at organizing and planning so I get a lot out of the time available to me. Therefore, I can accomplish a lot during a day, I think. And when you love doing karate as much as I do, you somehow make it fit into your daily schedule," she says.
Do you also prioritize social events at CBS or with your fellow students, such as parties and stuff like that?
"I try to attend all the social arrangements I can. I like going to parties once in a while and being social. But clearly, there are a lot of events that I can't come to because I'm abroad doing tournaments or training. So there are lots of things I'm missing out on, even though it's also something that I prioritize. But during my bachelor in the last three years, I've only been to one Thursday bar at CBS," Katrine Lionett Pedersen says while grinning.