Fear and shenanigans in Abu Dhabi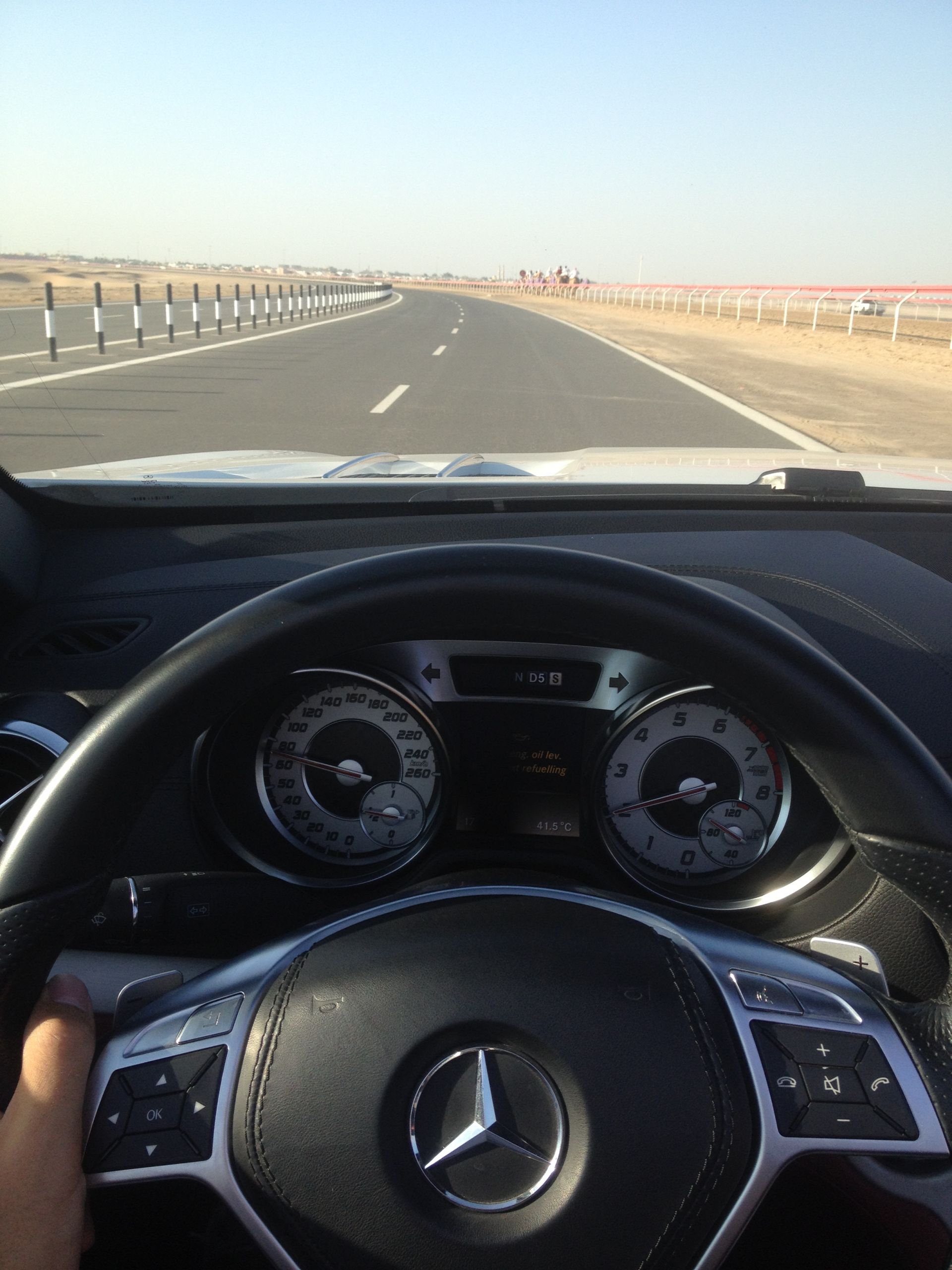 We were somewhere on the outskirts of the UAE, at the edge of the desert, when it hit us. I remember saying, "This is the perfect crime. No victims, and no witnesses. Should we do it?"
About a minute later, we find ourselves at 260 km/h with huge grins on our faces, and franticly looking in the rear mirror expecting a copper to give chase any minute.
But let me start at the beginning. This is a story about two people, two strangers, who became lifelong friends. A friendship honed hooning around for a day in a pearl-white convertible Benz.
I met Christian at the bar in the hotel I was staying at, in Abu Dhabi. I approached him since I was already in a good mood, because finding a good drink, or ANY drink in the land of the world's biggest mosque, is harder than breaking out of a friendzone.
"What's your name?"
"Christian," he answers.
"A Christian finds himself in the heart of Muslim world," I say, making a poor attempt at being funny. He smirks half interested.
Luckily the conversation soon turns to cars. You see, a fisherman always sees another fisherman from afar. After a few more drinks, we decide it's a great idea to get up tomorrow morning and go to the airport and try to rent something fast.
Morning comes around and we find ourselves judging the different companies. I am not naming names (unless they pay me), but let's just say we lock in on one starting with "A" and ending in "vis".
The guy working there was watching funny cats on Facebook when we had the audacity to disturb him.
"The fastest one we have," he says nonchalantly, "is probably the SL500."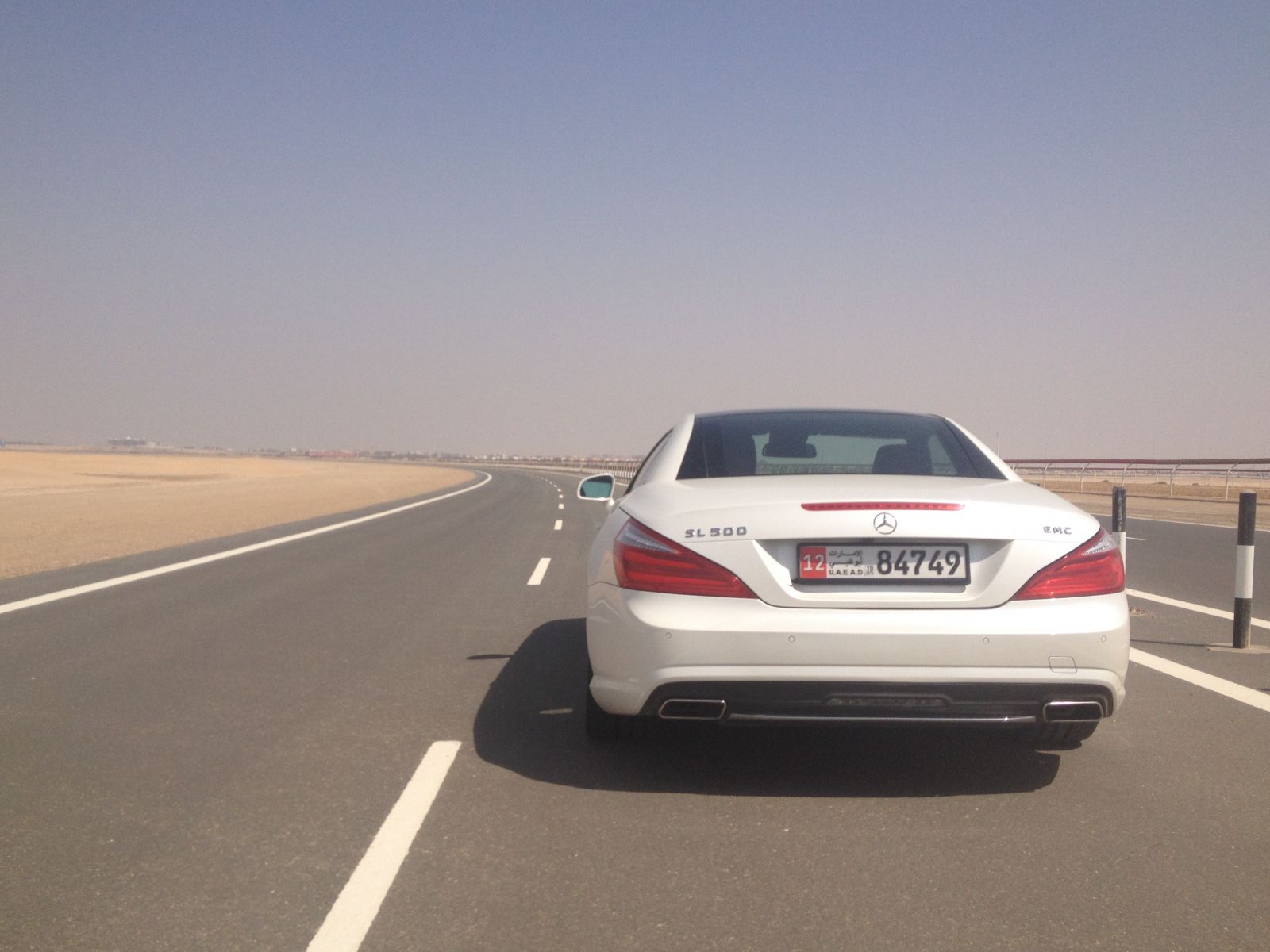 We throw a bunch of money and signatures at him, probably signing away our firstborn in the event of an accident, and he shows us to the car.
At the time, Christian was 25 and the only one old enough to have his name on the contract. So, he would be taking the wheel while we leave their sight.
We also faked being businessmen on an important mission here, so we try to maintain serious faces. Something we both failed at when we saw this thing in the flesh and started giggling like preschool girls.
Pearl white, with a delicious red leather interior. Convertible soft top. Big 20" wheels wrapped in the best Michelins, and sporting brake disks bigger than the pizza I had for lunch. A menacing but subtle "V8 bi-turbo" badge on the side. This thing means business and it's clear to see.
The worker looks at us, half regretting his decisions to let us have it, but throws us the keys when what I think was an "I'm not paid enough to care" thought flew through his mind. "Have fun."
Christian starts it up, and it settles into a deep, characteristic V8 burble and his wish is confirmed. Fun, we will have, Sir.
We leave the airport behind and head into the Wednesday morning traffic on the highways of Abu Dhabi, which are at least as impressive as the car. Glass-perfect 8, even 9 lanes of asphalt ribbon needling themselves among the skyscrapers. Sounds like a good playground, if not for the speed cameras at every 200 meters.
Another problem with the highways is the sheer volume and size of them. If you're not in the exact lane at the exact time, you miss your exit. A point that manifested itself multiple times, until the skyscrapers got replaced by … sand dunes. We are way out of town now.
Just as I am about to tell Christian that we should probably stop and look for a way back, I see the gateway to what turned out to be heaven.
"CAMEL RACETRACK" the sign said. That was unexpected. What the The decision was quickly made – we had to go and see for ourselves.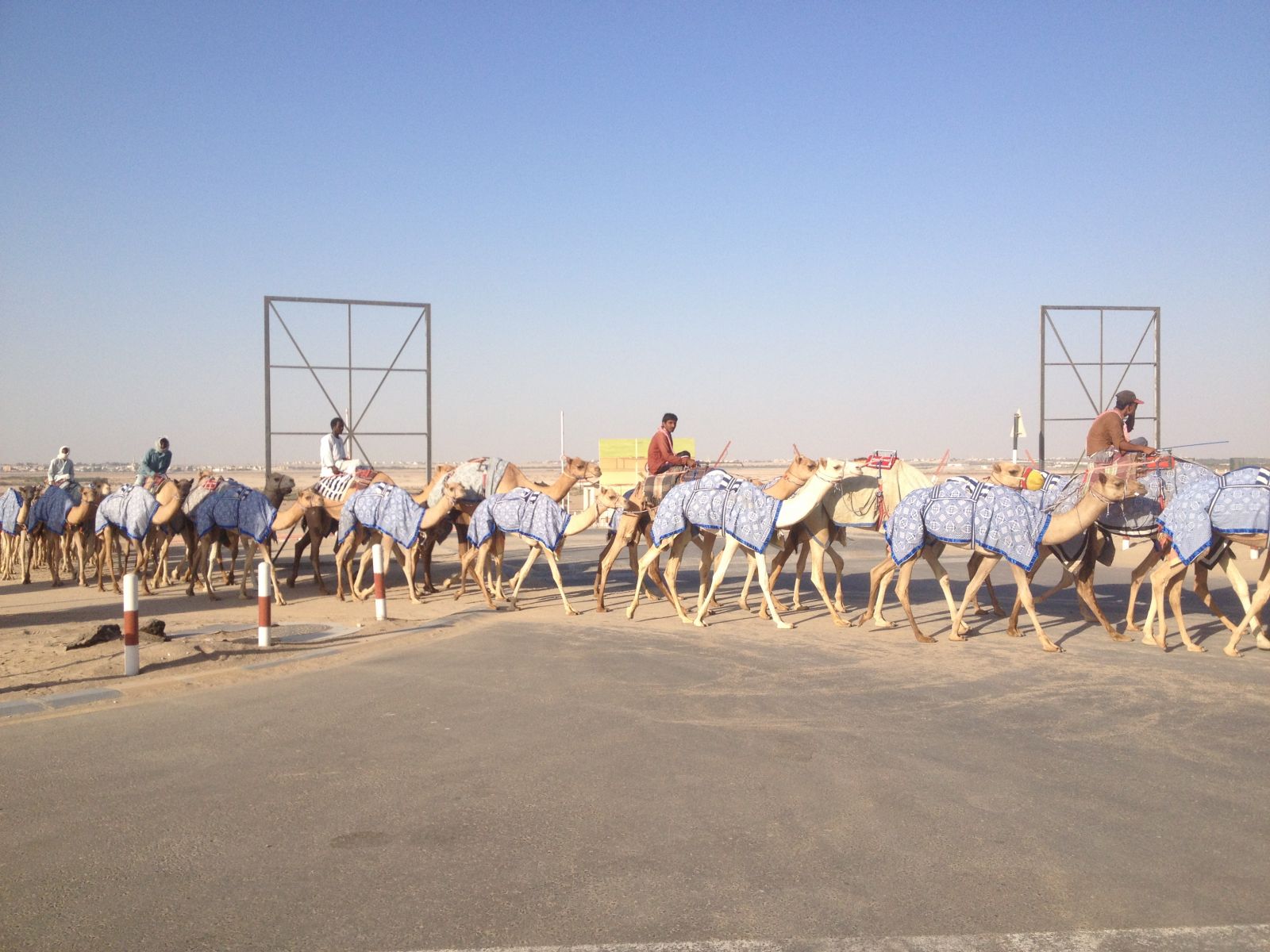 Which brings me back to the perfect crime scenario from the beginning. Because what we found is the following; a two-lane highway in both directions following the oval dirt track where the camels run.
The highway appears to be constructed so you can get behind the wheel and follow your camel to victory. I guess when you have more than 200 billion dollars in profit every year from oil (that's in Abu Dhabi alone!), you can do silly stuff like this.
But today, it would be used for a different purpose. We couldn't care less about camels.
About a 7-8-kilometer roundtrip oval with two big straights of about 2-3 km each with two long and fast corners on each end. Perfect tarmac, and no one around. I mean… What would you do?
Pedal meets floor. Floor meets pedal. We soon find ourselves traveling at a rate that would put us behind bars in most countries, including this one. The SL500 does it so effortlessly, it's almost a joke. It's 42 degrees out. We still have the roof down, while blasting "Start me up" and "Gimme Shelter".
The A/C keeps a cool 18 degrees as we fly down the beautifully surfaced straight, hitting the electronic speed limiter showcasing that this motor's true potential is well beyond the German gentleman's agreement, which means almost every (fast) car is limited to 250 km/h.
Before long, the corner arrives, and you step hard on the anchors to slow down and make the corner. Roll off the brake, on to the throttle again, and full speed down to the next corner. We did this for multiple rounds. The car never broke a sweat. Incredible (over)engineering. It did burn through a third of its tank in record time, but we didn't even mind that.
You see in the UAE, a liter of V-Power 100 octane, in other words the finest dinosaur juice money can buy, costs less than DKK 2 a liter. While we are on the topic of money, the car itself set us back only DKK 1400 for 24 hours and unlimited kilometers. Split between us, this is the best 700 DKK I have ever spent.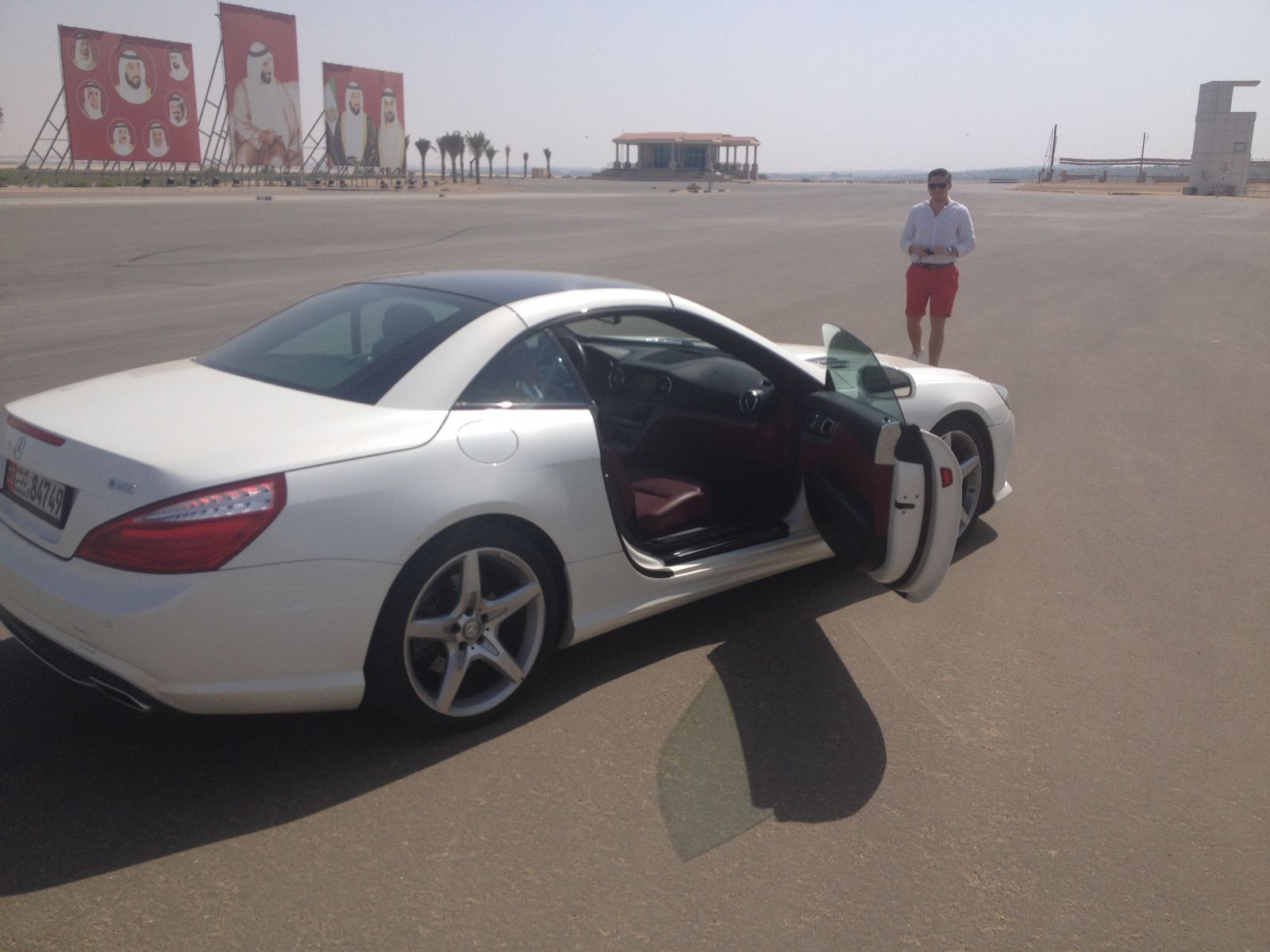 In the 24 hours we had the car, we drove no less than 1065 km and burned through 3 full tanks.
The SL500 did not get many 'miles to the gallon', but my god, did it get us a lot of smiles per gallon. We couldn't believe we got away with it. I still can't. Even though we met as complete strangers, Christian is today one of my absolutely favorite people.
This experience, the day on the camel racetrack, will stay with me for life. If you are ever in the region, go and look for the track.
If you're lucky, you might find it deserted and inviting as we did.