Every cloud has a silver lining: How the Hong Kong protests prepared me for today's turbulent times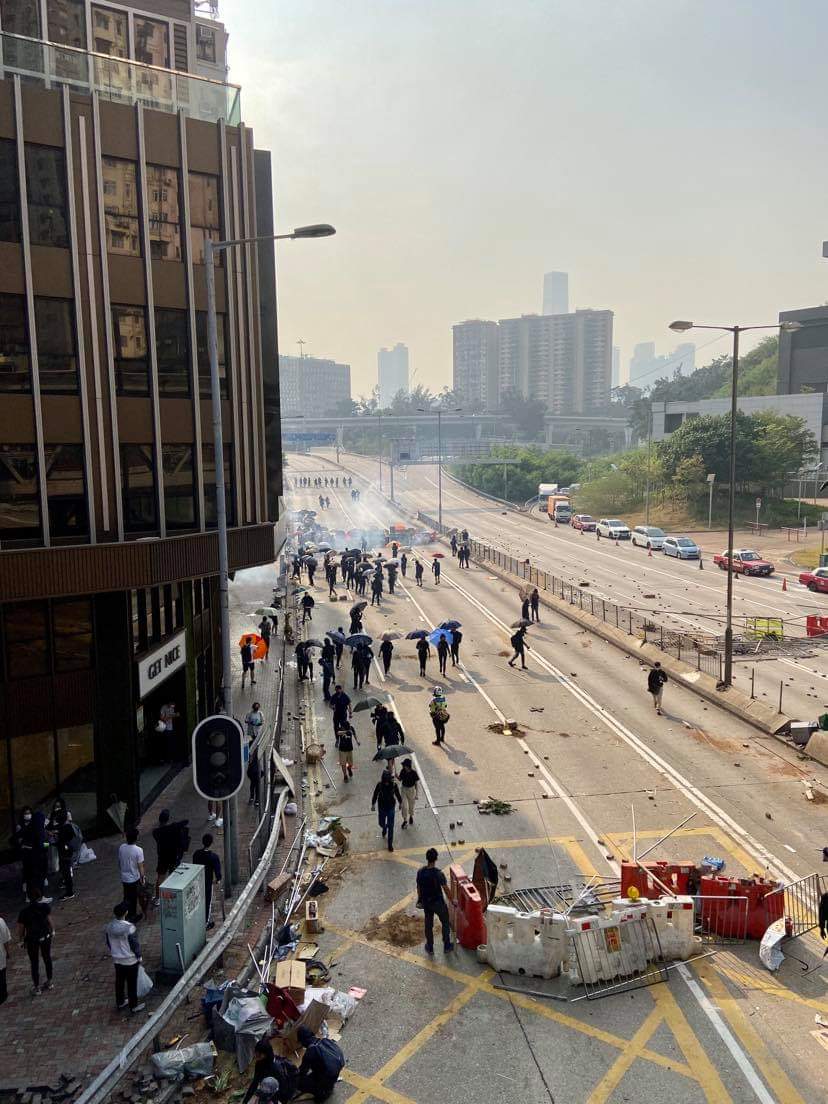 Final meals, rushed packing. Running around to find friends who will take leftover food and belongings that won't fit into overfilled bags.
Some are gone in a flash; the call of home as strong as the beating sun on a midsummer's day. Others take their time, changing their mind between staying and going again and again. Last goodbyes to those you can find, heartfelt text messages written from the discomfort of your plane seat to those you can't. Your daily routine, your friends, your environment that you were just starting to happily call 'home': all gone in the span of 24 hours.
Sound familiar to you?
This was my reality not just on 12th March, the day after the Danish PM's press conference announcing Denmark as the second European country to go into lockdown due to the coronavirus, but some 4 months ago in Hong Kong, where I was supposed to spend a year on exchange, due to the escalation of the protests that continued to grip the city.
My flat full of girls in Hong Kong went from 8 down to 5 from one day to the next, with more leaving as the days went by that I never got the chance to say goodbye to properly. My home institution wanted me to leave, but I didn't want to go. I went from being comfortable and happy in a gorgeous city that I was proud to call my new home for the next year, to an anxious wreck, whose next exchange semester had been cancelled and the future of my degree that I'd dreamed of studying since I was 16 hung in the balance.
When I was accepted at the last minute into Copenhagen Business School for the spring semester, I felt relieved. Family and friends said, "well at least there's no chance of your semester being cut short this time".
Oh, how wrong they were.
I am lucky to have parents who support me enough to let me stay in Denmark and enjoy my time abroad as much as possible. However, not everyone was quite so lucky. Many were called back home immediately by worried parents and universities who ended up cancelling exchange programmes.
But it's not just international students that are affected by this ever-spreading virus. Internship programmes, exam dates and even graduation, to name a few, are likely to be cancelled, if they haven't been already. Hundreds of thousands of workers across several industries have been laid off indefinitely, with no guarantee that they'll even have a job again after this crisis. In short, there's not a single person whose life isn't on shifting sands right now.
Yet this time, I'm not anxious anymore. After the initial sadness and anguish that I felt after my roommate and closest friends suddenly left the country had dissipated, I was able to let rationality conquer panic.
I spent less time thinking about what I wish could've been, and more time thinking of all the things that I can still do with my time in Scandinavia. The food places that I never got to try are still open for takeaways, the hiking trails and nature parks are now more beautiful than ever in the spring sunshine, and at last – I have time to officially learn Danish like I've always meant to.
But how is it that I'm able to remain so calm in the face of all this uncertainty?
Usually, I'm the first person to overwhelm themselves with increasingly unlikely hypothetical scenarios. The answer is simple: experience.
Having had my life uprooted against my will once before, I have learnt hard but important lessons from that. Like to make the most of every day that you have, while you have it. I thought I was going to be in Hong Kong for the year, so I didn't do some of the things I wanted to do as I was saving them for the 2nd half of the year, which I ended up regretting as it never happened.
As a result, I didn't make the same mistake when coming to Copenhagen, where I made sure to start making plans from day one.
This being said; true acceptance goes a step beyond living every day to the fullest. It requires a long-term view – the idea that this period, no matter how long it may seem, will pass. This is easy enough to say or repost as a quote on social media, but it's not quite so easy to fully believe.
In the meantime, I challenge you to make the most of this opportunity, while you have it, and see the positives that come from it. It can be as small as a late wake up because you're working from home instead of commuting to the office, or as big as finally starting that project which you were always 'too busy' for.
Social distancing, self-isolation, quarantine – they all give you a lot of time for yourself. So step back for a moment and think about yourself and what you really want.
Do you want to switch up your career? Are you happy with your friendships and relationships? Is there a skill or hobby you've always wanted to learn?
Whatever it is, take that first step. Make the change. There's never been a better time.