Cristiana Parisi wants to make European cities flow better and she got € 10 million to do it
So far, the REFLOW project has taken up most of Associate Professor Cristiana Parisi's time. Weekends, holidays, spare time, work time. And she's totally fine with it. The project involves 27 partners and covers 10 European countries, with the aim of turning waste into a resource and making the six cities of Amsterdam, Berlin, Vejle, Paris, Milan and Cluj-Napoca in Romania circular. Also, the project is the largest of its kind at CBS.
December 18, 2018. There's hardly time for lunch that day. Cristiana Parisi, Associate Professor at the Department of Operations Management at CBS, is busy doing oral examinations before the Christmas break. Her phone is stored away in her office, so she's not distracted when informing her students what they got in the examination.
It's late in the afternoon, when she returns to her office on the fifth floor at Solbjerg Plads. She glances at her phone and it has "exploded with messages."
"I thought, who'd write and call me so many times right before Christmas? And then I saw it. The project I'd applied for funding for through the European Commission had been accepted. I was shocked. Millions of thoughts ran through my head and then I dashed up to the halls of my department," explains Cristiana Parisi about the day in December last year, when she was granted € 10 million for her research project REFLOW – 'constRuctive mEtabolic processes For material fLOWs in urban and peri-urban environments across Europe' – through the EU Framework Program for Research and Innovation, Horizon 2020.
The project is the biggest of its kind at CBS.
My dream is that the citizens are involved in deciding how their cities should become circular

Cristiana Parisi
"My Christmas was spent writing documents for the first meeting in January," she says.
In general, Cristiana Parisi has spent a lot of time on the REFLOW project, which has basically just started with a kick-off meeting in June.
"The past two years, my holidays, weekends, spare time, all the time I can spare pretty much, has been spent on preparing this project. But that just reflects who I am as a person, really. I'm so passionate about this, so it just has to happen," she says.
And time is needed. The project, which Cristiana Parisi is in charge of, brings together 27 different partners covering 10 European countries. The aim? To demonstrate how European cities can transition into circular and regenerative cities where waste ultimately becomes a resource that helps build capital. The end result? A set of guidelines that European cities can implement to become circular, based on best practice from the six pilot cities of Vejle in Denmark, Amsterdam, Milan, Paris, Berlin and Cluj-Napoca in Romania.
"We bring together urbanists, designers, engineers, people who do research within innovation management, social impact, like me, technical partners, ethical hackers, software engineers, municipalities, you name it. We need all these different approaches if we want to succeed with this," she says.
"My dream…"
Cristiana Parisi's research revolves around sustainability accounting, accountability and management accounting, but she is also really interested in social impact
She "wants to make a change" as she puts it. She wants her research to matter and not just be communicated to other researchers.
"It's a way of giving back to the society that I'm part of," she says.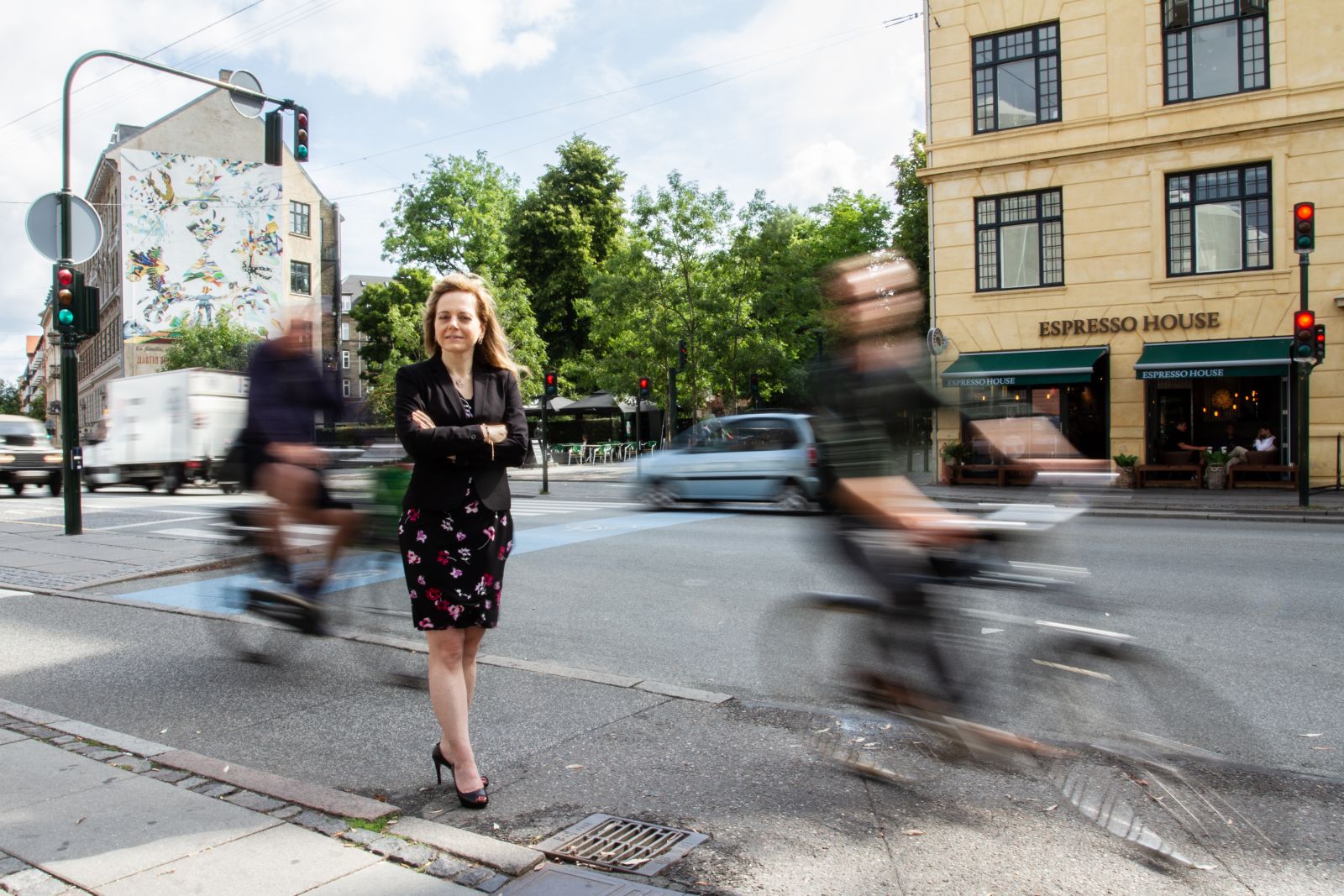 During her career, Cristiana Parisi has seen other circular economy projects die along the way because the project partners forget to think about the social impact. How will citizens, organizations and companies react to the idea of becoming circular?
To prevent different parts of society feeling alienated by top-down decisions, the six pilot cities will run makers' spaces where citizens can follow the project and suggest concrete ideas for solutions.
"I think what the European Commission really likes about this project is that it has a bottom-up approach. We ask the citizens, who use the city every day, what they experience and how it can be improved. And by doing so, it's much easier to replicate the results in other cities too," she says.
For example, the researchers and partners would like to know whether the cities have public buildings that can be better utilized, and they want to investigate the possibilities of urban gardening and use traffic data to make the city flow better.
"My dream is that the citizens are involved in deciding how their cities should become circular. I really hope it will be impactful, create good cases and push the literature forward in this field," says Cristiana Parisi passionately.
A time-consuming passion
Cristiana Parisi didn't come up with the idea for the project by herself. She's been discussing themes such as social impact and circular economy with colleagues from different networks for years. At one point, a group of European stakeholders who were interested in doing a project together, gathered and then it was natural for Cristiana Parisi to be in charge and that the project was anchored at CBS.
But what does it mean to her as a researcher to be in charge of something of this size?
"As a researcher, I'm constantly curious about learning something new. And the potential is just huge for this project. I'm so excited and thrilled about it, even though it eats into my personal life," she says and pauses.
"But it also takes a lot of courage. I don't know what the actual outcome will be, and I've been shocked by the amount of administrative work that comes with it."
I'm a woman. I'm a foreigner. I work in accounting which is a man's world. I have it all

Cristiana Parisi
It's rare to find people so passionate about their work that they'll dedicate weekends, holidays and even their spare time to it. So, would Cristiana Parisi still have applied for the grant if she knew about the heavy workload in advance?
"Being who I am, I would. I really want my research to have an impact and I'm so passionate about it," she says and continues:
"It's super hard to get these grants and there weren't exactly any incentives for writing these large grant proposals, other than my own self-motivation, which is fine. But if CBS wants more researchers to get grants like these, there has to be a better support system and an incentive system that shows that they appreciate and recognize the work you do. At some universities, they promote researchers who succeed in getting large grants. If researchers knew that applying and more importantly winning large for grants was beneficial to their career, maybe more would do it?"
With diversity comes change
Previous articles in CBS WIRE have discussed the issue of the huge gender gap among researchers at CBS – with there being only one female professor in some departments – and that fewer female scholars apply for and receive grants compared to their male colleagues.
In Cristiana Parisi's office I'm searching for the words and look at the ceiling while trying to formulate the question, which I know I'd never ask a male researcher or project leader. Has her gender in any way got in the way or played a role in this project?
"I'm a woman. I'm a foreigner. I work in accounting which is a man's world. I haven't got anything for free, but I managed. This shows the acceptance of diversity, I think. It is important to make more space for diversity, as you then make space for change and development," she says and uses her project as an example of diversity.
"My project is rather unusual, as it challenges the idea of how research should result in publications, and not necessarily concrete impact. And that too takes a lot of courage, because you don't know the outcome. Maybe, in time, this kind of project will be just as mainstream as the other kind," she says.
And maybe they are.
When Cristiana Parisi met with the 27 partners and the European Commission for a kick-off meeting in June, the delegate from the European Commission approached Cristiana Parisi and said:
"If you ever think about doing a similar project, apply again! This is good," says Cristiana Parisi and adds:
"I thought to myself, we nailed it. Even though it's new, it just shows that if you have an idea that you're passionate about and you manage to gather the right people and resources, then anything's possible."