Changing your field of study: It takes patience, iced coffee and friends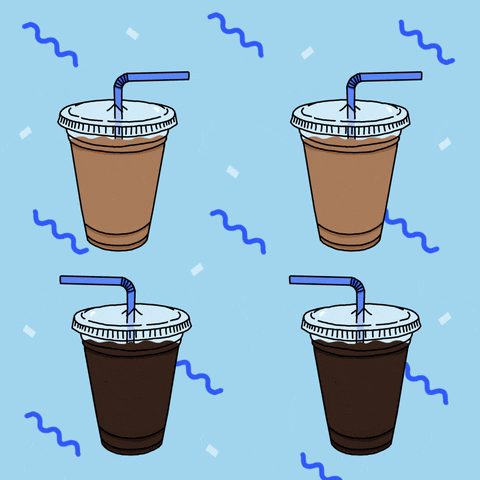 It feels trivial talking about changing fields of study in a country where it is almost the norm. How many Danes have I met that spontaneously decided to switch bachelor's? I can't really count… but that count would include me, a drop-out student who managed to finally graduate from her fourth commenced bachelor's degree.
In Spain, where I grew up, it's a whole different story. Changing studies is frowned upon. And I don't just mean changing fields from your bachelor's to your master's, but if you start a bachelor's and you find months later it's not for you, God forbid that you quit and start again.
For several years, I felt like the black sheep of my family in Spain, and I would find my own little shelter in grey Denmark where no one judges you for not studying or dropping out – or at least not to your face.
As such, I thrived trying different programs… I have been a student of statistics where I lost myself in graphs, politics, criminology – too many TV crime shows led to this choice – and finally, economics & business.
However, I want to draw attention to something that is harder than just dropping out during the first year of your bachelor's… changing your field of study once you graduate and it's time to find a master's. I won't get into the technicalities of the application and requirements to do so, as some universities require students to have a minimum background on the subject and others don't.
However, I will talk about the personal challenges I encountered once I decided to leave the business world behind and jump into social sciences. And, as part of my structured personality, I will further divide this article into subsections… who doesn't love organization?
Why?
"First, I was afraid, I was petrified, kept thinking I could never live without finance & accounting by my side…". But let's face it, I was not happy. I lacked the ambition it required to get into start-ups, the passion it requires to address profit maximization, and the list goes on.
Next step: Hey Siri, what's Public Management about?
During my last semester, I felt like my body was in class, but my mind was wandering somewhere else. After not much careful consideration – as in "I applied for the program after just 10 minutes" – I put Public Management as my first priority. The truth is, at that moment, I hadn't even considered changing my field of study. My mind was only set on returning to Beijing.
On 22 March, that dream was realized when I received my acceptance letter, which happened during a job interview. Needless to say, I did not get that job, but at that point, I wasn't even bothered. I was in!
Next step: Hey Siri, what's Public Management about?
How?
"I will survive, as long as I know how to research, I know I'll stay alive" and so the time came to move to China. Fitting everything into the tiny dorm room wasn't the issue this time, but to make successful comparative analysis of political and economic systems was.
The first course we had took us all by surprise. It began just fine and suddenly we were staying up till 4 AM writing our group project. The main challenges involved understanding the concepts of this new field, and working in multicultural groups, as Danish-Chinese groups were highly encouraged.
What you need to succeed are coffee, patience and good friends – not necessarily in that order. We relied on each other for many things. We briefed each other on the new literature and inspired each other when choosing a topic for the project.
In our group, we went for civil society and the role of the press, only to end up creating our own (slightly flawed) theoretical model on wage mechanisms in the U.S. and China.
Challenges
"It took all the strength I had not to "fail" apart, kept trying hard to mend the pieces of my broken exam… and I spent so many nights just feeling sorry for myself" – getting to know such amazing people during my time there completely changed the experience.
I truly mean it when I say that we are nothing without the people we surround ourselves with. Did I cry in anger when my code in R didn't work? Yes. Did I skip workshops because I was too lost in the literature? Yes.
But did we get iced coffee, play boardgames and share memes with our classmates? Also, yes.
I don't mean that I wouldn't have had to work at for master's in business. Not at all.
What was hard for me wasn't the workload per se, but the fact that every page contained a new term that I would've been familiar with, had I taken a bachelor's in politics. Isomorphism, institutional convergence, balance of power, allegiance, bureaucracy, governance… and theories that were summarized in one-page notes as if "Ah, the student will already know this by now".
I created my own "Public Management Glossary"
How I did it: I selected the densest articles that were theory related, highlighted all the terms I knew were needed and wrote them up, found the definition and step-by-step, I created my own "Public Management Glossary".
Later, I would read the articles again and actually understand what they were about. With this method, I barely had the time to cover the required literature, thus I didn't even pay attention to the optional reading. But it worked.
Another thing that helped me throughout the year was to always take my bearings from my first project. As we got a good grade, I knew that there had to be something good about it, so I kept coming back to it for inspiration and to find ideas on structure. Moreover, one of my brightest classmates would send me all her assignments, which served as great reference and motivation.
"Success consists of going from failure to failure without the loss of enthusiasm" (Churchill)
"I used to cry but now I hold my head up high and you see me, somebody new." I won't lie, not everything was a path of rose petals. During my second semester, I blanked every exam and went for re-takes. Once I even went for the third (and last) chance, as I couldn't get myself to manage the workload of school and my internship, which started earlier than planned.
Later that year, I got frustrated because none of my recently learned concepts applied to my daily tasks at work, leading me to think all that effort was worth nothing.
What can I say… "I did survive"
It wasn't until I graduated that I realized how much I had learnt and how I could apply it in a practical manner. The new concepts and skills I learnt from Public Management were very easy to combine with all I learnt from Business and Economics, and suddenly I saw myself pursuing a career within trade policy and development.
As I said…. it takes patience, coffee and good friends. What can I say… "I did survive".