CBS professor joins the fight against Covid-19 challenges in schools with robots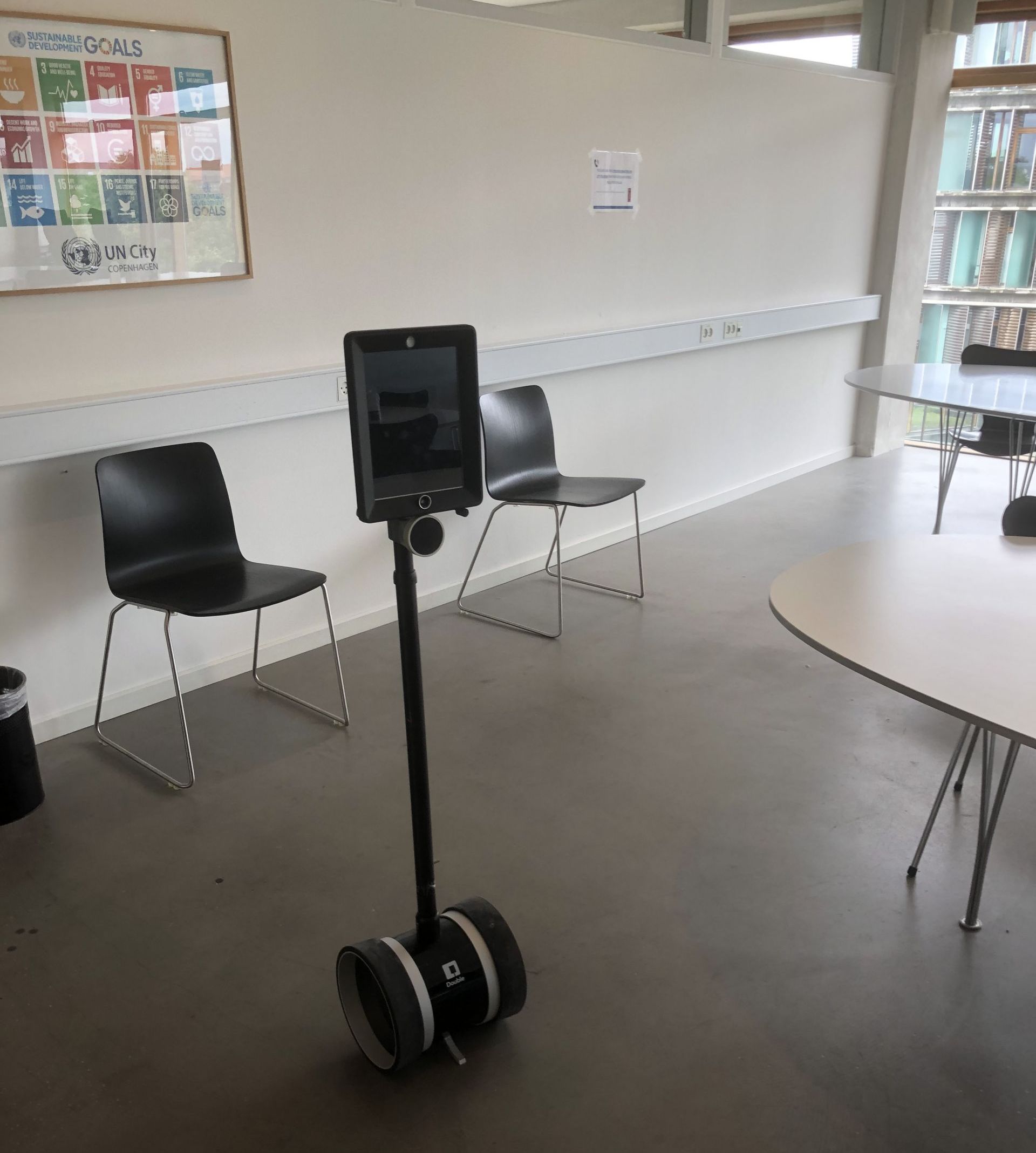 For four weeks, Professor Kim Normann Andersen and his colleagues have been testing whether robots can be used as teachers' doppelgangers in schools. Three Danish schools have been involved in the project, and now the results are coming in.
 Over the last couple of months, CBS WIRE has published several stories about professors and students who have thought up ideas and business models to help combat different specific challenges caused by the Covid-19 crisis.
Among those who came up with ideas were Lecturer Jacob Nørbjerg, Professor Torkil Clemmensen and Professor Kim Normann Andersen from the Department of Digitalization.
When Danish schools were about to reopen, challenges linked to living up to the Covid-19 distance restrictions appeared. One concerned capacity and workforce problems. Therefore, Kim Normann Andersen and company came up with a suggestion: what about using robots?
A historical opportunity
In mid-April, the Danish government initiated the first phase of reopening Denmark and opened the doors of schools and daycare institutions for selected groups of children.
The reopening was accompanied by a list of practical restrictions to prevent the danger of Covid-19 infection. These restrictions created a series of practical challenges – including how to meet the social distances specified by the health authorities.
One model proposed splitting classes into two different classrooms. This would meet the permitted number of pupils in a classroom while keeping the pupils far enough apart.
However, it could also create workforce problems – a lack of teachers who were qualified enough to teach a specific subject simultaneously to a specific form.
And although teacher cannot physically be in two different places at the same time, Kim Normann Andersen and his colleagues dreamt up an idea to overcome the physical laws and wrote a nationwide proposal that could potentially solve the problem for schools: a so-called giraffe robot.
"It's a historical opportunity to get onboard with the next generation of technologies in a meaningful way," Kim Normann Andersen wrote in the proposal, continuing:
"At the same time, this idea solves an immediate problem. Therefore, it is not just a way to introduce a new technology in order to harvest long-term profits. Moreover, the robots are very easy to operate, which is extremely useful in a crisis situation that demands quick action."
More specifically, the idea concerned extending the teacher's presence to several places at once.
"We suggested that a teacher could perhaps teach two classes at the same time by physically standing in one of the classrooms, while a robot transmits the lessons live in another. And this is exactly what we've been trying out for the last four weeks," says Kim Normann Andersen.
Giraffe robot
The robot project attempted to identify how giraffe robots can be used as technological tools to observe the government's Covid-19 distance requirements.
Therefore, in a collaboration with Aalborg University, he acquired three model Double 3 robots, and placed them at Alkestrupskolen and Kirstinedalsskolen in Køge municipality and Hald Ege Skole in Viborg.
Here, the robots, which in Kim Normann Andersen's words resemble "iPads on wheels", have been functioning as teachers' doubles in fourth and fifth grades for the last four weeks.
The robot comprises a screen on a long pole that is attached to a set of wheels, and the idea was to live stream the teaching from one room to another while facilitating communication between the teacher and pupils across the two classrooms.
According to the professor, the idea was that using a robot in teaching situations might prove to be a better and more personal technological tool than other digital education aids.
"A giraffe robot could theoretically enable a teacher to be present in one classroom and "walk around" on wheels in another, which provides something extra personal that smart screens and computer video streaming can't supply," Kim Normann Andersen says.
Not as strange as it may seem
After delivering the robots, Kim Normann Andersen and his colleagues returned to the schools a couple of times to check up on the experiment and talk to the teachers about their experiences with the robots.
And now that the experiment is nearing completion, he can draw some conclusions about the project.
"The giraffe robot carries a lot of potential and possibilities, but from what we've learned now, using it to fully substitute workforces and address challenges in schools is probably not the solution at this moment in time," Kim Normann Andersen says.
There are several potential reasons for that, he explains. One is that, in practice, it is difficult to remote control the robot while teaching. Another is that implementing a robot demands some time to adapt to make it work in practice.
"However, there may be other ways of using the robots in schools. For instance, a teacher or a pupil who is sick at home, or absent for other reasons, could perhaps take part in a teaching situation from home by using the robot. That's something we will look into after the summer break," he says and continues:
"Much modern teaching in schools today is technology based. Pupils use computers, iPads and other technologies. Therefore, the idea of putting a robot in interplay with these digital tools in teaching situations is not as strange as it may seem.
Kim Normann Andersen therefore thinks that a way to eventually implement a robot in schools would be to consider how to connect it with the existing technological tools already being used for teaching. And that is something he will work on after the vacation.