What's it like to be back at CBS? "It's good to see people's real faces again – but I miss my coffee machine at home"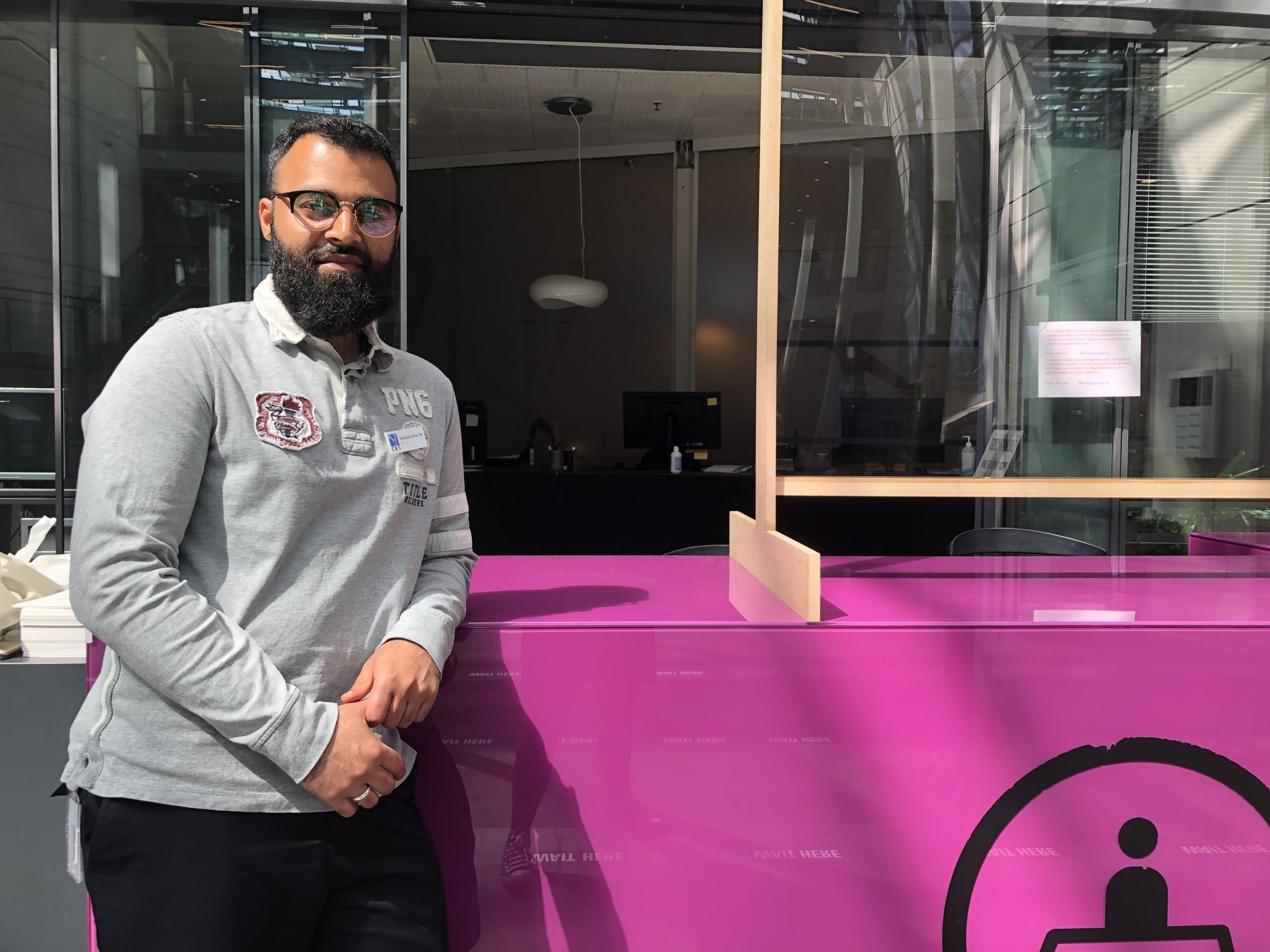 VOXPOP: All employees are allowed back to CBS starting from this week. So what is it like? What has working from home been like? And do they miss anything about their home offices? Hear five CBS folks' perspectives on the matter.
The halls of CBS are still somewhat empty. But they are here. The employees. Walking up and down the halls and stopping for chats with colleagues they have not seen for months. From June 15, all CBS employees are allowed back on campus and CBS WIRE has talked to five of them about replacing their home offices and Teams meetings with campus life.
Marie Pade Andersen, Communications Advisor
What is it like to be back at CBS?
"Tivoli's slogan, 'Always like never before' fits the experience of coming back. A lot is still the same, but on the other hand, many things are not quite as they were just yet."
What's the best thing about being back?
"It's lovely to be physically together with my colleagues again. But I'm looking forward to the campus opening up even more. I'm also looking forward to having the students back, although the schoolchildren are really nice. And we have missed the celebrations with champagne and strawberries after the final exams. I missed that a great deal."
What has been most challenging about working from home?
"It's been tough setting up a new virtual workplace. There were some start-up difficulties, for example, I've been working at a small kitchen table, and I haven't got my daily bike ride to and from work. You don't really give much thought to the fresh air you get during a normal day, until it's gone, and you realize how important it actually is for your wellbeing.
"Moreover, when you work from home, you lose track of the feeling of a work-life balance. It's difficult to set aside work when it's moved into your living room.
"The reorganization is something I too have been thinking about. But I try to have a curious approach to it as it's only just getting started, and we don't know where we'll land or where we'll be located. But it's also good to be back and find a sense of peace in the process and get ready for something new."
Mahshaf Zishan Mir, IT Support
What is it like to be back?
"I was back at CBS in April and, back then it was like a ghost town. It was me and another employee from IT making sure to hand out equipment and such as well as some of the security guards. And although it wasn't super cozy to be back, it was a nice break from being at home almost 24/7."
What is the best thing about being back?
"It's nice to have people back. I've missed the social environment we have here, and it's just nice to see people's real faces outside Teams or Zoom."
What has been most challenging about working from home?
"Occasionally, it's been tough being stuck at home with the same people, and it's been mentally taxing not being able to go anywhere else. But in relation to work, I've been able to solve 95 percent of the tasks I've been given, so that hasn't been much of a challenge really.
"However, it was actually hard to draw the line between work and time off. Some days, I've worked 11 or 12 hours. It's easier to make that distinction when you go to work and leave work."
Is there anything you'll miss from your home office?
"My coffee machine! The one we have here is fine, but my home-brewed cup of coffee with cardamom is just better."
Birgitte Schou, Bookseller Academic Books
What is it like to be back at CBS?
"As a bookseller, I haven't been able to do my job from home. So in teams, we've been allowed back to CBS. I was here in March and May because we had to deal with online orders, as people were still ordering books."
"It was weird that no one was here while I was at work. It felt like being alone in the world. But it was also peculiar to experience in a way that CBS was empty, although I knew it would only be like that for a while."
"I'm the kind of person who likes to have people around me, then I'm at my best."
What is the best thing about being back?
"It's great to be back, as I love the everyday life here, and it's lovely to see my colleagues."
What has been most challenging about working from home?
"I didn't experience much trouble being home in April. I've fixed some things that I normally don't bother to fix at home. You know, wardrobes, cupboards and drawers have been cleaned, and I've taken care of my grandchildren and helped out my adult children.
Mads Vigen, Constructional Engineer and Project Manager at Estates Management (EDA)
What is it like being back at CBS?
"To me it's a relief to be back. It's been quite a challenge, to say the least, combining living with my girlfriend and kids with working from home. Especially when your job is to manage a renovation process, which, of course, continues, even though you can't be physically present."
What's the best thing about being back at CBS?
"I'm the project manager responsible for renovating the Student and Innovation House, so now being able to actually go there and consult with the contractors about the process is much easier."
What has been most challenging about working from home?
"I've had a lot to do concerning the building process, and coordinating everything on Zoom or Teams has been time consuming."
"Moreover, I'm the type of person who works best when I can differentiate between work and my private life. That's tough when you are home all the time. Of course, it can be nice to work from home now and then, but then you usually have the house to yourself."
Anna Patricia Dencker, Alumni Relations Manager and deputy shop steward
What is it like to be back at CBS?
"I have to admit that I was quite surprised when I got the mail announcing that we could come back this week. I had mentally prepared myself for not going back until August."
"It's lovely to see my colleagues again and have these casual chats. I've missed that a lot. And I've missed randomly bumping into people in the hallways and talking about this and that. Also, it's much easier to just peep from behind the screen instead of having to call or text people about the smallest things."
What has been most challenging about working from home?
"The first couple of months, I was sitting on a wooden stool until a colleague picked up my office chair and brought it to me. It was amazing to replace the wooden stool with that, as it challenged my posture quite a lot.
"I've also missed the casual chats. You don't really have those in the same way when sitting at home. You had to seek them out on your own, and that was difficult.
"On a mental level, it's been a challenge as we had to go through the reorganization. We have participated in online workshops linked to the reorganization, and I think there have been things that would have been different in that process if we had been physically present on campus. But we weren't and that has taken up some mental space too."
Are there any takeaways from working from home?
"I think we've been really good at keeping the meetings as phone meetings or always going for a walk during meetings. And that's a new culture, which is fantastic. We didn't do that before. I often experience that we have a lot of meetings, and I think we ought to think about whether we even need a meeting, or whether we can do some more casual talks or pick up the phone instead of sending an email."
"It's been tough too in Teams, but when I think about it, it was also tough going from meeting to meeting before coronavirus. So I'm all about trying to shorten the meetings. I think it's possible to make meetings last half an hour instead of one."
If you want to share your thoughts and reflections about returning to CBS after three months working from home, make sure to leave a comment or send us an email.