Tobias Schelle is creating a fun workplace for 1000 Indonesians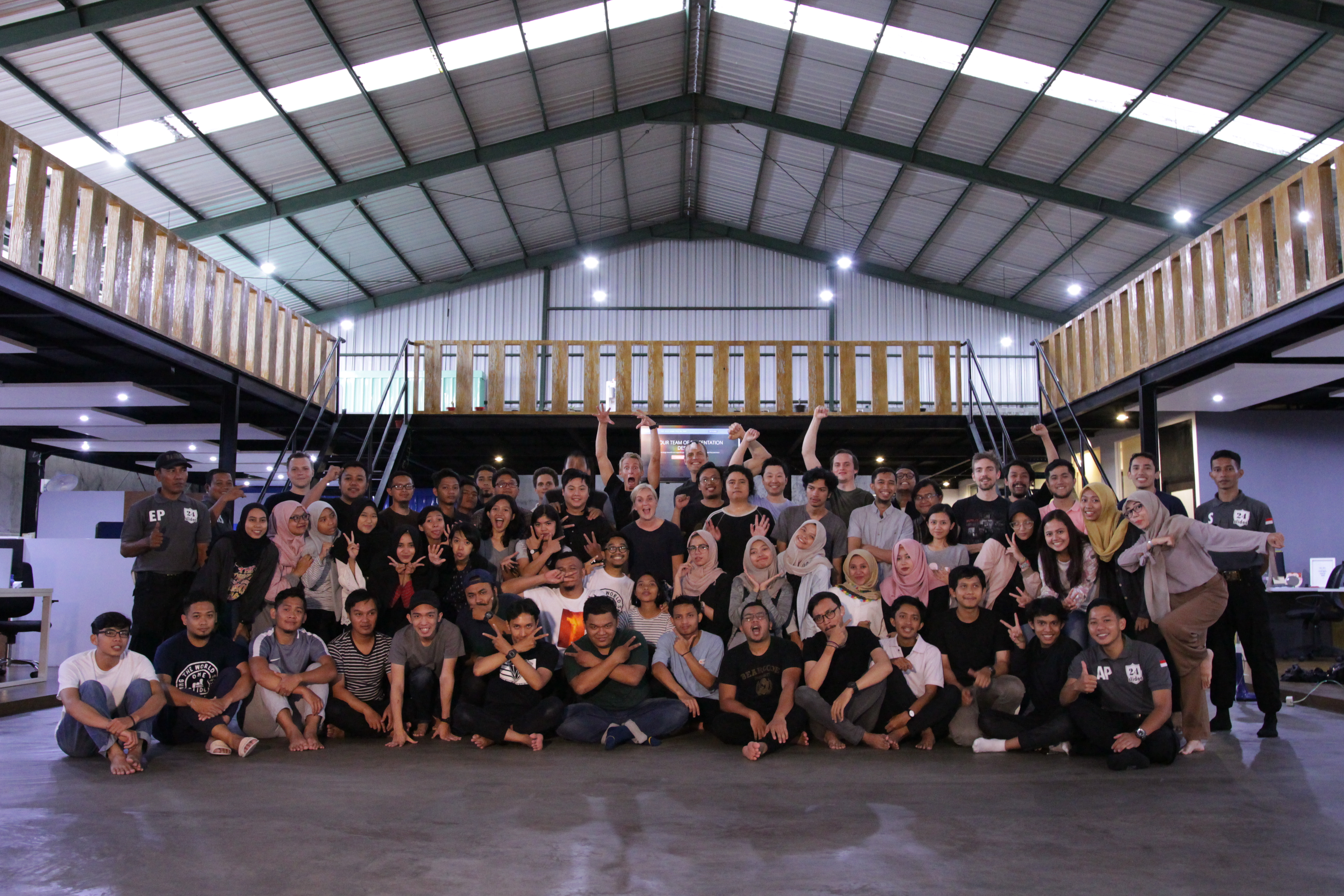 Tobias Schelle, CBS alum and founder of 24Slides, has a dream to create a company with 1,000 employees in Indonesia. One where they can have fun in the workplace and be involved in the decisions that affect the company. To materialize this dream, he came up with a unique way to hire new employees and keep the existing ones engaged. This lead to a more epic vision. One that spans beyond the scope of his own company.
A 2000m racetrack, a badminton court, a ping pong table, a slide going from the second to the first floor, sleeping pods, free lunch, and health benefits. These are some of the reasons why the Indonesians enjoy working at 24Slides when compared to other companies from that region.
Instead of working for a big company, Tobias Schelle, CBS alum and founder of 24Slides, began to walk the path of an entrepreneur and traveled to Indonesia while he was doing his master's in Finance and Strategic Management. After that, it was not too long until he founded 24Slides.
It all began in 2011 when Tobias Schelle launched a contest to find a talented designer. The winner of that competition was an Indonesian designer from Malang, Indonesia. Shortly after, he opened up a small office in Malang where the winner of the contest and a small team of four designers could work on customized presentation slides.
"When I saw how hard the people in Indonesia worked, I wanted to create opportunities for them. This had a huge impact on my motivation for creating the company in Indonesia," says Tobias Schelle.
When he founded the company in 2012, Tobias Schelle stayed in Indonesia for seven months to build up the team and establish a working culture that promotes a more bottom-up approach.
But when the time came for him to move back to Denmark, there were bound to be some hiccups along the way.
"I started in Indonesia, but a point in time came when the head of the company had to go away. At that time, I was involved in all of the decisions and suddenly I was back in Denmark. A huge bottleneck occurred because of this," he says.
The bottleneck that he refers to is the management of the employees who are in Indonesia. Tobias Schelle made several attempts at hiring a manager to oversee the bulk of the employees, but none of them understood what he was trying to achieve with the company internally.
"They nearly destroyed the culture that I created. A culture where people were supposed to be happy when they went to work and had fun while they were there. I tried to apply what I thought was good for my employees."
Bottom-Up Approach
Tobias Schelle explains that this was a stressful time for him because he was constantly putting out fires in the company and felt as if his company's culture was in near ruins. To make matters worse, out of the three managers that he hired, none were working out.
While coming up with a solution to his problem, Tobias Schelle knew one thing for sure. That he did not want to deviate from his original vision: To create an environment where people truly enjoyed working.
"I wanted to create a company that has a flat organizational structure. One where it isn't just one person making all the decisions, he says.
After reading several books about democratic organizations and brainstorming about what can be done, he came up with an idea that would remedy his problem.
"In the end, I decided that everyone in the company should have a say in what happens."
The first area where he involved the employees in the decision-making process was when the company recruited a new employee.
Tobias Schelle did not want to hire people based on having top grades or if they worked at a top consulting agency. Instead, he wanted the new employees to prove themselves.
In order to do that, Tobias Schelle and his team created role-playing simulations for the candidates. All the existing employees would then rate the candidates' performance from 1-5 on scorecards that had different traits written on them.
For example, a designer would be given a sketch and then be asked to design a presentation based on that.
"It's a very democratic solution and now I don't have to be involved in the hiring process anymore," he says with a tinge of relief in his voice.
This unique recruiting system proved to be successful and it inspired Tobias Schelle to implement a democratic, bottom-up system for more decision-making matters in the company. As it turns out, involving the employees in the decision-making processes moved the company further ahead and has resulted in growth all around (See fact box).
"It's very rare that we implement things without getting feedback from people within the company. In the beginning, it was a need but now I see it as a strong tool to keep people in the company engaged and motivated to contribute. It's a huge competitive edge compared to other companies," he says and continues:
"Employee loyalty is usually quite low. But with us, salary is not the only factor for people. Once you see a few things succeed, then you can see what works and be more persistent. I enjoy it a lot and I wish people would do the necessary work to understand the people that they work with. I want to get people on board with a bottom-up approach rather then the latter."
A Radical Dream
Initially, Tobias Schelle's dream was to create a company where employees do not have to dread going to work and can enjoy themselves by mixing work with pleasure. But with the success of his bottom-up approach to managing his company, a new vision had arisen.
Now, Tobias Schelle wants to pass on his philosophy to other companies that are aiming for global success and by doing so, have an impact on the emerging markets themselves.
Tobias Schelle and his team came up with a three-step plan to materialize his dream. According to him, they have already made some leeway and are in the second stage of the plan.
The first step of the plan was to globalize the talent that is working at his company. He did this by introducing the Indonesian employees from his company to a global market with clients from all across the globe (See fact box).
"I noticed that the people who grew up in Indonesia tended to work and serve local people. We want to educate people who can serve a more global populous. Not just the local one," he says.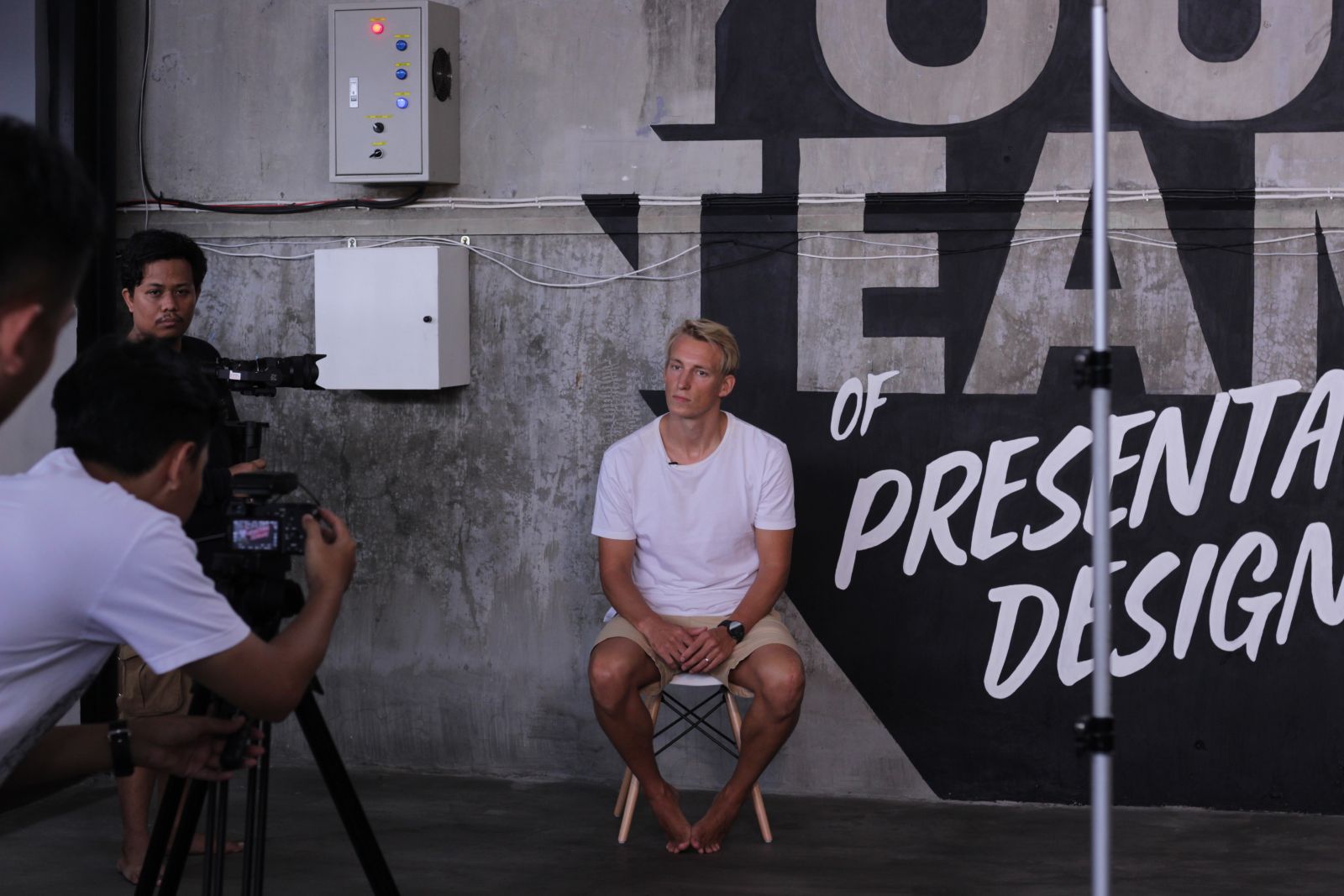 The second stage of Tobias Schelle's master plan involves formalizing what the employees are taught through their jobs. In order to do this, the team from 24Slides developed 24Academy, a series of courses that aims to help employees develop by answer questions related to communication with customers from other countries, project management, idea creation, and deadline management, just to name a few.
"It could be leadership skills or skills that the designers need. But in the end, it's all about creating personal growth. In effect we would like to give them more responsibility, which would then allow for self-development," he says and continues:
"We want to create a ripple effect where people pass on the knowledge that they have learned. We are upscaling people so that they can start their own company or become better professionals when they are moving on."
The first two stages are really meant to set everything up for the final step where Tobias Schelle hopes to create a more vibrant and broader effect on, not just his own company, but emerging markets in general.
For the third and final step, Tobias Schelle wants to found 24Ventures, a venture capital company that will invest in and coach companies that share the same values as himself and 24Slides.
"Ten years down the road I see myself moving out of the driving role behind 24Slides and into 24Ventures. I'd like to take what I learned and apply it to some other potential start-ups."