The time of the season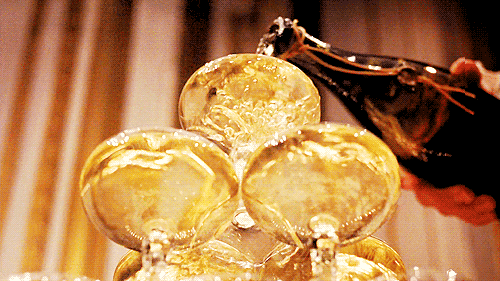 The time has come to get outdoors and enjoy the weather. And what better for the heat than a nice, chilled bottle of bubbles. If you are unsure where and when to drink which bottle of wine or champagne, CBS student Julian Johansen from the student organization CBS Wine, has got your back.
The cork is eased out firmly, but gently. The effect, a slight popping sound followed by a silvery mist seeping out of the dark bottle. The golden-brown liquid pours out into the flute causing a familiar hissing of gas as the effervescence rises to create a pearly white foam.
For most of the happenings during the summer, beer is a perfectly acceptable option. But there are those moments in life when you just need something more elegant. Julius Johansen from CBS Wine helps curate a short list of five kinds of bubbles to enjoy in different settings throughout the summer.
Prosecco
Prosecco is an inexpensive Italian sparkling wine which is becoming the next big thing. Originally, the sparkling wine is drunk as an aperitivo, a pre-dinner drink. The characteristics of Prosecco are generally dry and bubbly, but there are varying degrees of bubbliness, dryness, and sweetness. From the driest to the sweetest is Brut, Extra Dry, Dry, and Demi-Sec.
Prosecco is considered to be great value for money and the bottle does not need to be a serious brand in order to be enjoyable. It is good for casual gatherings and does not need to be served in any special glasses, it just needs to be chilled. Because of its refreshing attributes, Prosecco pairs very well with antipasti, which usually contains charcuterie, cheese, nuts, or olives.
Cava
Cava is also an inexpensive sparkling wine that drinks well on a beach or a garden party with a lot of attendees. Cava was originally in the 1850s by the Raventos family and followed the traditional method used to make champagne. Generally, cava producers should use local varieties of grapes found in the Penedes area in Catalunya, which include Macabeu, Parellada, and Xarello, however, some producers sway away from this and use other grapes as well.
Cava is considered to be versatile when pairing with food. However, it is common to drink Cava with seafood, such as prawns, muscles, and even oysters.
Sparkling Rose
Sparkling roses come in both dry and sweeter versions, but the drier ones tend to be more fruity than white wines, which contributes to an overall less dry effect. For real wine connoisseurs, it is best to serve sparkling rose in white wine glasses, but flutes also seem to be popular.
Some of the best sparkling roses come from Spain for several reasons. Spain is a hotter climate than France, their soil is less mineral and their grape varieties have less acidity, or less dryness, which means they have a fruitier character.
A good pairing with sparkling rose is strawberries, to match the romantic setting, but it is still a dry wine, so no chocolate. Ripe fresh fruit and sweeter berries work the best.
Champagne
For all of those fancier events, there's vintage champagne. A good option would be Leclerc-Briant, they do a vintage premier cru, which is considered to be the second best-ranked champagnes. Their champagnes are biodynamically certified, quite dry and do not have a lot of sugar. You get a great bang for the buck.
Traditionally, champagne is served in champagne flutes, but it does not do very much justice for the wine in flavor, because it does not give out the aroma. Alternatively, use a white wine glass because there is more surface to air ratio and you can get more of the aromas and flavors. But make sure to empty your drink relatively fast because the bubbles dissipate faster than in the flute.
The best type of champagnes are the grand crus such as Cristal, are a lot more expensive (triple price) than premier cru.
As with cava, Fish, and seafood, in general, are really good with champagne. Anything from shellfish, lobster, crab, or mussels.
Italian wine
If you want to pair a nice bottle of sparkling wine with something sweet then consider trying Brachetto d'Acqui, a sweet sparkling red wine from Italy. This sparkling wine pairs very well with something like a chocolate berry cake. It plays very well with the tartness of the berries and the bitterness of dark chocolate.