I have been postponing my Louisiana trip for quite some time now, waiting for the right weather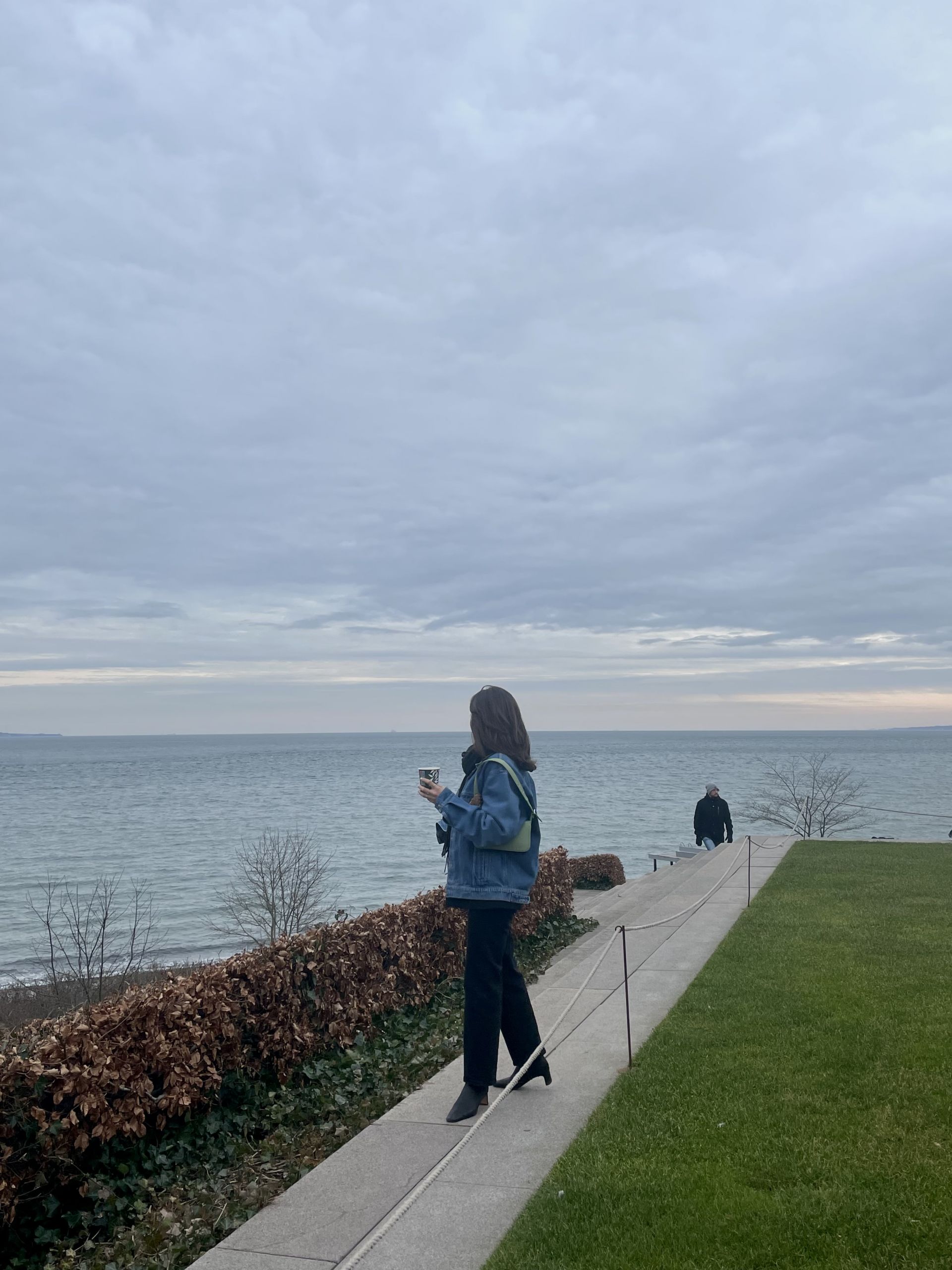 Before I moved to Denmark, I read a mocking commentary on how the Danish people talk about the weather all the time and by that, I mean all the time.
And one of my closest friends who was at the time living in Denmark – she still is – would also complain about the weather every time we FaceTimed with each other. About the weather being 'blue' and windy all the time. Back then, I did not think the weather could bring that much of an inconvenience into one's daily life but having lived in Denmark for almost half a year now, I think I know what people meant.
Last week, we had a huge storm in Denmark, and I was stuck in an airplane for five hours and my flight was delayed until the next morning. Five hours in an airplane that is shaking due to the storm. And the following days were very windy, making it very hard to be outside, and it still is quite breezy; however, as the sun peeked through the clouds this weekend, I was able to spend some time outdoors.
So I whiled away my weekend taking a stroll in Charlottenlund and finally visited the famous Louisiana Museum. I have been postponing my Louisiana trip for quite some time now, waiting for the right weather. I think Denmark is teaching me how to appreciate the sunny weather I have taken for granted.
So this weekend I decided to spend my time outdoors and enjoy the sun as much as I can. On Saturday, I took my usual stroll in Charlottenlund. I think it is one of the most enchanting places I have ever been to. I often take the train to Charlottenlund Station and from there I walk to Charlottenlund Fort. The distance is slightly longer than one and a half kilometers and the route is through Charlottenlund Forest and the charming Charlottenlund Palace.
There are also coffee shops and a bookstore called Bog & idé and I sometimes drop by there along the way to see what is new. This short trip is one of my favorite things to do when I am alone and when the weather is good. I think I could call it my personal hygge activity because it is extremely calming and grounding. And for a moment I forget that I am living completely alone in another country.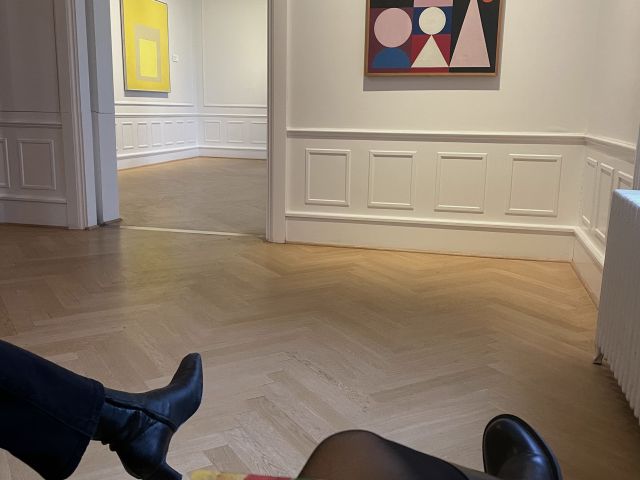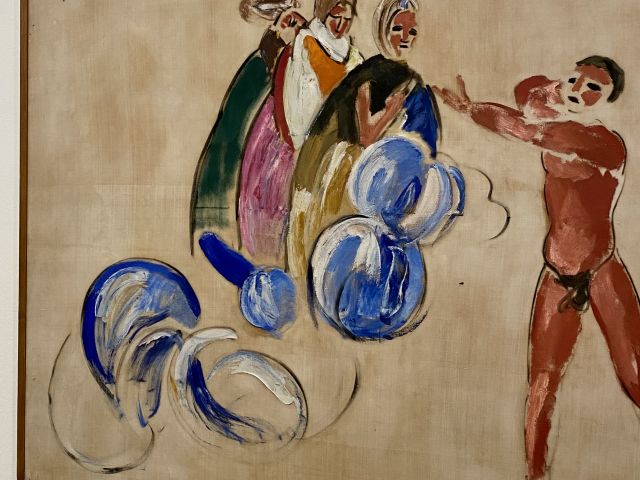 Then I also get to see people walking their dogs both in the forest and by the sea and I believe we all agree that dogs themselves are enough reason to go there. I believe many internationals do not really visit this part of the city as it is not a very tourist- or student-friendly area. It is more residential and the only thing to see seems to be nature, but for me, that is exactly why the Charlottenlund area is the perfect escape from the city.
And right by the sea, there is a café called Café Jorden Rundt where you can enjoy a Danish brunch until 1 pm. They have Danish smørrebrod (open sandwiches) with salmon as well as some American pancakes if you are in the mood for something sweet. However, the best thing about the café is probably its view – especially when the sun is out.
Then on Sunday, I visited the Louisiana Museum of Modern Art – a place I have heard a lot about since I moved to Denmark, but I did not have a chance to visit sooner. The museum is a tad bit far from the city, so we had to take the regional train and transferred only once, so I believe it is relatively easy to go there despite the distance. Louisiana Museum is known as the most visited museum in Denmark, and I found out that it was included in the book called 1,000 Places to See Before You Die.
And having already been there, I can understand why. The museum was established in 1958 and took its name from the wives of its owner, all named Louise, which in my opinion, is quite an interesting detail. The architecture of the museum has been altered over the years until it has reached its final circular structure with three main buildings linked by glass corridors. And it is surrounded by a sculpture garden with the most calming and beautiful view of the sea from the museum lawn. The museum hosted the works of very influential artists from Asger Jorn, Andy Warhol, David Hockney to Pablo Picasso. Of all the artwork exhibited in February, I have found the works of Sonia Delaunay and the paintings of Jerichau the most outstanding.
The first exhibition that drew my attention was that of Sonia Delaunay's. A French artist born in 1885 in Odessa, which feels surreal as I believe her work is still relevant and inspiring to this day. She was the representative of modernism as a painter, designer, and entrepreneur. Her work at first seemed to belong to cubism with her daring use of colors and geometric shapes.
However, later I found out that her style of abstraction initiated an entire novel movement namely Orphism inspired by cubism. This movement was led by Delaunay herself as well as her husband Robert Delaunay. In addition to her paintings, Delaunay's flashy textile designs with colorful geometric patterns where she integrated her abstract expression into the fabric were also on display.
According to the exhibition, her experiences with fabric began in a serendipitous manner when she decided to make a blanket for her son in 1911. From that moment onwards, Delaunay seems to have diligently integrated her abstract vision into her everyday life. Throughout the exhibition, Delaunay's paintings and designs radiated vibrant creative energy pouring into life and it was very inspiring to witness the stunning work of such a multifaceted female figure in history.
The second exhibition that I found extraordinary belonged to the modern Danish artist Jens Adolf Jerichau (1890–1916). When in Seoul, I have visited the exhibition of Asger Jorn's work, and after this comprehensive exhibition in Louisiana, I learned that Asger Jorn was immensely inspired by the work of Jerichau.
Unlike Delaunay, whose work consisted of vibrant colors and shapes that carried over into women's daily life, Jerichau's work left a rather pessimistic impression on me. His expression consisted of dark colors and large distorted figures. Later, I found out that Jerichau was often criticized by his family regarding his sexuality as well as his art and that he perceived art and personal freedom as synonymous. The exhibition also mentioned that Jerichau's paintings were inspired by the Bible, depicting a conflictual contrast of tradition with modernism. Given the context, his work seemed to be his attempts to convey his internal conflicts. The exhibition also included excerpts from Jerichau's journal, one of which was "Great times are upon us — glorious art awaits.
" The excerpt said that these were the last lines he wrote in his journal before he committed suicide. I think his story was perhaps what struck me the most and evoked a sense of empathy within me as the issues he seemed to have struggled with are still relevant in our societies today.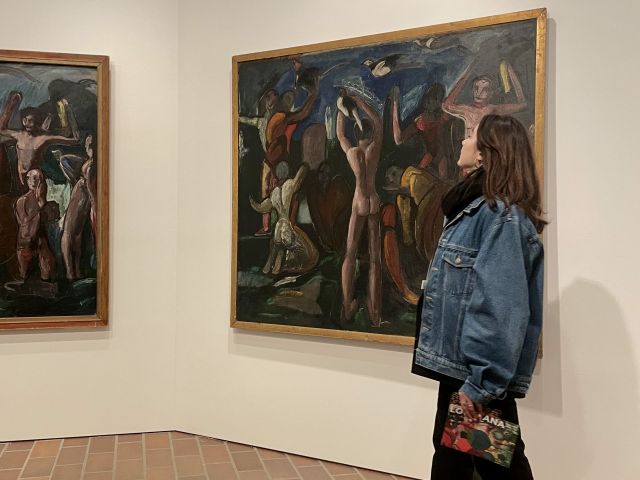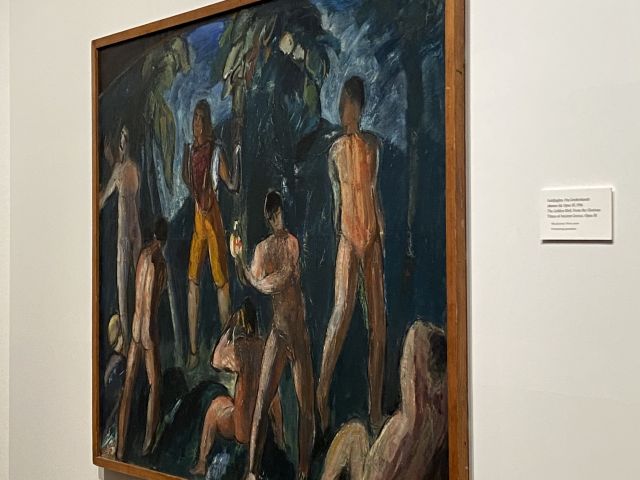 My trip to Louisiana was the highlight of this weekend not only because I learned about a prominent Danish artist and enjoyed the artistic expression but also because of the time I could spend in the garden and by the sea. I really enjoy the calm of being outside the city.
And with the winter transitioning into spring, I have recently noticed that every day the sun sets a tad bit later than the day before. And as the days in Copenhagen are slowly getting longer, I feel the urge to be outside more.
My Danish friends warned me not to expect the weather to get warmer just yet, but that it will become warmer maybe around April. Regardless, I am more than thrilled for the spring and the time I can spend outdoors with the milder weather together with the summer vacation. I hope you too have something that excites you these days, and if not, this is the sign for you to take a trip to Louisiana. As they say, a little change of environment can be good. I hope you enjoy it as much as I did and will talk to you again in my next blog post!