Four years after CBS: A childhood business plan makes dreams come true for plus-size women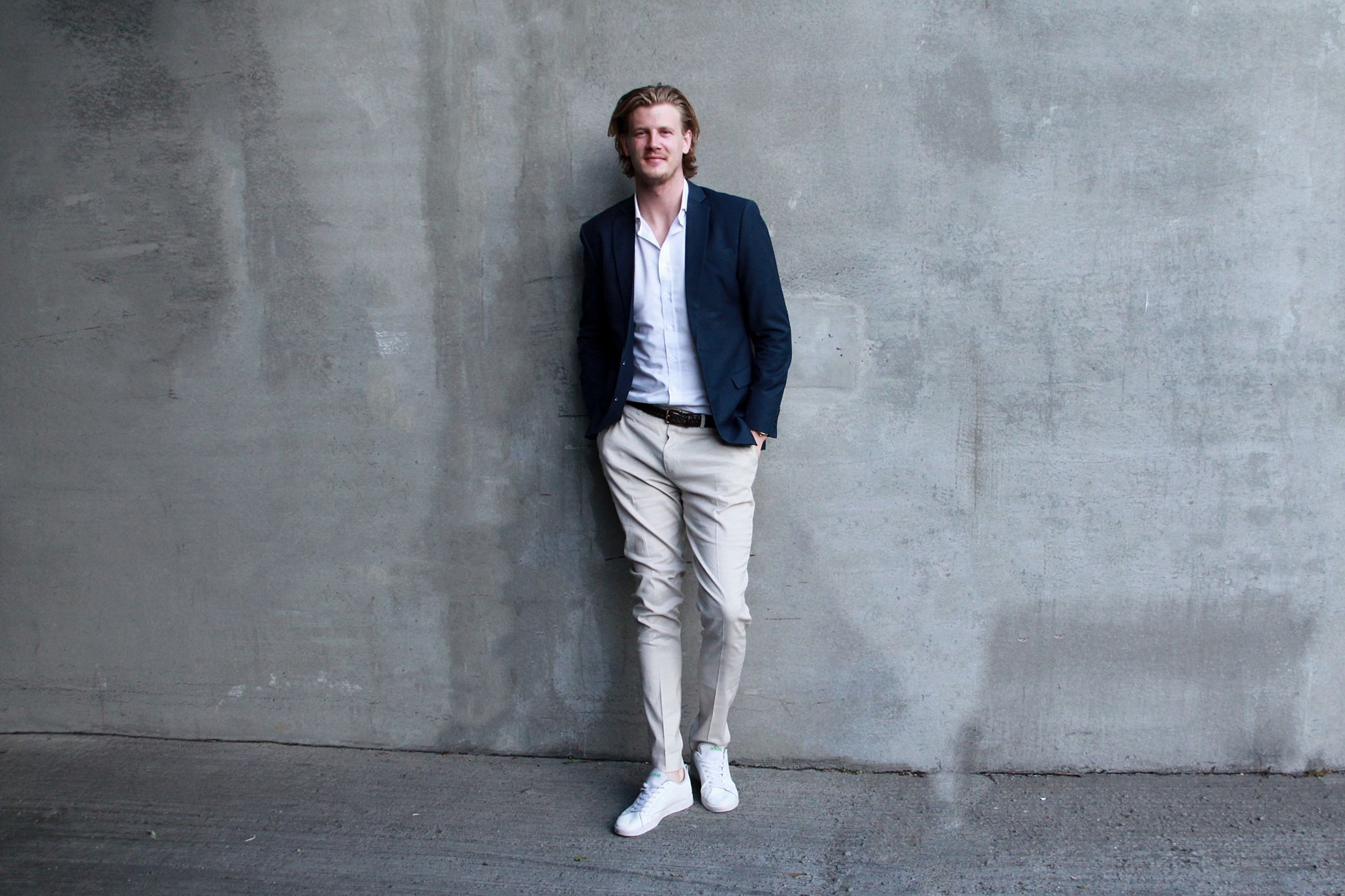 In his teenage years, Mikkel Weiss and his classmate planned to create their own startup. Along the way the mission led him to CBS, where he became a top-grade student. And now, four years after CBS, he is running a well-oiled startup, that specializes in stylish plus-size womenswear.
"To be honest, I really don't know much about fashion. But a couple of years ago, we staged a fashion show for Copenhagen Fashion Week that attracted some of the top media publicity. That was the first time I had ever been to a fashion show," says former CBS student and co-founder of AnnoAnno, Mikkel Weiss.
Ten years ago, he and his childhood friend Thomas Hørslev shook hands and made a plan to one day live out their common entrepreneurial dream and create a startup business together.
Their plan came true, and now they are co-founders of AnnoAnno – an online plus-size clothing shop concept for women that invites each customer to supply information about her individual style and budget, so a stylist can use the data to mix and match the right clothes for her wardrobe.
And although they were not too familiar with fashion and women's clothing in sizes 42-56 to begin with, Mikkel Weiss relished the challenge of their startup adventure. After all, challenges are exactly what fuel his entrepreneurial engine.
"I love to build something up from the ground and watch it grow. I love the struggle. And if I enter a new arena, I always find a way to gather knowledge quickly," he says.
"I'm a fighter"
Mikkel Weiss enjoyed studying at CBS. First, he took a BSC in Economics and Business Administration and then an MSC in Strategic Market Creation (SMC). During his graduate studies, he landed a job that proved to be slightly more demanding than a regular student job.
The position entailed working for forty hours a week alongside attending his mandatory lectures at CBS, and then he read up the course materials on weekends. In other words, Mikkel Weiss had a lot on his hands.
Juggling a time-consuming job on the one hand and a demanding master's course on the other would normally involve prioritizing some assignments at the expense of others.
I've never seen myself as a particularly intelligent person at all. Rather, I'm a fighter
But not in Mikkel Weiss' case. He graduated from CBS with the second-highest grades in his class, and although this very impressive accomplishment demands a certain amount of subject knowledge, he does not regard himself as a profound genius by any means.
"I've never seen myself as a particularly intelligent person at all. Rather, I'm a fighter. I've learned to face challenges head on in order to accomplish my goals, and that has, in itself, also taught me a lot along the way," says Mikkel Weiss and continues:
"I got a grade-point average of 11.4. Some might think that makes me a brainy kind of person. Personally, I think I just cracked the code on how I needed to study in order to remember what was important and get the most necessary knowledge."
Brainy or not, his hard work paid off. And after graduating from CBS, he could now move to the next phase of his plan – a plan that was formed years before he enrolled at CBS. 
A man with a plan
If you were to choose the least appropriate adjective in the English dictionary to describe Mikkel Weiss, it would be 'lazy'. He moved straight from school to business college, and from business college to CBS where he enrolled at the age of 18.
Mikkel Weiss never took a year off to explore various potential career paths because while still a teenager, he and his classmate from school, Thomas Hørslev, decided to become entrepreneurs and create their own startup.
"During our first year at business college, we I took a course on entrepreneurship. This was when we agreed to make our own startup," Mikkel Weiss says and continues:
"But to become fully equipped with the right skills, we planned on studying at CBS to get the necessary theoretical business knowledge, followed by two years of working fulltime to accumulate some practical experience as well."
Though proud of their accomplishment, Mikkel Weiss acknowledges that it is quite rare to make a plan as a teenager that holds true all the way through into adult life. Nevertheless, he feels lucky to have achieved his mission.
"Many people struggle to find out what to do with their lives and careers, which I totally understand. So I feel very lucky that I knew from a very early age what I wanted to do, and I managed to get there," he says and reflects:
"But at the same, it's just how I am. I am a person who's really dedicated and determined to focus on my goals, and I've been like that for as long as I can remember," he says in a humble, yet confident tone.
Plus sizes, plus passion
Why did Mikkel Weiss and his partner tap into the niche market of selling clothes to plus-sized women in particular? The answer is simple: there was a huge gap in the market.
Over the past couple of years, AnnoAnno has filled this gap, and the startup has enjoyed sustained economic growth in the Danish market. Last year, this led the two co-founders to expand their business to Sweden, and by the beginning of April this year, they will also have launched their brand in Holland.
To accommodate their growing business, the startup's office has moved from Thomas Hørslev's apartment, where the brand was born, to an office with 22 full-time employees. It is safe to say that business is looking up.
But Mikkel Weiss' interest in entrepreneurship and startups is general in nature. Therefore, strictly speaking, he could have created a startup selling any one of a range of products rather than plus-size clothes for women.
However, during the third year of running AnnoAnno, Mikkel Weiss' views began to change. He is still deeply passionate about entrepreneurship and business as a whole, but selling clothes for plus-sized women now has much more meaning for him.
"I've always wanted to create a startup that made a difference to people, but I really didn't know that I would end up selling plus-size clothes," Mikkel Weiss says and continues:
"Along the way, customers have sent us letters describing that they've had issues before about going out for a drink, but now, their new clothes have made them feel more confident than ever," he says and concludes:
"And that has made our startup even more meaningful for me. It gives me more energy and makes me even more determined to continue providing stylish clothing in this segment."