Familiar with the nerve racking feeling of dating? Solution: doubble date!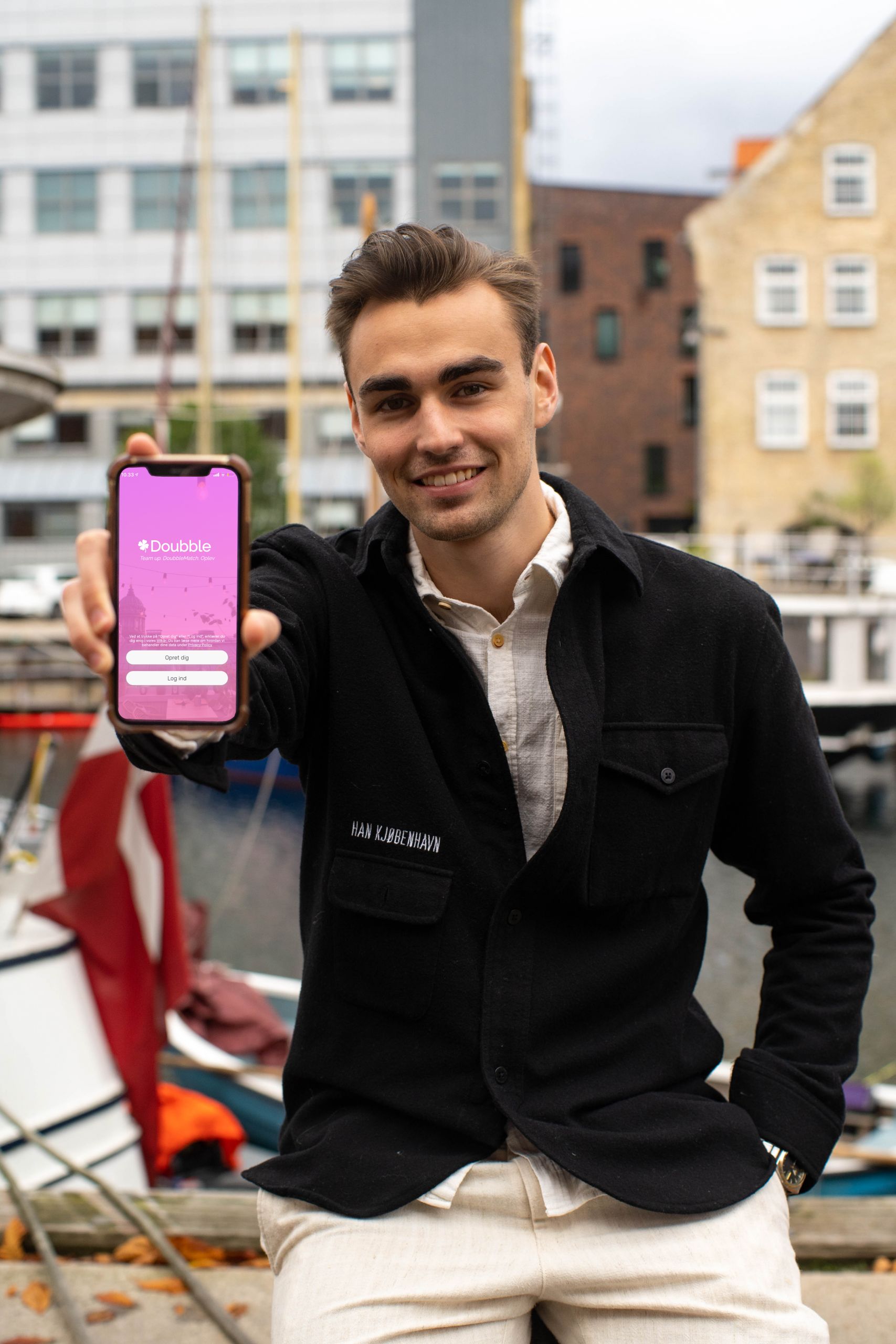 An international business student found himself in a pickle after moving from Odense to Copenhagen and making his debut at CBS in the middle of a widespread corona lockdown… knowing nobody. And then what do you do to meet new, interesting people? If you ask Dennis Rosenlund, he'd say you make an app.
Are you familiar with the nerve-racking feeling of a first date? And even before getting that far, the even more unnerving feeling of having to ask someone out? For many, the answer is yes. This has resulted in a wide variety of mobile apps to help that aim to ease this process. But what if it's still awkward? If the date never ends up being a reality?
Dennis Rosenlund, an international business student at CBS found his take on a solution: Don't go alone!
"Doubble is like a double-date app, where you team up with your friends to meet new people on double dates. It's a social concept – you only have a match when you have a double match. So that's a match between you, someone else, and their friend and your friend. Then you have a double match! And then to keep it from being a boring or awkward date, you can find experiences like a bar, a café or a place with activities to suggest to each other, and then have an eventful date," explains Dennis Rosenlund about his new app.
Took a SU student loan
But an app doesn't just manifest itself out of nowhere, much as a lonely heart won't get very far alone. An app needs sufficient coding and designing, as well as funding, advertising and users. The process might stem from an idea, but the next steps are vital, Dennis Rosenlund elaborates:
"I was looking for a software company. It takes a whole lot of pitching before finding the right one, but eventually I ended up finding it. I had to invest some of my own money too, so I took an SU student loan and maxed it out, throwing the whole thing into the project. Then I started spreading it around, getting people to sign up pre-release. But when I started it, I only had the necessary finances to fund the project for a few months. I needed to find someone to support it financially as well. It was easier than expected – a lot of people seemed to see themselves using the app, so they were willing to support it. And now, with around a thousand people signed up, we have launched!"
When entering a market with so many potential competitors, the point is to expand the potential of the individual app. The point of Doubble isn't necessarily to find The One, it's more about meeting new people and exploring the city together – in the comforting company of friends. Especially post-lockdown when everyone needs and wants to meet up and go out. So, an idea born out of a lockdown can easily expand beyond just that.
A less awkward date
"I started at CBS last year, and everything was in the middle of a corona lockdown. I started using dating apps, but quickly discovered how rarely you'd end up actually meeting your match, and how awkward it could often be. But I found that asking a girl on a double date often resulted in a less awkward date, and a faster meetup – and that's where the inspiration came from. Practical experience, you could say," he laughs.
And since the first buds of an idea sprouted back in February, a Doubble-shaped snowball has been rolled out. With the app fresh in both Apple and android app stores, and the matches ready to tick in, Dennis Rosenlund can safely look back at the process.
"The process involves a lot of realization. You quickly realize when you're a founder of a tech startup and you cannot code that you need some people. I needed to find someone who could code the app. I spent several months finding a company, but eventually found one in March this year – and Doubble was founded!"
True love …
What is the next step for Doubble and Dennis Rosenlund? Hopefully many, many phones with little Doubble icons installed. The intention for Doubble was not to look exclusively for true love, and not to replace simply chatting up your mates in the auditorium. But those things are not mutually exclusive, Dennis Rosenlund explains.
"We're excited – and nervous, just a bit. But mostly excited!
It's simply a tool for meeting people, as friends. And while it is, as of now, most widespread at CBS, it has the potential to spread, he says:
"We've had really good responses from exchange students in particular, so we can see the desire to open up to a new city and new people, particularly from people who just moved here. We imagine, as the app hopefully spreads, that you can use it with your friends when you travel to a new city, or maybe even before you go. So, your weekend trip is set!"
But as of now, the launch has been successful, and Dennis Rosenlund is happy.
"We're excited – and nervous, just a bit. But mostly excited! Now we can see the idea materializing into a product that can actually be used! Now we'll just see how people welcome it!"