Buenos Aires: Tango Ad Libitum and Crazy Drag Queens
BLC-student, Nanna Koch, moved to Buenos Aires, Argentina without knowing much about the South American metropolis. Now she considers herself a local and guides you to the best coffee, hangover lunch, charming Tango teachers and where to experience half-nude drags in shiny bikinis.
Honestly, I knew very little about Argentina and Buenos Aires before going there.
I knew that the economy had been rather bad for a long time (to say the least) and that inflation was high and quite unreliable. I knew the government had just changed after 12 years with socialist/populist Cristina Kirchner and a new liberal path was pursued by the former businessman Mauricio Macri.
I knew that people liked drinking mate, that the city was the birthplace of Tango, that the country's inhabitants to a high degree consisted of European descendants, and I knew they had a quite distinct Spanish accent. And that's it.
After having travelled several times to Cuba, where the Caribbean spirit both excites you as much as it frustrates you, I chose to go to Buenos Aires. My reasons for this lied in the fact that I wanted to experience living in a Latin American country, which doesn't seem to foreign to me. I guess I sought a certain "middle way" between the European culture and what is perceived as the stereotypical South American culture.
Argentinian meat will make your mouth happy

Buenos Aires is full of cafés and restaurants, and people like to eat LATE! So don't be puzzled if you during a weekend see people having their dinner at 3 AM. Many restaurants actually don't open their doors until 9 PM.
The Argentineans have a thing for "asados", which is translates to barbecues, and though I'm not the biggest meat-eater, I must say that all my taste buds were very happy about trying the Argentinian specialty.
If you're in a good mood, and your wallet is too, go to Cabañas Las Lilas placed in Puerto Madero. The place is flawless in both their service and their meat selection. Even their starters, which by the way are included in your meal, are spectacular.
A less expensive, and very popular alternative, is Don Julio in Palermo Soho. There's no doubt you'll feel comfortable here. First of all due to the lovely atmosphere with wine bottles covering the walls from top to bottom, and secondly because of the kind waiters.
Hangover lunch and saddening coffee
For a good hangover lunch go to La Panera Rosa in either Palermo Soho or Recoleta, or grab an awesome burger at the Burger Joint, also in Palermo Soho.
Good coffee is hard to find, as the regular "café con leche" is pretty much tasteless and leaves you rather sad. If you're a coffee fan like me, try Full City Coffee House or Fifi Almacén in Palermo Soho.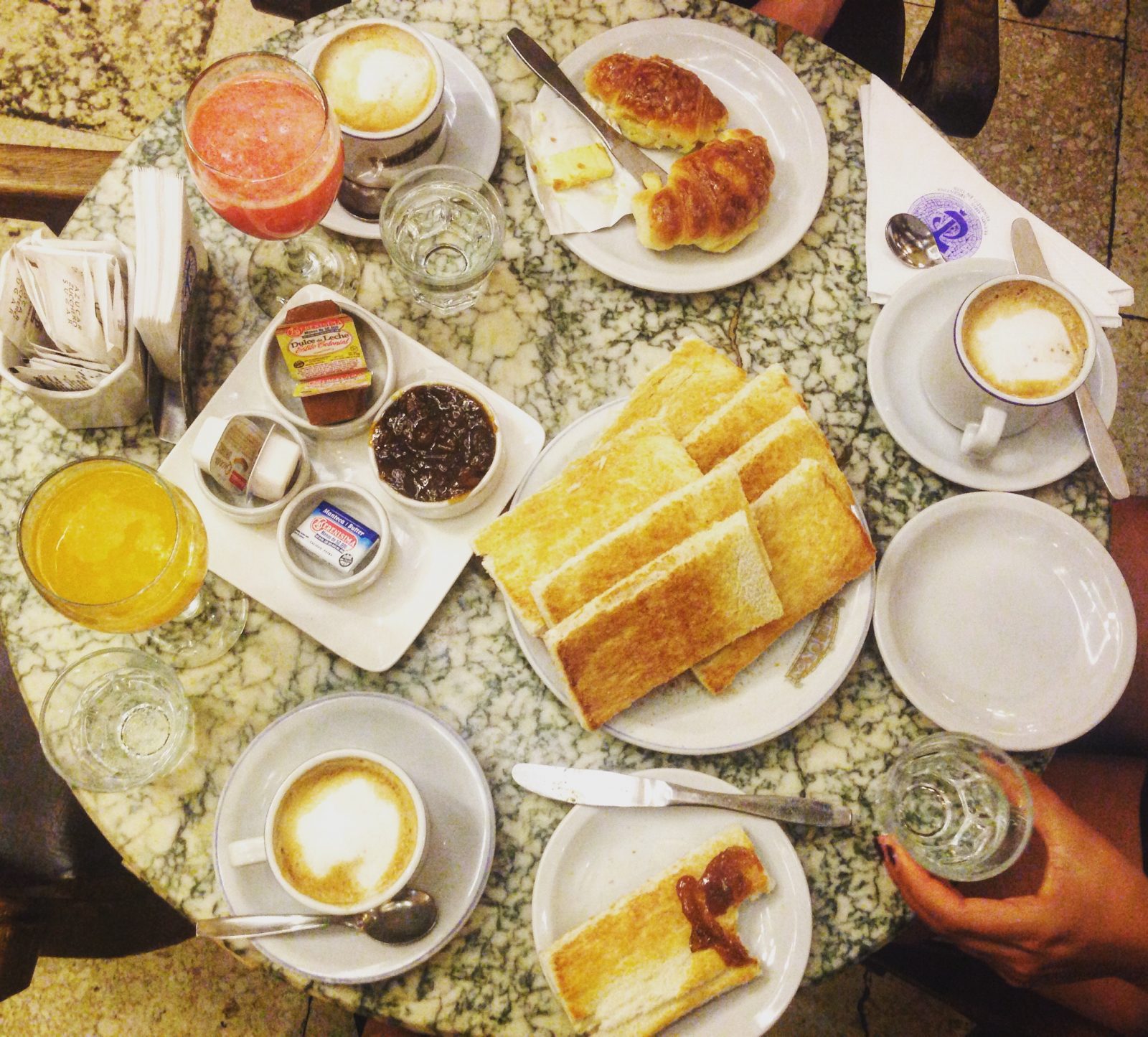 A thing worth trying is also the "comida por peso", or food by weight places. There are quite a few, some better than others, but all rather cheap. My favorite is definitely the one located in the passage between the Obelisk and Plaza Lavalle in the city center. Go there!
Last, but not least, an Argentinian speciality is empanadas (pierogi) and you can get them everywhere. The best ones I've had was at La Cocina in Recoleta. Try the picachu with onions, chili, cheese and paprika, and while you're in the area, hit Rapanui to get an ice cream for dessert. It is THE BEST I've ever had.
Buenos Aires by foot
It can take some time figuring out what, when and where the interesting stuff is happening because the city is huge – so a lot is going on!
I really enjoyed the Sunday market in San Telmo on the street Defensa, where you can buy everything from beautiful silver rings and hand crafted ceramics to Mexican nativity play figures, suede bum bags and maté cups. The prices are quite fair, but one can try and negotiate on an even lower price – as long as it's done politely.
Another activity I'd recommend is easy accessible: walking!
My preferred Argentinian transport way was by foot. The city has so many different neighbourhoods with distinct and interesting architecture to gaze at. The mix of a detail orientated neoclassical building next to a grey 1960s concrete housing block next to a modern minimalistic glass house is quite peculiar.
Other beautiful spots to stop by are the rose garden in Palermo, the cemetery in Recoleta and the area around Puerto Madero. So get those comfy shoes on and start trudging!
Get them hips rolling
For dancing classes, La Viruta in Palermo has a lot to offer and people show up in large numbers. Locals as well as tourists join the open group classes. If your hips are eager to get rolling, but your mind is too shy, don't worry. The classes are divided into various levels, so you can choose to join the class you feel most at ease with.
The classes they offer are tango, salsa, folklore and bachata. If you want tango, and only tango, I would recommend taking private classes at DNI tango in Palermo. The school has a specific teaching plan, kind and talented teachers, and the place is full of tango-enthusiasts from all over the world, who come to this place to take classes.
My favorite spot in general is La bodeguita de La Habana. I dance a lot, especially Cuban salsa, which is what you do here. The building is placed between Villa Crespo and Almagro, and is a culture building housing different dance classes and social dancing events.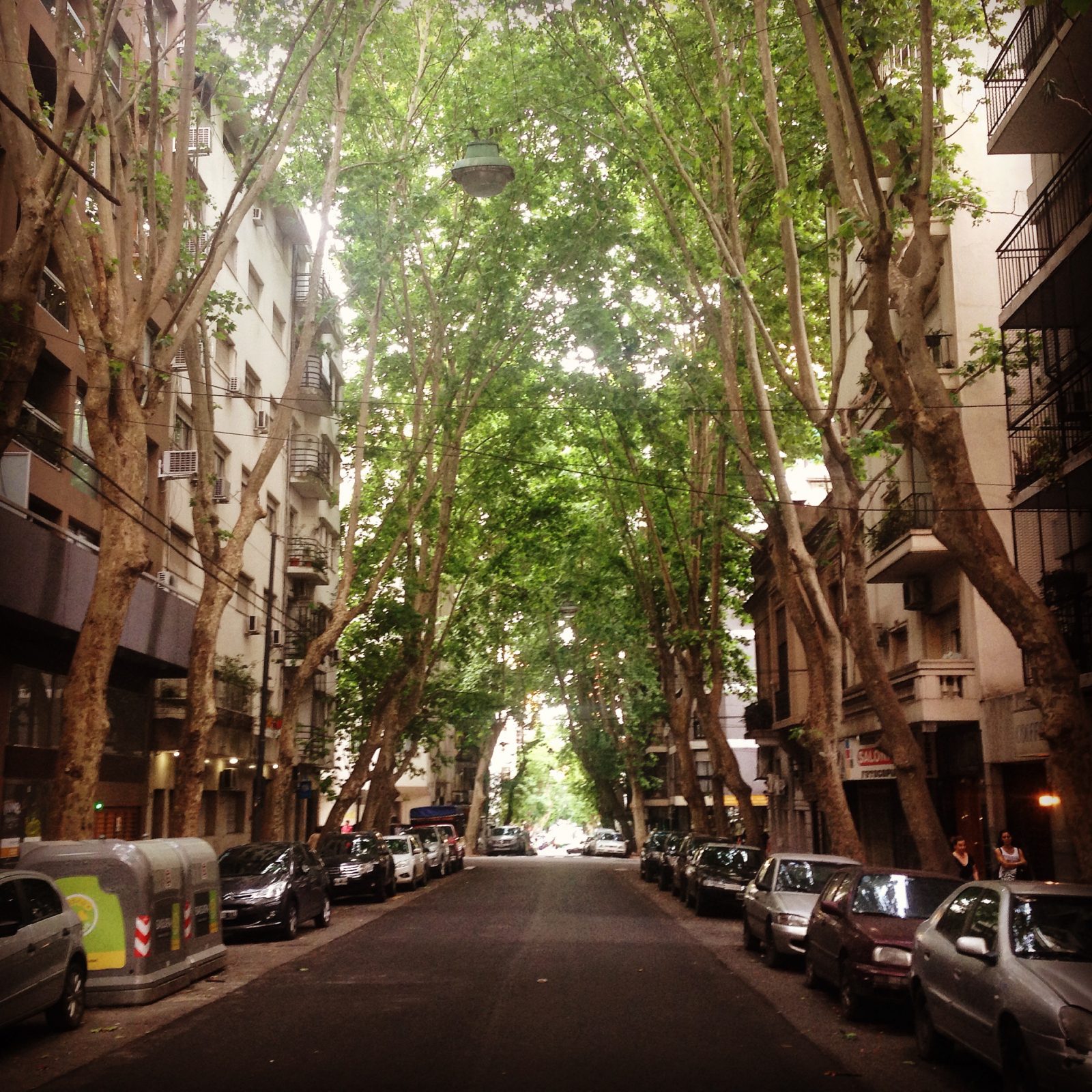 Sadly, Cuban salsa is only every third weekend, but if you're into this genre of dance, just as much as I am, this is the best option. For other salsa/bachata dancing places, go to Azucar Belgrano in Palermo or El Toque Cimarrón in San Telmo.
Thursday night hip hop and crazy drags
Other going out options worth mentioning is MOD in San Telmo. Go there on a Thursday, where the speakers play old school hip hop and the people listening and dancing to it look just as authentic as the music.
A Thursday night is also well spent at Club 69 in Niceto Club in Palermo Hollywood, where drags and hot chicks dress up in shiny, yet very revealing outfits. Be prepared – it's colorful and crazy.
If you're into something a little less hectic and wild, but still looking for a cool night out, go to Ferona, also in Palermo Hollywood. Here the drinks are delicious and the decor and soul/RnB music carries you comfortably through the night.
As a first-time visitor to Buenos Aires, the city can seem rather overwhelming and the city to-do list easily becomes never-ending. This is the fantastic thing about the city, and why I hope you'll enjoy going there just as much as I enjoyed living there.
So whether you are looking for fun times or new dance moves, there are plenty of things to do in this amazing Southern American city.