How a student's problem triggered a succesful business venture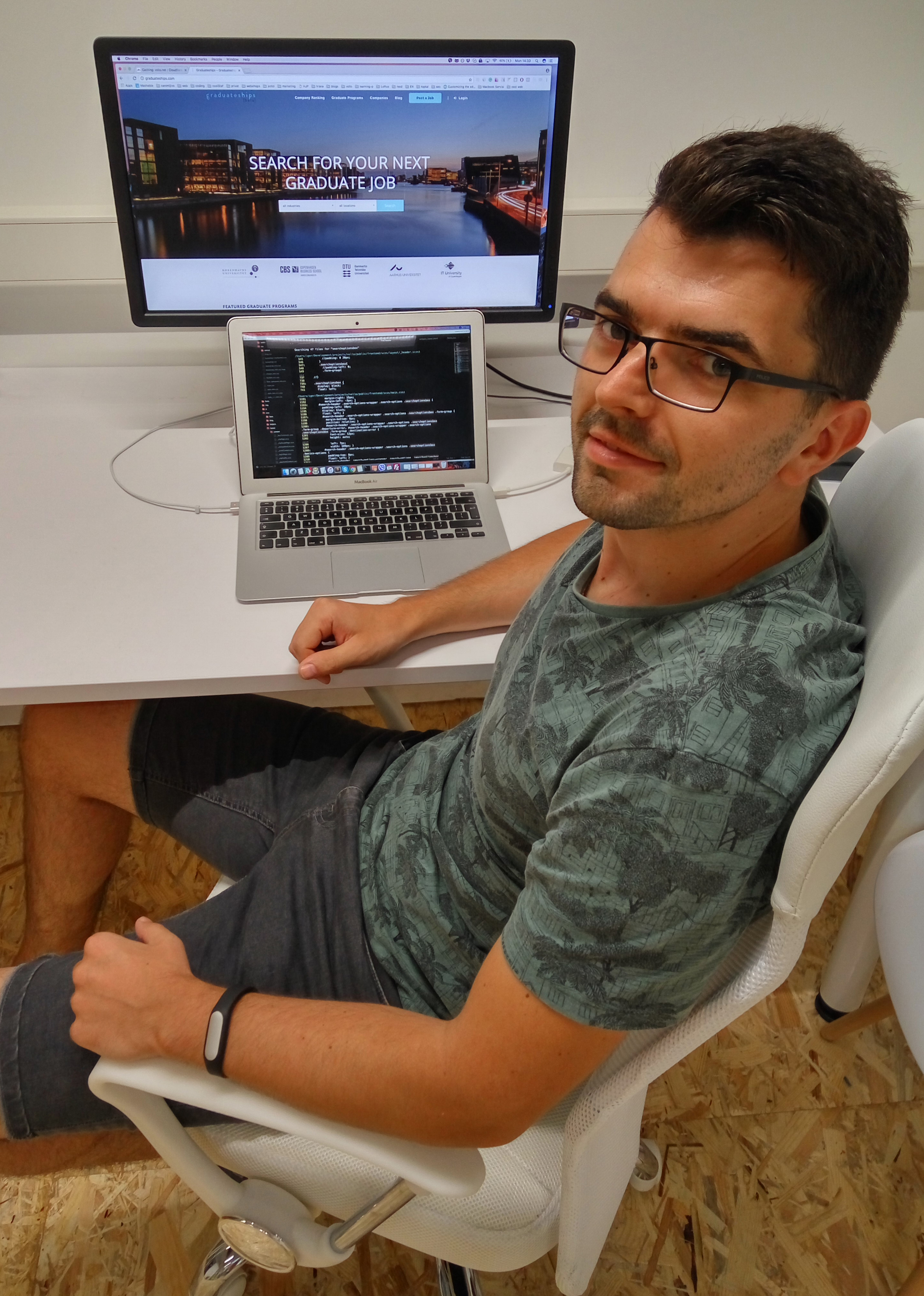 On the verge of graduation, a group of International Business students felt they were lacking a clear overview of the job market they were about to enter. This led them to start a new website, which aims to make all graduate programs visible and applicable free of charge for all students.
It all started in the beginning of 2016 when IB Student Palle Broe and a couple of his classmates were looking for full-time graduate positions. They took to the internet in order to explore their possibilities but found it challenging.
"At that point in time the only useful source was Graduateland, but they did not provide a very comprehensive overview of the job market, specifically for graduate programs," says Palle Broe and adds:
"This meant that we would find super cool opportunities through other sources, but often too late. We, therefore, wanted to ensure this did not happen for other students."
Thus, they took action and started their own website graduateships.com. Palle describes the site as a place where students can get a complete overview of graduate programs and it helps increase transparency around the top companies in each industry.
Palle says Graduate Ship is "a bit like what vault.com is doing in the US".
Work, studies and work again
The website did not, however, just appear out of nowhere and Palle Broe admits that it has taken a great deal of time and effort, as he and his friends were still in school at the time of the site's establishment.
"As all of us has had full-time positions on the side, it has primarily been during the weekends and holidays. On average, we spent around 10-15 hours a week besides our studies and work," says Palle Broe.
On whether or not him being a student at CBS has contributed in his entrepreneurial endeavour, Palle Broe comments that:
"We were in contact with a few of the organizations, but decided to do this independently of any CBS organisation in order to get this off the ground fast."
A non-profit passion
And fast is exactly the speed at which the website was developed and used, with Palle Broe adding that they have a superb technician in Croatia helping them maintain and further develop the site in a way where it can keep up with the users' demands.
As for profit, Palle Broe remains to state the main purpose of the website:
"It's a non-profit organization as we want to be sure that we create a job platform, which is complete and comprehensive. It is, therefore, free for both students and companies to use the site."
The success of graduateships.com seems to be weighed in the help and assistance that it provides to other students, and this pleases Palle Broe, as this was the main goal of the website. He believes the accomplishment of his entrepreneurship lies in working with an idea he feels passionate about solving.
"Working with something that would make life easier for you and other people. Something that you have encountered in your day to day life and which has bothered you. This was the case when we started graduateships.com, as we had all felt the pain of not having a good overview of graduate jobs."
Any idea is possible
When asked what kind of advice he would give to other young entrepreneurs, Palle Broe focused on the notion that any idea is possible to realise regardless of the amount of time one has.
"We all have full-time jobs on the side, which we are prioritising, but we use all of our spare time working on graduateships.com. This gives us the best of both worlds – the job security and income from our jobs, but also the learnings of starting something from scratch via Graduateships."
For Palle Broe and his friends, it seems that their entrepreneurial adventure is a win for both themselves and all the students looking for graduate programs.