Healthy glove gaming, misoballs and a virtual midwife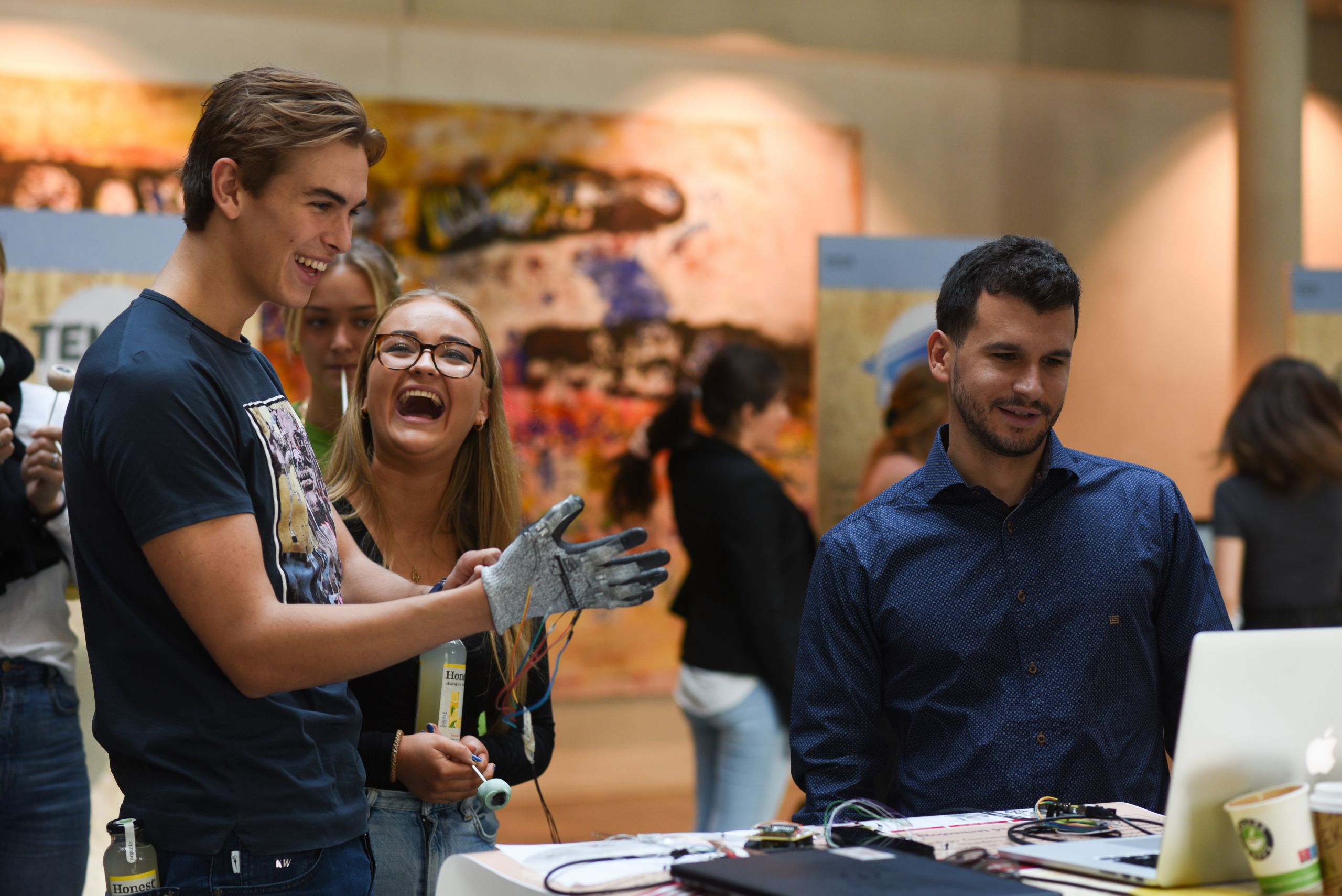 Entrepreneurial day kicked off with 25 bright new ideas lined up in stalls at Solbjerg for everyone to see, test and taste.
Entrepreneurs had gathered from KU, DTU, ITU and CBS to showcase their takes on what the future may bring. With sustainability and health in focus across the board, the students and visitors had a chance to share their visions for a cleaner and better future.
CBS WIRE chatted with some of the entrepreneurs represented about their products, brands and how they imagine the future taking shape.
Amber Ravn Labuz and Alex Voinas: RoGlove
"Our product involves gamification of hand rehabilitation. If you have a hand injury, you need to do some pretty boring exercises a hundred times a day at home. We came up with the RoGlove, which allows people to play mainstream, fun games to motivate them to do these exercises! We can then analyse the tension in the hand and monitor their progress.
"We got the idea about a year ago but have been working on the product for around six months. We're hoping to launch the product as soon as possible, and get physiotherapists to recommend it to their patients. And we hope to expand to other body parts!"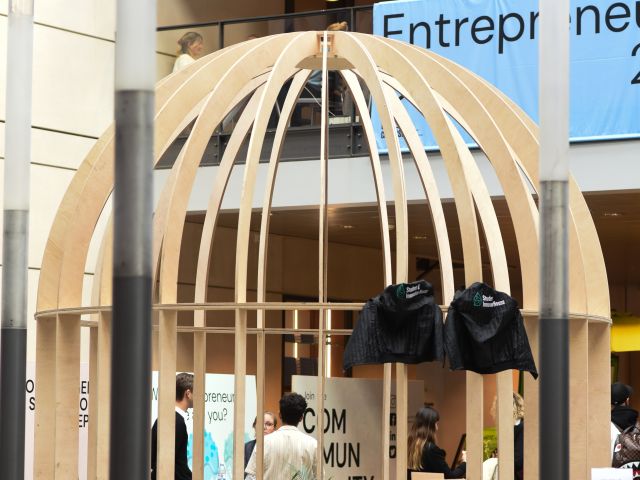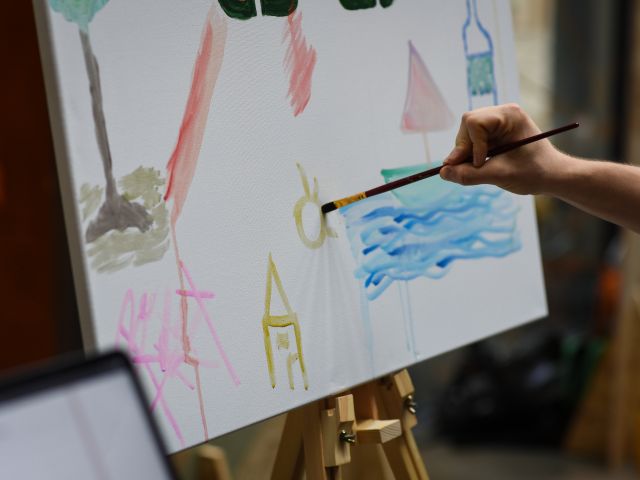 Michael Hallam, Hemboo
"We make building materials out of hemp and bamboo to replace highly polluting building materials such as concrete. Concrete is responsible for 7% of global CO2! We need better solutions. We make wall elements that can replace concrete in buildings of up to five stories, with an 80% CO2 reduction.
The project started as a master's thesis by my two co-founders from DTU. They discovered that you could use these natural materials to make effective substitutes for concrete. And now we're a bit over a year into the product and have almost finished our prototype – a small campsite made from our material. But our dream is, of course, to see it in a five-story building. Just driving by a building and knowing that we contributed to reducing the CO2 output of that building – that's our dream!"
Mac Krol: MacFerments
"The mission of MacFerments is to promote fermented foods and empower people with knowledge and tools. We knew the market well enough to see what was missing and have been producing miso paste for the last five years. I came up with the concept of Misoballs, a healthy instant soup using miso paste, by adding spices and rolling it into little balls.
It all began in the beginning of the first lockdown, and I suddenly had a lot of time to focus on fermented food. It actually started because I overproduced some kombucha, which I placed on my balcony with my Mobilepay info, and woke up to a nearly empty crate! And it just kept going. There's a lot of interest!"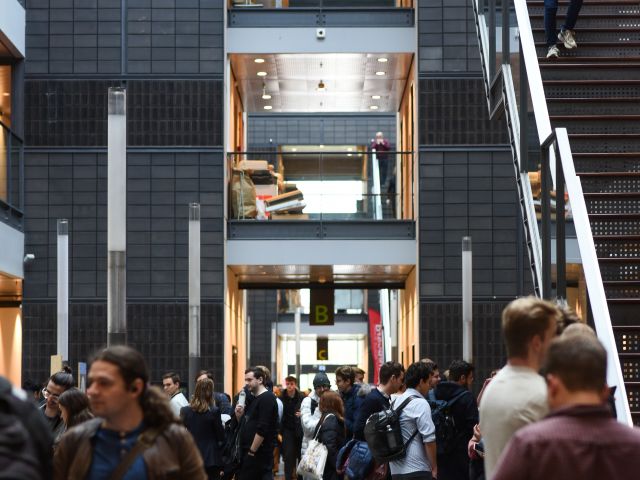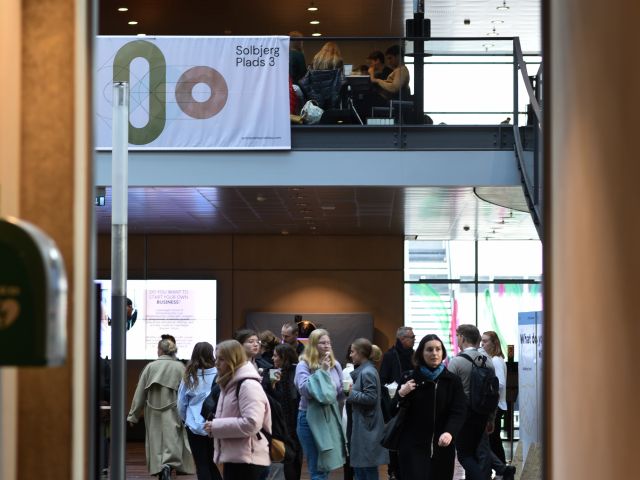 Julia Marcinowicz: Finuprise
"We're on a mission to bridge content between impact-driven millennial, gen Z, investors and the stock market through a social platform that can be used for trading and finding information about sustainable companies. We started a year ago, and our plan is to allow people to invest in their values. We started with nothing but an idea, when our co-founders wanted to invest in sustainable businesses, but couldn't find the proper information gathered anywhere. After hours of research, we decided to create an easy solution with all the data in one place, both information and trading. We're looking to expand our portfolio now with even more sustainable businesses."
Peter Juul Linné: Windit
"Windit allows you to avoid sweat stains when wearing a backpack. It creates a barrier between you and your backpack, allowing your body to breathe as it normally would. It's detachable, so you can attach it to any backpack, not just one model. The idea started three years ago on my way to CBS, when I was desperately trying to get some wind beneath my backpack. I didn't really know what I was doing, but I knew I had to try it out. I actually chose my master's because of this!
We're aiming to launch in March, and our dream is for it to spread to countries such as the Netherlands and Sweden where they have biking cultures like Denmark. And create more versions, like a version for Wolt couriers and other biking workers!"
Morten Haulik, MidwifeVR
"I've been working with virtual reality for the past six years and have done some different VR startups. I met a recently graduated midwife at a party who was on the brink of tears because she felt she couldn't give the right guidance to new parents because of the lack of midwives. Now, having worked with VR before, I knew the possibilities of simulation training and similar aspects, and I thought it could be a cool opportunity to take all of this training, put it inside a VR headset and make it available for parents 24/7. So that's what we're doing! It's an educational platform where parents can rent a VR headset for the first three weeks after their baby is born. It provides a lot of information, a lot of guidance, and a lot of focus on the co-parent."