Eager to go back to summer? Here is Lukas' guide to a magically laid-back and relaxed island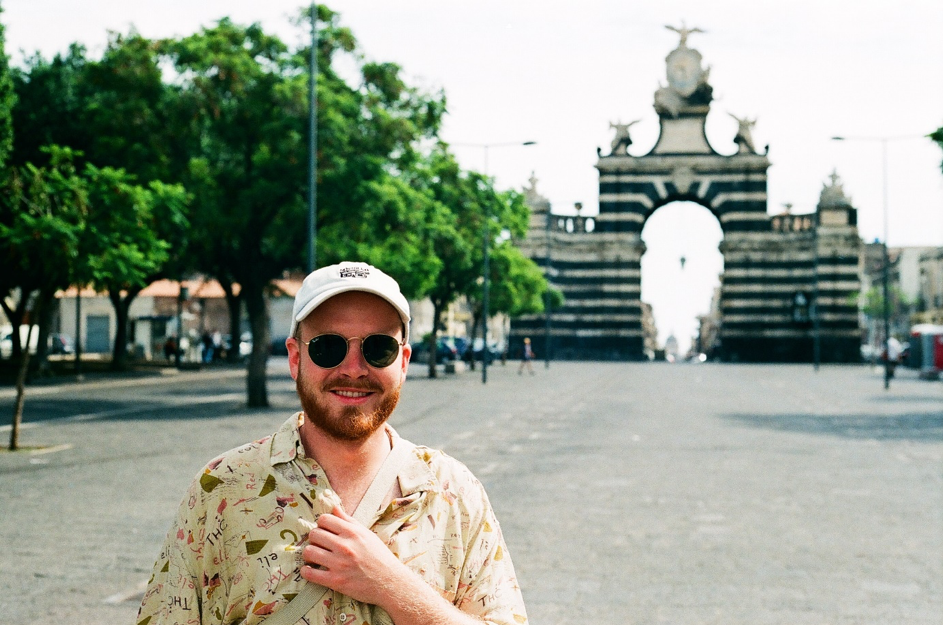 I can imagine that I am not the only person that might have similar thoughts when the semester had kicked off and the weather in the Danish capital had changed back to being rough and uninviting: A vacation right now, in a warm and sunny place would be ideal before returning back to 'reality'. CBS WIRE's blogger, Lukas Kohl brings summer back with his city guide to Catania and eastern Sicily. Enjoy!
When I visited the island in September, the temperatures varied between 25 and 30°C with a lot of sunshine and hardly any rain.  And the weather in Sicily is especially inviting at the beginning of autumn and still very mild during winter.
But first, how did I end up there?
The trip was all but well planned in advance. It was a rather spontaneous decision I made when asked by a friend Giuseppe, who's from Catania, if I was interested in going there in September. It did not take much to convince me.
In general, I believe that traveling with locals is a nice way to experience a city or region in a very different way than relying on a tourist guide or research on the web. Also, I enjoy exploring cities and regions with an open mind and visiting places that are off the beaten track, which the 'standard tourist' would not consider worthwhile. If you feel the same, welcome to Catania and eastern Sicily, this is the place for you!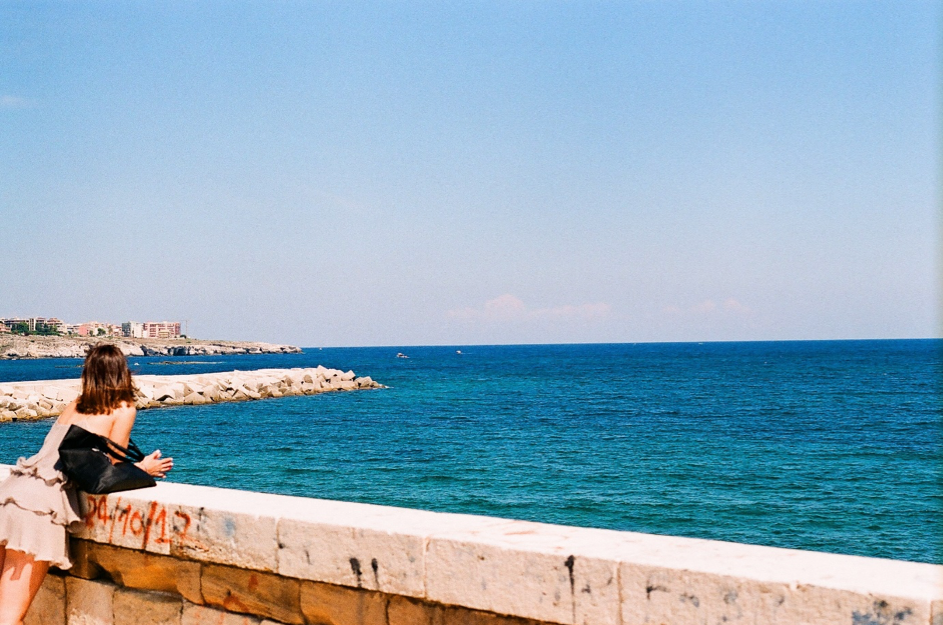 The perception I had of Sicily was that it´s dirty, dysfunctional, full of trash, ruled by the Mafia and potentially dangerous. Most of the above is true, but in a weird, romantic way it does not seem to matter. It is a beautiful and unique place, and as soon as I stepped on Sicilian soil, I magically felt laid-back and relaxed.
One important thing: If you accept that Sicily is the way it is, you won´t feel uncomfortable. Just don´t make the mistake of comparing it to Central and Northern Europe and you´re fine.
When arriving in Catania, one can immediately see that the city is located very close to an active volcano. The presence of Etna is hard to miss, as it is 3,350 meters tall and a stunning contrast to the shoreline. Also, volcanic rock is visible in vast parts of the city and it forms the foundation of the largest city in the east of Sicily. In the past, several eruptions caused massive damage to the ancient city and buried almost all of it. So, the Catania of today is a city built on top of ancient Roman-era buildings. Some parts of the ancient city walls have been excavated and publicly accessible to visitors. Once in Catania, you should not miss the opportunity to take the road up to Etna and enjoy the view of the city and the sea by sunset.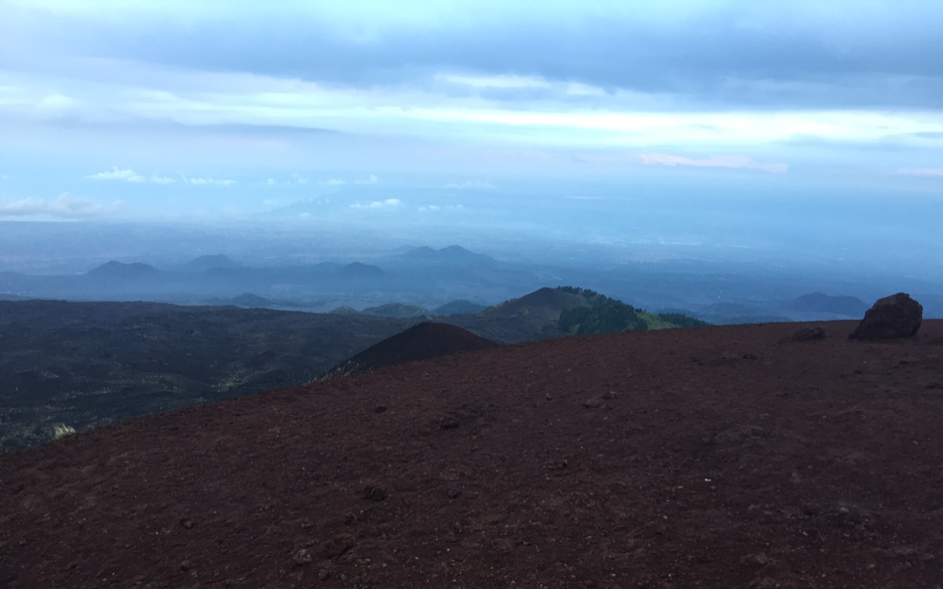 A more recent aspect of the urban landscape of Catania is the presence of buildings built in the seventies and eighties in an architecture style often referred to as 'Brutalism'. These buildings can be found all over the city and create a morbid but weirdly beautiful atmosphere. Some of them are abandoned, others look as though they could fall apart at any moment.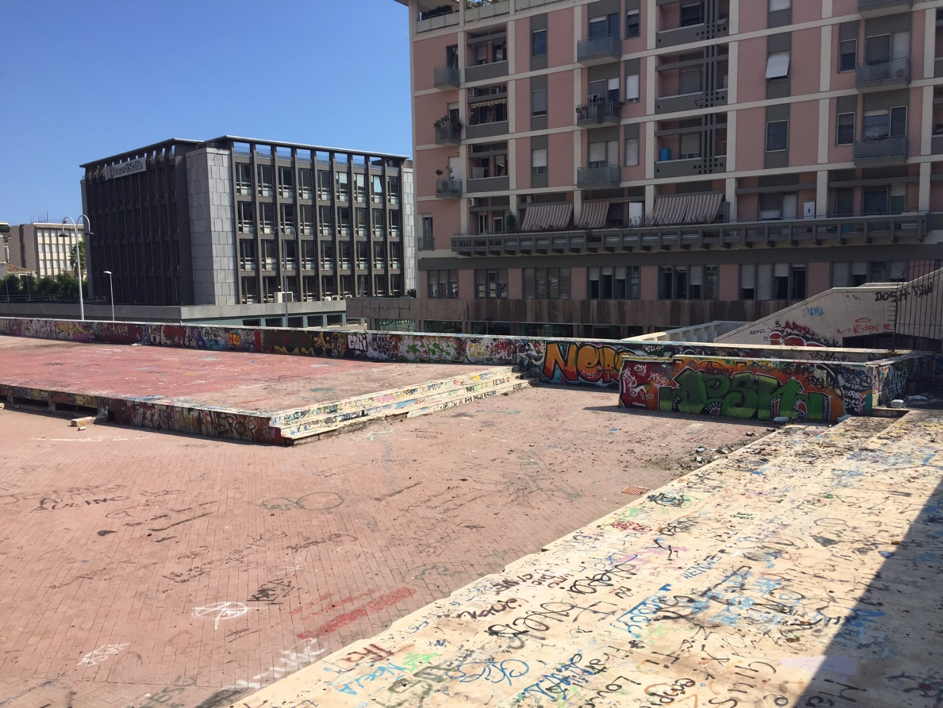 One sight that one should not miss when discovering the brutalist side of architecture in Catania is the area around the prison: The walls are covered in graffiti that pays tribute to state officials killed by the Mafia in the nineties. Across the street, in an abandoned parking lot, local skaters found a hangout where they started building obstacles by themselves. The locals even started an Instagram profile and recently threw an opening party. The proximity to the jail can also lead to weird encounters: One of the guys told me that relatives and friends of inmates would climb the roof of the neighboring building to try and communicate with their imprisoned loved ones by screaming and shouting across the busy road.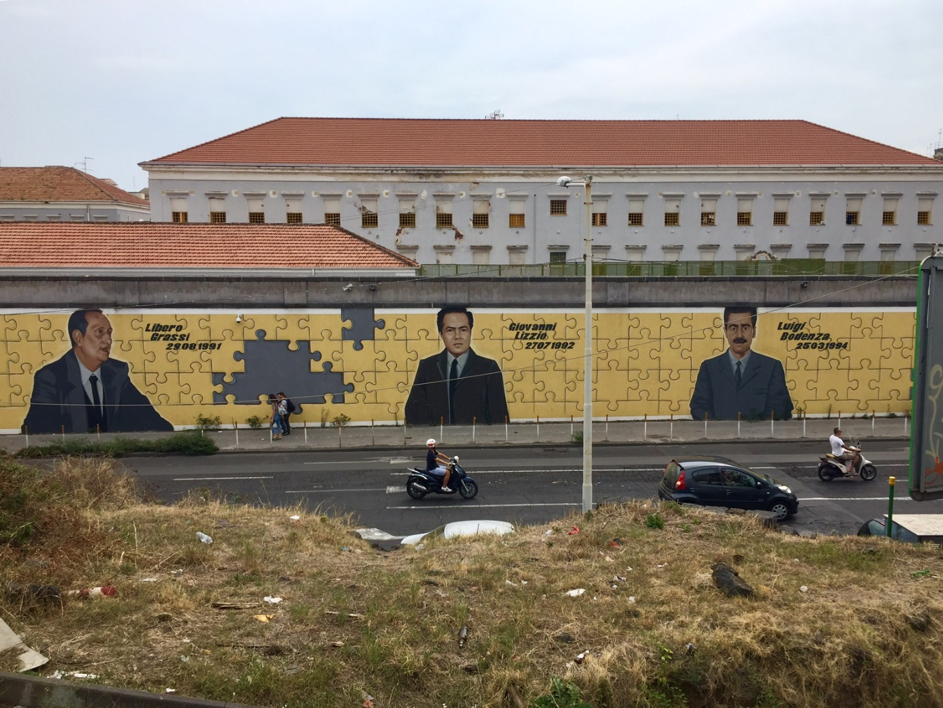 Another thing that you immediately notice when arriving in Catania is the chaotic traffic situation. Traffic lights and signs are merely an orientation for drivers to maybe stop and let others or pedestrians pass. Also, parking on the right-hand side of the street (but still in the middle of the road) to go to a bakery or for a quick coffee is very common. If you plan to go to Sicily, it is highly recommended that you drive with caution. But don't overdo it because slowing down or stopping to see if another vehicle might rush across the corner could easily cause an accident. It is advisable to adapt to the local habit of honking at smaller crossings to mark your presence. Also, the ratio of people using seatbelts is close to zero, which made my travel buddy and I start a game over a beer at a kiosk next to a busy street: The first one to spot a person with a seatbelt wins. It took approximately 15 minutes before I turned out to be the lucky winner. Another phenomenon that is very common in Italy is the presence of guys in their twenties or thirties on scooters who appear out of nowhere and behave even more audacious than the average car driver. Actually, they are so common in Catania that there is a nickname for those people: 'Mammoriani'. I think it's a cultural phenomenon that could be described as part of urban youth culture. The name is a constructed word that comes from '…a moriri mo ma', which translates as '…my mother shall die'. The Mammoriani can be found almost all over the city, frequently hanging out with their peers in the street, bragging about their heroic adventures on their scooters. Those stories are mostly far-fetched, but to make everybody believe that they're true, they swear on their mothers' lives to make their stories more credible. When asking my travel buddy about them, he explained that they are more or less born into that culture and adopt the lifestyle from a young age.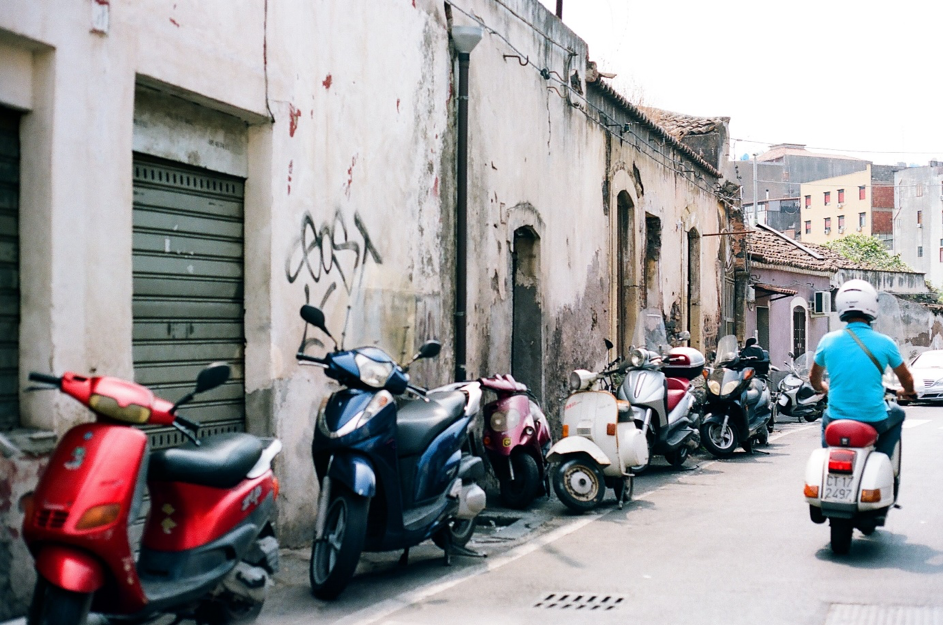 On our first trip out of the city, to Siracusa, a small town known for its adjacent, very picturesque peninsula called Ortigia, the first thing I noticed was that the traffic was much more relaxed. With Ortigia being a real tourist hotspot, the authorities try to keep it clean and inviting and indeed, it is a huge contrast to Catania. Ortigia is very small and it´s best to discover the old town on foot. The most frequently visited sights are certainly the dome and the castle, but strolling through the narrow alleys is an experience in itself. Apart from that, I can really recommend visiting 'Borderi Gli Artisti', a legendary panini shop that has turned into a tourist attraction. The elderly chef who prepares the panini is incredibly passionate about his profession. I heard stories about him throwing slices of Mortadella (a large Italian sausage) to the crowd of waiting tourists like a zookeeper feeding a group of hungry penguins. I thought that most of the fuss about this place was centered on the show that some of the employees perform for the tourists. But after trying the panini, I was convinced that the popularity of this place is more than justified.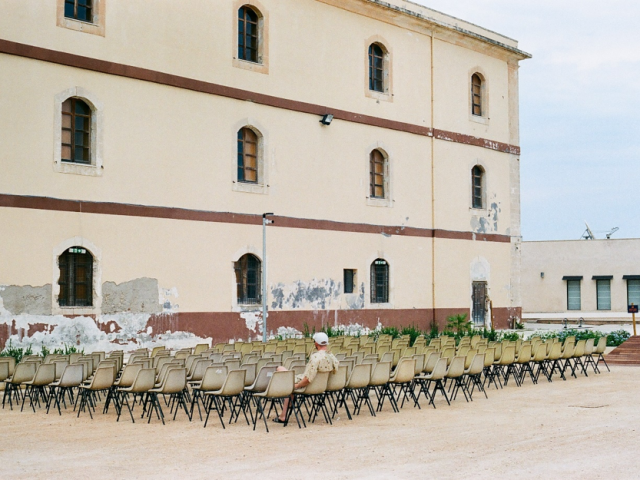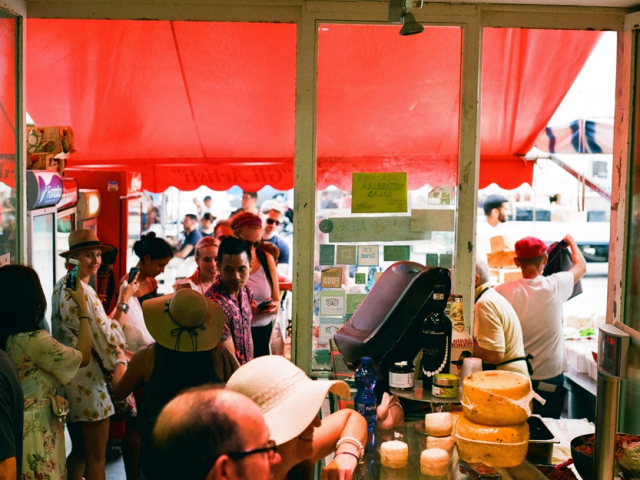 Like Ortigia, the town of Taormina located on a hilltop is very popular amongst tourists, but it is a real treat. Back in 1787, Johann Wolfgang von Goethe was staying at the Belmond Grand Hotel Timeo and was romanticizing about the view from the terrace. Although I did not go there, the view is also marvelous from the little square in front of the dome of Taormina. When visiting Taormina, I highly recommend stopping by Isola Bella, a charming little beach only a twenty-minute drive away. Unfortunately, it is not a secret spot anymore and you are well advised to arrive early to enjoy a little more privacy.
Another town that is up a hill and also very charming is Ragusa Ibla, the old part of the city of Ragusa. Unfortunately, we arrived there after dark, so we could not enjoy the view. In any case, the main point of our trip was a street art and music festival called Festiwall (http://www.festiwall.it/). The exhibits were spread across town with only a small selection of works being presented at the festival site. Among them was some graffiti that starts moving when filmed with a smartphone and the corresponding app – my favorite piece of the exhibition. The music line-up was predominantly composed of local artists but on the last day, the German DJ and resident of the legendary Panorama Bar, Tama Sumo, finished the fourth edition of Festiwall in style.
As I mentioned at the beginning, I really enjoy traveling with an open mind and following my intuition when exploring places. Towards the end of our trip, Giuseppe wanted to show me a pretty unassuming tourist attraction: A piece of land that resembled a little desert, but used to attract visitors because of the volcanic activity there. At Salinelle in Paternò, there are little springs, bubbling holes that emit mud and even bitumen. What made this site even more interesting were the ruins of an abandoned football and cycling stadium right next to the site. Previously, it was not possible to enter any of the abandoned buildings we discovered – but this was our chance. We found a gap in the fence at the entrance and without much effort we managed to enter the grounds. The view of the town and the surrounding hills from the highest stand is amazing and certainly was my personal brutalist-architectural highlight. But if brutalist sightseeing is not your thing, I would recommend visiting the old castle of Paternò, an even better treat if you enjoy a nice view. After a glass of 'Seltz Limone e Sale', a local drink made of lemon juice, salt and sparkling water, it was time to say goodbye to Paternò, Catania and all the other nice places we visited.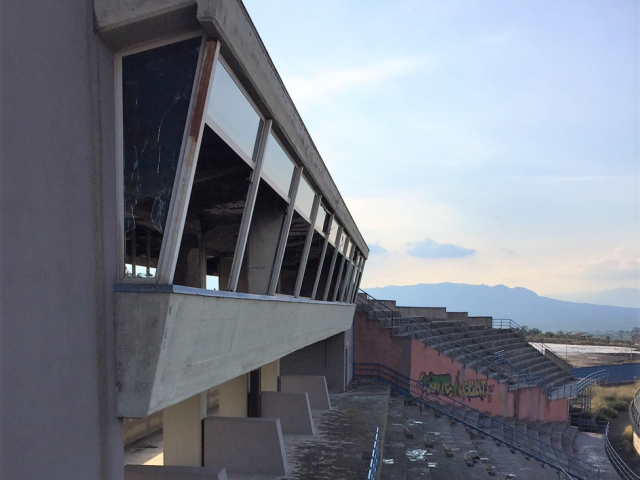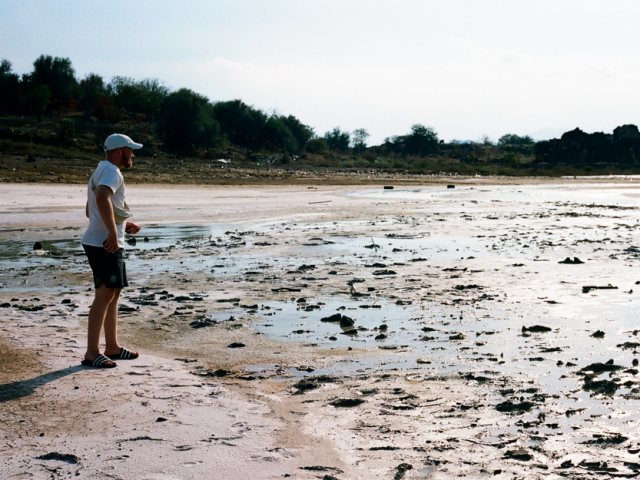 At the end of our trip, in a wine bar in Rome where we had a one-night stopover, my friend and local travel partner in crime told me that Johann Wolfgang von Goethe once said about Sicily: "To have seen Italy without having seen Sicily is not to have seen Italy at all, for Sicily is the clue to everything" (find a corresponding article here: https://www.belmond.com/ideas/articles/vsa-goethes-sicilian-journey). He was absolutely right.
If you are planning to go to Sicily as well, here is a list of locations and local specialties you need to try.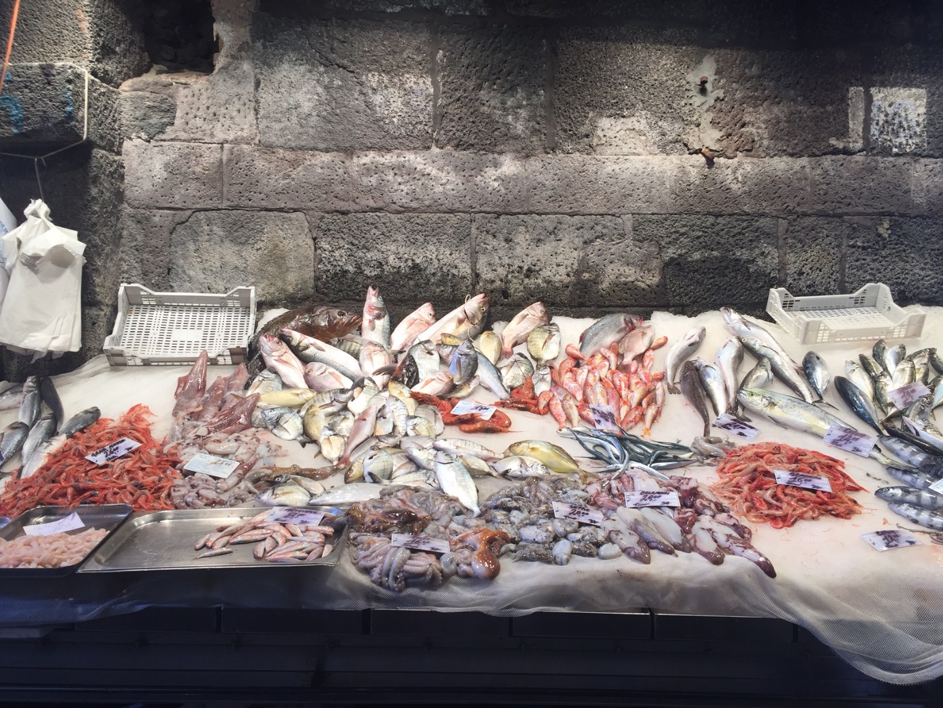 Food
Arancini: These fried rice balls can be found almost everywhere and come with different fillings. My favorite is the one with eggplant.
Crispelle: Also a fried specialty, especially tasty with an anchovy or ricotta filling.
Cartocciata: Soft dough buns filled with mozzarella, ham or eggplant. Comes in many variations and is perfect for breakfast.
Carne di Cavallo: Horse meat from the grill. Not everybody´s cup of tea but really delicious.
Seafood in all shapes and forms: Swordfish, tuna, squid, octopus, sea urchins and everything else you can imagine. My favorite of all specialties from Sicily.
Chinotto: A drink somewhat comparable to cola, but more bitter.
Granita: A special variety of ice cream, comparable to sorbet, comes with a brioche bun.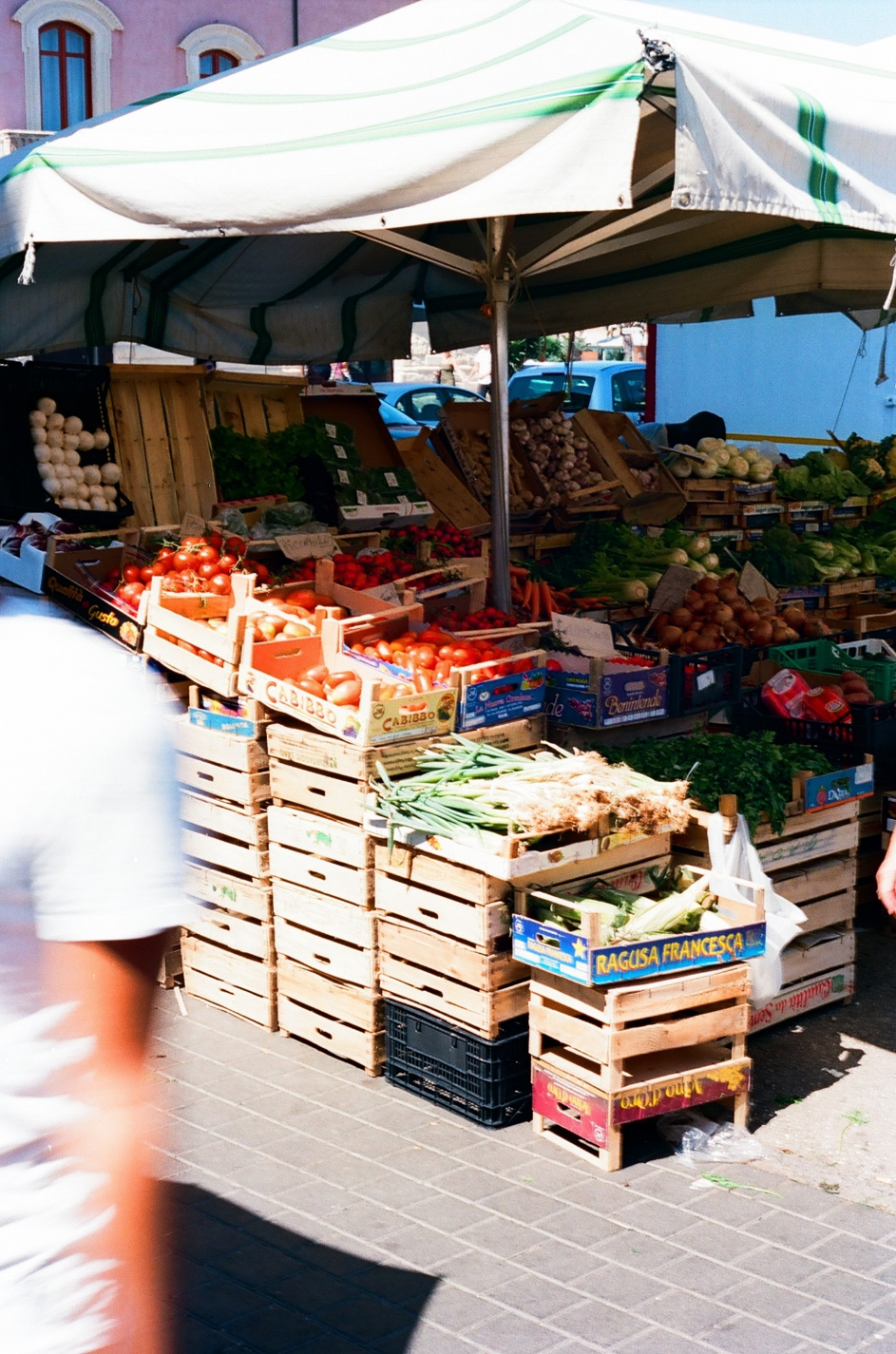 Places
The market and the fish market in Catania: The big market is every Saturday, and the fish market is also open during the week. Even if you don't buy anything, it is an experience to just visit the market and enjoy the busy atmosphere.
A Putia dell´Ostello: Or simply 'Ostello'. A bar with parts of an underground river being exposed in the cave-like basement.
Ostello degli Elefanti: A very nice hostel located in an old building on the Piazza Università. There is an amazing rooftop and an aperitivo at sunset up there is pure bliss. Make a reservation to secure your spot.
BarnAut: Very cozy bar little bar with great cocktails, candle-lit atmosphere and a piano.
Alta Mira: Nice restaurant with great local cuisine and a nice selection of wines. Try the Etna Bianco they serve there. A fantastic local white wine made from grapes from vineyards on Etna.
Rix: The bar just opposite Alta Mira is a great place for cocktails and snacks. Sometimes they have local DJs playing.
Vermut: Another bar in the city center you should try.
Via Plebiscito – the smoky street: A street where many grill restaurants are located. None of the places look very fancy but the food speaks for itself and is pretty cheap. If you are into it, you should try 'Carne di Cavallo' (horse meat). And if you're not, you should still give it a shot. It´s a local specialty and not a common dish.
Oasi da Nitto: My favorite seafood place. Looks very unassuming and food is served on plastic plates but it was by far the best place for authentic seafood.
Bar/café: When you crave an espresso you should look for signs that say 'Bar' – it´s a coffee bar basically. I never had a bad coffee anywhere in Sicily and it´s fairly cheap. You will have to get used to what Danes call 'espresso' when you return though.
Savia: Pretty much the fanciest Arancini place in town.