CBS alumni game teaches African teenagers to deal with sexual taboos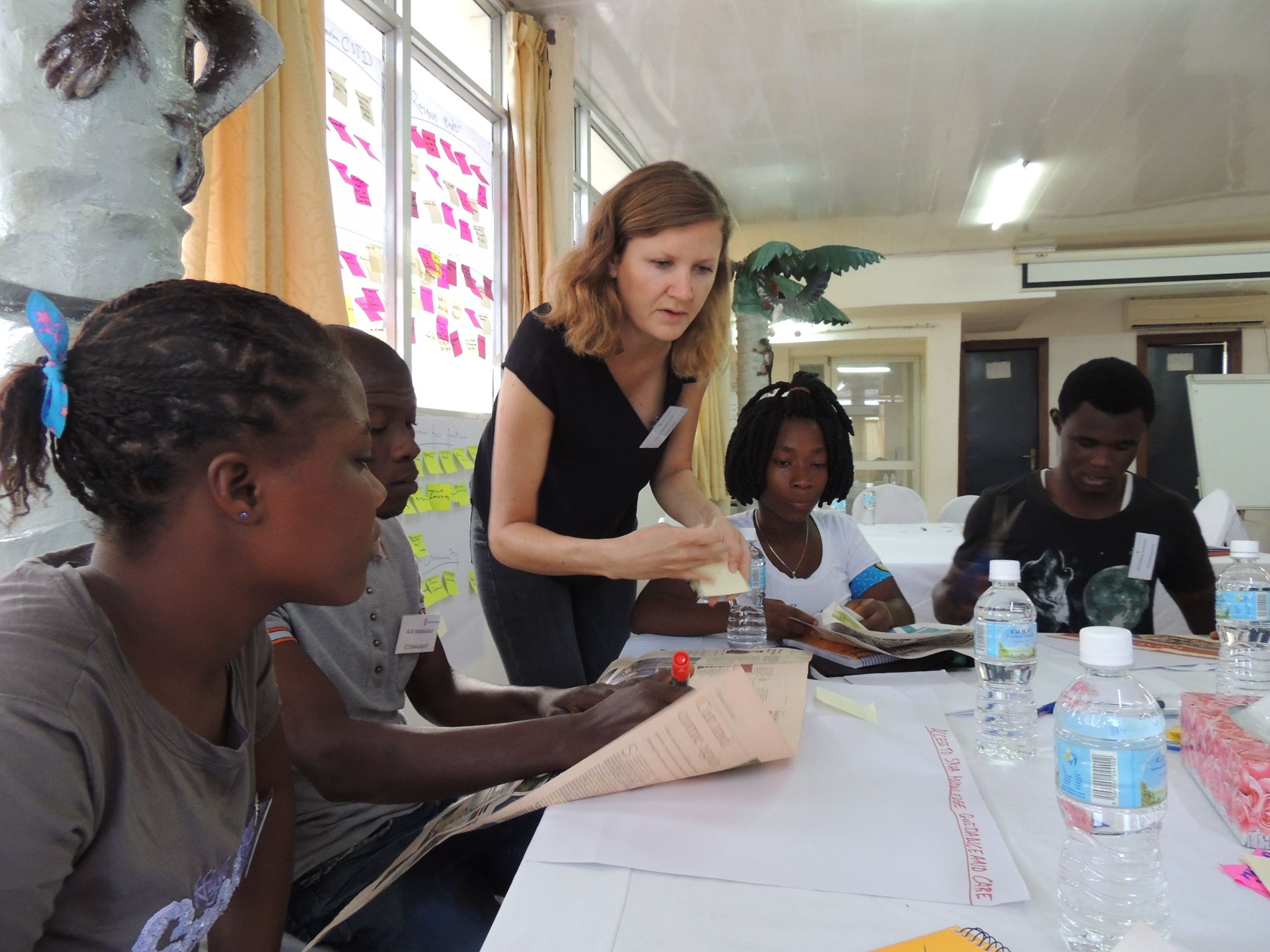 Sally Gregersen, former CBS student and co-founder of Lulu Lab, has collaborated with young boys and girls from the African slum to fight "insane" teenage pregnancy rates with an interactive game that brings dilemmas from the real world to the table. And now, she is setting her sights on India.
How can you teach young Africans from the slum about taboo issues such as teenage pregnancy, sexually transmitted diseases and general reproductive health?
Well, at Lulu Lab, founded by CBS alumni Sally Gregersen and her partner Matilde Juul, they believe that interactive online games that pose important dilemmas on such matters can actually prevent young girls from getting pregnant and help them finish school.
Earlier this year, Lulu Lab won the Ideas Change Lives Global Innovation Challenge 2019-20 hosted by the British Council. They were up against 5,000 competitors from 127 countries, and along with the award came a prize of GBP 20,000.
Although they have already developed two games in Kenya, Ethiopia and Sierra Leone during the company's three-year lifetime, they now want to invest the money in scaling up to include Asia, where they want to develop their third educational game in an Indian context.
Unique opportunity
Although Sally Gregersen graduated with a Master in Organizational Innovation and Entrepreneurship in 2017, she still has not completely left the corridors of CBS.
From an office at the Copenhagen School of Entrepreneurship, located at Porcelænshaven, she runs the startup company Lulu Lab along with her partner Matilde Juul.
The company, which produces interactive educational games for young people in developing countries, is therefore not a typical business-for-profit kind of enterprise.
However, during her studies, she was primarily interested in the field of Corporate Innovation, and after graduating from CBS, she also worked in the financial sector. Later, when presented with the chance to take the plunge as a humanitarian, she could not refuse.
"It was a unique opportunity for me to create my own company and use it to make a change for people who need help and education," Sally Gregersen says.
Ever since then, Sally and her partner have been fighting teenage pregnancy from the east to the west of Africa with their educational games that teach Sierra Leone and Uganda's youth about sexual rights and reproductive health.
But their great adventure began in Denmark about 4,708 miles from the location of their latest game.
Hackathon and insane statistics
The story of Lulu Lab began at a #Hack4Girls hackathon a couple of years ago, where the challenge was to come up with a tech-solution for educating girls and young women about sexual and reproductive health.
That was when Sally Gregersen and Matilde Juul invented a virtual game focusing mainly on menstrual hygiene and busting taboos. Various NGOs attended the hackathon, including Save The Children.
"When we entered the challenge, we learned some insane statistics about the reproductive health situation in Africa, where 1 out of 10 girls dropped out of school because of having menstruation, while 1 out of 4 left because of teenage pregnancy," Sally Gregersen explains and continues:
"So when we told the NGOs about our idea for making an educational game on the subject, they were instantly interested."
And so, the entrepreneurial journey began.
 "A huge need for education"
Along with the Danish Ministry of Foreign Affairs and UN Women, the two innovators traveled to Kenya and Ethiopia.
Here, they tested the game prototype and carried out some co-creation exercises with local teenage girls and boys to improve the game and learn more about the youngsters' lives and needs.
When they arrived back home, Sally Gregersen and Matilde Juul had gathered a range of insights, which fueled them to continue developing their game.
"We saw a huge need for education about pregnancy and menstruation, so our first game ended up being about those," Sally Gregersen says.
The interactive game "Lulu's Journey – Menstrual Hygiene", became the pilot project for the two entrepreneurs.
Or at least, that is what Sally Gregersen calls it. Because while making the game, they remained in continuous dialog with Save The Children about making games concerning intimate issues and challenges for girls and young women in Africa. And that fostered the idea for a new game.
"One day, we were contacted by Save The Children about their work on preventing teenage pregnancies in Sierra Leone and co-designing a new educational game."
And shortly after, the two game inventors were once again boarding a plane – this time heading for Sierra Leone.
The sights and sounds of Freetown
In Sierra Leone, more specifically in the capital city Freetown, Sally Gregersen and Matilde Juul collaborated with students from the local tech university along with tweens and teens from four different slum areas of the city.
Here, they engaged in dialog and designed creative exercises with the young people to identify which intimate problems they were experiencing and how they usually talked about them.
This gave the two entrepreneurs some qualified ideas about how to visualize and design the game. However, they did more than just devise exercises and chat with the local boys and girls to make the game as authentic as possible.
"We spent a lot of time getting to know the challenges the young people are facing through their own eyes," Sally Gregersen says and continues:
"Therefore, the dilemmas in the game are formulated in their own words, the characters are based on actual people they meet in their daily lives in the communities, and the landscape in the background is made from some of the pictures we took in the slum areas."
Furthermore, Sally Gregersen explains that the voiceovers in the game are actually the voices of the girls and boys they collaborated with. The same goes for the soundscape, where the traffic and classroom noises as well as the afrobeat music are real recordings from Freetown made by the locals.
"Everything is developed in close collaboration with the girls and boys so that they feel a sense of ownership of the game, while the dilemmas in the game correspond to the dilemmas they're actually facing," she says adding:
"And that has been very helpful, because it can be quite difficult to understand the reality of the teenagers in Freetown when you've grown up in Denmark, far away from Sierra Leone."
Dilemma game
In the game, players are invited on a journey to Freetown, where the players can explore the local school, market, health clinic, church and mosque.
Throughout the game, the players encounter dilemmas and learning flows, where educational quizzes, storytelling, interactive videos and mini-games educate and engage players in learning about sexual rights, puberty, pregnancy, sexual transmitted infections and contraceptives.
Depending on the options players choose when facing a dilemma, there are positive or negative impacts on various values such as friendships, family, health and education.
"For instance, when a female player meets a dilemma about whether or not to accept the invitation to get on a scooter with a guy, she realizes that if she chooses not to, she will avoid getting pregnant and will be much more likely be able to finish school," Sally Gregersen explains.
And according to the entrepreneur herself, user tests of the game have revealed that this specific approach helps the young people to reflect on their current behavioral patterns and think about their future choices in real-life situations they meet in the slum areas.
A prize and a third game
When the dilemma game was fully developed and ready for launch, Covid-19 came along and put the project on hold.
However, about a month ago, Lulu Lab won the Ideas Change Lives Global Innovation Challenge 2019-20 hosted by the British Council. Along with the prize came GBP 20,000, which Sally Gregersen and Matilde Juul are determined to invest in a new and third game in the series of interactive educational games.
And this time, their journey will go to Asia.
"Lately, we've been focusing on India, where we want to develop another game that does not focus as much on teenage pregnancy. Rather, we're contemplating making a game that concerns puberty and sexuality in a more general sense," Sally Gregersen says.
"However, we haven't got very far with the project yet since we can't really travel to India at the moment. So I guess we'll have to wait and see what we will come up with."
It has been almost three years since the game inventors founded Lulu Lab. And now, after numerous innovation challenges and extensive travelling, hours of research and countless co-creative exercises and dialogs with young teenagers, Sally Gregersen's appetite for more still has not been suppressed. In fact, working with the games motivates her to carry on.
"Doing what I do gives me a lot of energy. Working with the people we are developing the games for makes it very meaningful to me. And at the same time, when they express gratitude towards us for making the game with them, it makes me think that it all makes so much sense!" she says.