06 Mar Workshop
Women's day 2020 at CBS: Working and living in a post-#MeToo world?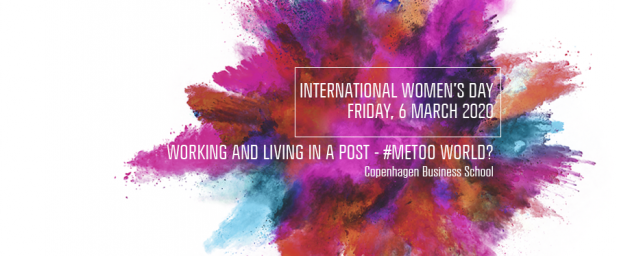 Event | 05. Feb 2020
Info
Location
CBS Råvarebygningen
Porcelænshaven 22
2000 Frederiksberg
Time
Start: 06/03/2020 14:00
End: 06/03/2020 17:30
Organizer
Copenhagen Business School
14.00-14.15 Welcome and introduction
Gregor Halff, Dean of Education, CBS
Florence Villesèche, Associate Professor and Academic Director of the CBS Diversity and Difference Platform.
14.15-14.45 Følsom Front, a Danish self-proclaimed queerfeminist and anti-capitalist group, will kick off the afternoon with a few of their catchy and playful protest songs.
Followed by a short conversation with Beate Sløk-Andersen, Postdoctoral Fellow, CBS (IOA)
Short break
14.50-15.40 Feminist politics in and around organisations
What does it mean to do feminist politics in organisations after the #MeToo movement? How can we leverage feminist knowledge and experience to fight sexual harassment and foster equal treatment? Taking into account organisational, legal and political implications, what role can shared approaches across sectors and fields play?
Followed by a Q&A with the audience
Panellists:
Marianne Egelund Siig, Strategic Leadership consultant on Diversity & Inclusion
Maria Ventegodt, Director for Equal Treatment, Danish Institute for Human Rights
Bontu Lucie Guschke, PhD student, CBS (IOA)
Christina Tvarnø, Professor in Law, CBS (MPP)
Moderator: Yvette Lind, Assistant Professor in Law, CBS (MPP)
Coffee break
16.00-16.30 An artistic perspective on women's objectification
How can art transform our understanding of the transactions and aesthetics of gender and sexuality? The session centers around the screening of multi-media artist Maria Kapajeva's video "Test Shooting", followed by a conversation with Maria about her art practice with Ana Maria Munar, Associate Professor, CBS (MPP).
Followed by a Q&A with the audience
Short break
16.40-17.30 Gender-based violence and intersectionality
Hashtag activism has highlighted the pervasive nature of gender-based violence. How can we address the complex intersections between violence, gender and other forms of identification - including race and sexuality - while embracing the political dimension of violence against women as a human rights violation?
Followed by a Q&A with the audience
Panellists:
Caroline Rusten, UN Women
Jacqueline Bryld, Sex og Samfund
Donna Chambers, Professor of Tourism, University of Sunderland
Claudia Eger, Assistant professor, CBS (MPP)
Moderator: Florence Villesèche, Associate Professor, CBS (MPP)
17.30 Wrap up with Florence Villesèche, followed by a wine reception
Remember to sign up via the link -- More Info!