27 Jun Exhibition
Third International Conference of the Sustainable Consumption Research and Action Initiative (SCORAI)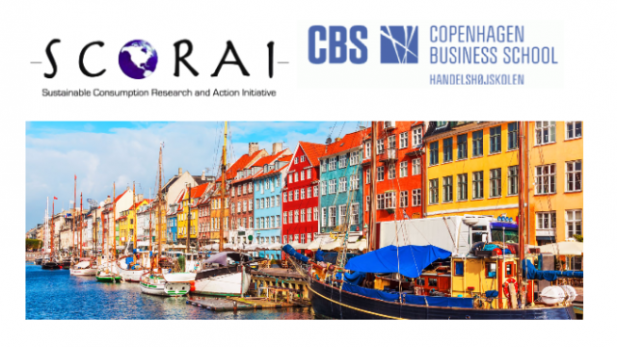 | 22. May 2018
Info
Location
Kilevej 14 A/B, 2000 Frederiksberg
Time
Start: 27/06/2018 19:00
End: 30/06/2018 12:30
Organizer
SCORAI
Mitigating the social and environmental impacts of contemporary provisioning systems constitutes a grand challenge in the 21st century. Academics and practitioners from across disciplines as diverse as architecture, business, industrial ecology, sociology, and beyond are actively engaged both in deepening understanding of the scale of these problems and articulating solutions. Yet movement to implement sustainable consumption lags significantly behind these advances in knowledge.
In collaboration with the VELUX Endowed Chair in Corporate Sustainability and hosted by the Copenhagen Business School, the Third International Conference of the Sustainable Consumption Research and Action Initiative (SCORAI) will be held in Copenhagen on June 27–29, 2018. The event will comprise paper presentations, panel discussions, and keynote presentations by acclaimed speakers. Copenhagen has been in the vanguard of cities around the world actively engaged in facilitating more sustainable lifestyles and the conference will enable participants to learn firsthand about some of the world's most sustainable solutions to challenges in the domains of transportation, food, energy, and urban design.
Building on earlier events at Clark University (2013) and the University of Maine (2016), the conference is expected to attract an international assemblage of researchers who value close interaction with policy makers and practitioners while pursuing co-designed interventions to enable progress toward a more sustainable future. We therefore enthusiastically encourage participation from representatives of academia, industry, government, and civil society organisations. Across these sectors, we invite those with recognised and emerging expertise in topics related to sustainable consumption from interdisciplinary, transdisciplinary, and disciplinary perspectives. Topics that are anticipated to have prominent visibility at the conference include:
Emergence of post-consumerist lifestyles
Impact of the decline in wage labor on consumption practices
Role of behavioral economics and related strategies on consumption routines
Social practices research related to sustainable consumption
Sustainability and the transformation of agro-food systems
New conceptual approaches to social change
Alternative business models for new systems of provisioning
Collaboration and mutuality in creating more sustainable provisioning opportunities
Degrowth as a pathway for sustainable consumption
Policy frameworks to promote a circular economy
Consumption-based greenhouse gas accounting
Decoupling and dematerialization
Grassroots innovation to facilitate sustainable consumption
Redesigning socio-technical systems
Fostering sustainable prosperity
Financial system innovation
Challenges of reconciling sustainable consumption priorities in a globalized world
Post-consumerist and post-capitalist visions of the future
Social movements as enabling agents of societal transformations
Consumption and sustainable cities
Sustainable mobility
Renewable energy transitions
Important Deadlines
Deadline for Paper Submission: May 15, 2018
August 2017 Official release of Call for Participation
October 15, 2017 Deadline for submission of session proposals
November 15, 2017 Deadline for submission of abstracts
December 15, 2017 Notification of accepted session proposals and abstracts
January 1, 2018 Registration opens
April 15, 2018 Early-bird registration deadline
June 1, 2018 Regular registration deadline
June 27–29, 2018 Conference!
Conference Co-chairs
Maurie Cohen (New Jersey Institute of Technology)
Lucia Reisch (Copenhagen Business School)
Wencke Gwozdz (Copenhagen Business School)
Emily Huddart Kennedy (Washington State University)
Scientific Advisory Board
Halina Brown, Clark University
Anna Davies, Trinity College Dublin
Edgar Hertwich, Yale University
Sylvia Lorek, Sustainable Europe Research Institute
Oksana Mont, Lund University
Jeremy Moon, Copenhagen Business School
Jaco Quist, Delft University of Technology
Inge Røpke, Aalborg University
Martina Schäfer, Technische Universität Berlin
Juliet Schor, Boston College
Ulf Schrader, Technische Universität Berlin
Linda Steg, University of Groningen
John Thøgersen, Aarhus University
Arnold Tukker, Leiden University
Philip Vergragt, Tellus Institute
Special Note of Thanks
The Conference Co-chairs are grateful to Professor Jeremy Moon, VELUX Endowed Chair in Corporate Sustainability at the Copenhagen Business School, for generous financial support. Other organizational partners of the conference include the Future Earth Knowledge-Action Network on Systems of Sustainable Consumption and Production, the Virtual Community in Research in Sustainable Consumption, and the European Roundtable on Sustainable Consumption and Production (ERSCP).
Further Information
Additional details about SCORAI are available at http://scorai.org. Questions regarding SCORAI 2018 should be directed to Louise Thomsen, Conference Coordinator, at as.msc@cbs.dk.