18 Apr Workshop
The Agency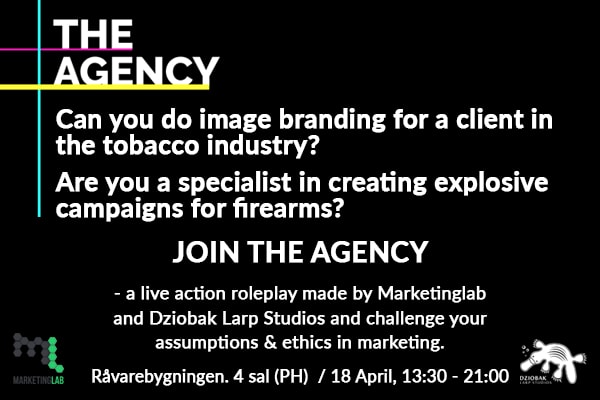 Event | 28. Mar 2018
Info
Location
Porcelænshaven 22 (Råvarebygningen 4. sal)
Time
Start: 18/04/2018 13:30
End: 18/04/2018 21:00
Organizer
MarketingLab in collaboration with Dziobak Larp Studios
Imagine you have to make positive branding for a tobacco company today? Or find ways to market alcohol to teenagers? What would be your approach? What could you get away with? These kinds of questions you can get to explore at The Agency.
The Agency is a reality fiction experience made by Dziobak Larp Studios and MarketingLab, of what it's like to be part of the soul-crushing, ultra-competitive media agency. At The Agency you will get to play with the forbidden and try out what no one else dares to even consider. Together with fellow participants at CBS you get to come up with intriguing solutions for problems posed by a group of companies, some which are made up and some which are real and in the end try to guess the difference between what is to real to be fabricated and what is just made up. The outcome might surprise you.
At the course you will:
– Get an intense, once in a lifetime experience in just a few hours
– Get your ethical compass put to the test
– Be working under extremely short deadlines to come up with ideas and solutions
– Have a conclusive talk about the questions and moral dilemmas you encountered through the process and how you can use it in the future
Are you up for the challenge?
Join The Agency and experience working at a simulated media agency taken to extremes.
Ticket sale closes on the 13th of April, after that you can get the waiting list tickets. You can find both type of tickets on the following link: https://billetto.dk/en/e/the-agency-tickets-272807