13 Oct Lecture
Teching Control of Business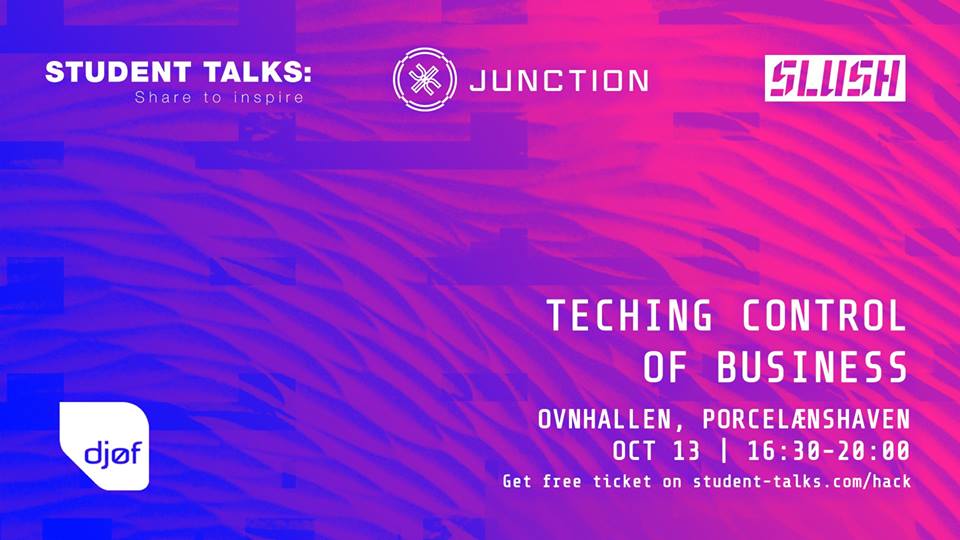 | 12. Oct 2017
Info
Location
Ovnhallen (Porcelænshaven 24A)
Time
Start: 13/10/2017 16:30
End: 13/10/2017 20:00
Organizer
Student Talks
Join us on the 13th October in Ovnhallen (Porcelænshaven 24A), let's raise a glass and tech control of business together!
Tech, business, personal stories, success stories, student stories – all in one event brought to craving student minds by Student Talks, Slush, Junction , and our local partner Djøf Studerende.
"Teching Control of Business" will be the biggest event in Student Talks' history! With this event we face up to the challenges of the digital era, where the successful collaboration of business and technology specialists can become the make it or break it factor of businesses.
We are taking the best of all three partner organizations to create an unforgettable experience for students. We aim for maximum audience engagement using the constantly improved event blueprint of Student Talks and the tech expertise of Slush and Junction.
At Student Talks we believe that inspiration is the first step towards action. We will give you four inspirational and educating speeches from your peers to believe that you too, can create successful businesses.
Programme:
16:30 – 18:30 – Talks
18:30 – 20 – Networking with sodas, beers and food
Lineup:
Emil Bender – Navigating Tech with a bussiness mindset
Andreas Broby – Automation Station
Verneri Jäämuru – Build something people want
Suvi Kaario – Founding a tech firm
Read more about the speeches on our website and to get your FREE ticket here: http://student-talks.com/hack
—
Win a ticket to Slush 2017!
Slush is the world's leading startup event! In 2016, Slush gathered 17,500 attendees, including 2,300 startups, 1,100 investors, and 600 journalists, together representing 130 countries.
As an attendant at the Student Talks event: "Teching Control of Business", you have the opportunity to win a ticket to Slush 2017 in Helsinki on November 30th – December 1st worth 595 EUR.
Please notice:
– Flight and accommodation is not included
– The ticket is personal and cannot be sold to a third party
– You must be present at the event "Teching Control of Business"
The winners will be announced at the event!