01 Aug Lecture
OIKOS ACADEMY SUSTAINABILITY LECTURE 1: Is the Danish case a point of reference for future CSR reporting developments?"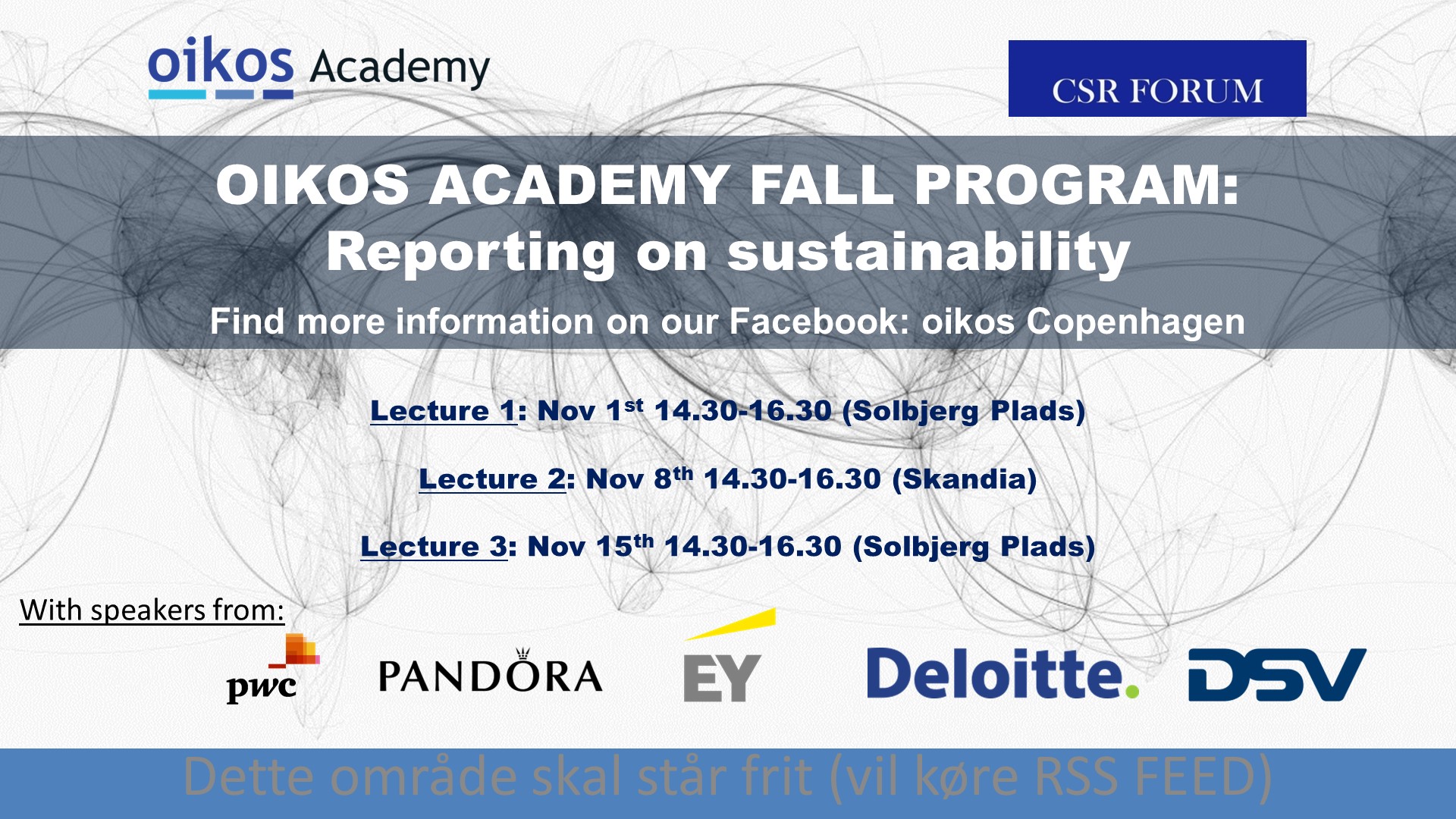 Event | 30. Oct 2017
Info
Location
CBS Solbjerg plads SP216q
2000 Frederiksberg
Time
Start: 01/08/2017 00:00
End: 01/08/2017 00:00
Organizer
oikos Copenhagen
The theme for the oikos Academy Fall semester is 'Sustainability & Strategic Reporting'. In collaboration with CSR Forum we bring to you three interactive lectures this semester.
This first lecture is themed: "Is the Danish case a point of reference for future CSR reporting developments?".
This lecture will feature dynamic perspectives in this field from Carina Ohm, Executive Director Climate
Change and Sustainability Services at EY, and Skandia Bank's Vibeke Molin, CSR Manager & Nicoline Weih, CSR Communication, Skandia Pension & Health Insurance.
Carina from EY will cover the very interesting ' Introduction to NEW Danish regulatory requirements regarding CSR Reporting & Introduction to recent legislation and international reporting standards related to CSR' and what this means to business & society.
While the two Skandia representatives will take us through the 'Strategic Decision Making Process Around the CSR Reporting in Skandia Bank'.
Further, the event will be brought together nicely with an interactive audience led panel debate at the end.
Check out EY's Carina Ohm's view on the topic here http://bcove.me/tqsuo05m
FIND OUT MORE AT OIKOS COPENHAGEN FACEBOOK PAGE:
https://www.facebook.com/oikosCopenhagen/