17 Apr Lecture
Circular Economy – Disrupting business as usual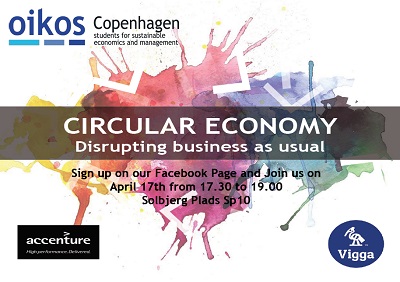 | 03. Apr 2018
Info
Location
Solbjerg Plads 3, CBS Room SPs10
Time
Start: 17/04/2018 00:00
End: 17/04/2018 00:00
Organizer
oikos Academy
Have you always wondered what a circular economy is? On the 17th of April oikos Academy will host an interactive event "Circular Economy – Disrupting business as usual" with presentations from Accenture and VIGGA.
Kristoffer Hvidsteen, Head of Accenture Sustainability Denmark, will present to us about how businesses can shift from a linear business as usual approach to a circular one, where growth is decoupled from the use of scarce and linear resource inputs. Based on Accenture's publication "Waste to Wealth: The Circular Economy Advantage", Kristoffer will introduce the five main business models through which companies can transform into circular practices and ten disruptive technologies that are essential for this change.
VIGGA is a maternity and kid's wear brand, that is disrupting the global fast fashion industry by creating not only a sustainable product but also a sustainable way of using it. Monica Trabjerg Balle, Marketing Manager, will explain how the company wants to reduce waste, change consumption patterns, save parents time and money, and upset the textile industry by carving out a new market of practical (and more sustainable) shoppers. VIGGA is proof that the circular economy makes real sense, and that is beneficial for businesses, consumers and the environment alike.