07 Feb Workshop
2018 Semester Start Election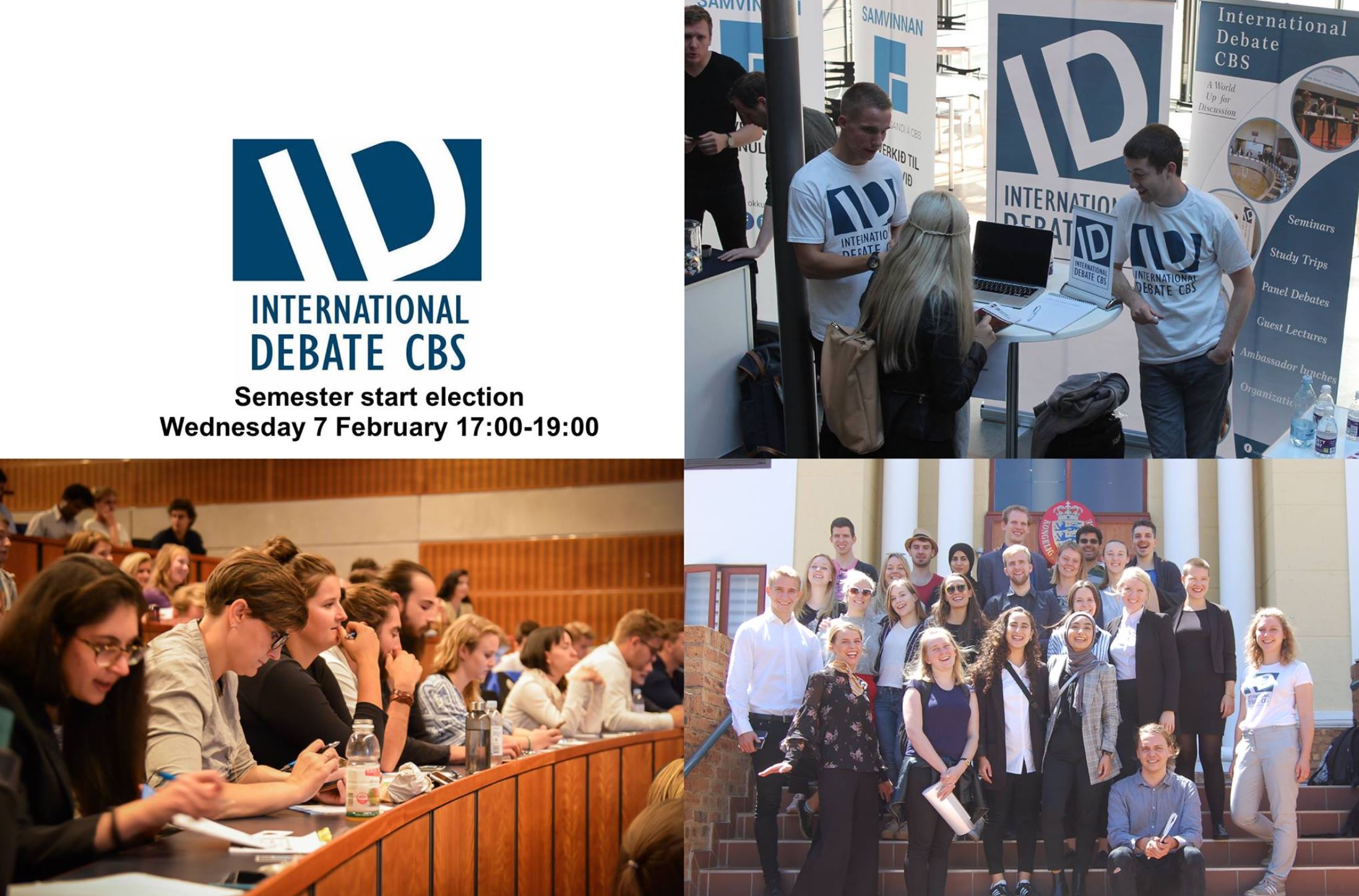 | 24. Jan 2018
Info
Location
Solbjerg Plads 3
2000 Frederiksberg
Time
Start: 07/02/2018 17:00
End: 07/02/2018 19:00
Organizer
International Debate CBS
The Semester is about to go down. 2018 is already full on, and so are WE! Having started off with MAGRETHE VESTAGER, we are going strong, and you can be part of it!
International Debate CBS is about activating students, and starting discussions outside of the classroom and the mainstream media.
Do you have a phenomenal idea for an upcoming topic? Do you wanna show off your organisational skills? Do you like to involve in politics and networking?
Look no further, we have your back. Swing by, enjoy some coffee and cake, and meet some of the coolest students at CBS.
AGENDA
17:00 – 17:15 Welcome and presentation (Who are we)
17:15-17:25 Event planning workshop: How to make an event in ten minutes?
17:25-17:45 Brainstorming: discussing potential debate topics for the following semester
(---------- BREAK w. cake & coffee ------------)
18:00 – 18:30 voting on debating topics
18:30-19:00 Board-election: Who will run?
19:00 - Beer and highfives.
-----------------------------------------------------------------
COULD YOU BE OUR NEW BOARD MEMBER ?
Deadline to apply: 11:59pm 1st of February
At this meeting we will be electing a new board, this means you have the chance to become our new board member!
Open positions are 3x board member.
What does it take?
* The board itself organizes and manages it's time, but as a guideline the last board met up every other week, and had individual tasks that varied in time consumption.
* The most important thing is that you would like to commit, can take the step and apply - you will be elected for 1 semester.
How to Apply
*write a short motivational letter to our e-mail: cbs@internationaldebat.dk
*Attend the start-up meeting and hold a short presentaion about yourself, why you would like to join and why we should vote for you.
*It will democratically be voted at the start-up meeting
You are going to be a part of a very qualified team, so be flexible, dedicated and serious in your work.
If you would like to talk to us before the election come by our stand at Solbjerg Plads Tuesday 30 January, or enjoy a cup of coffee with us at the networking session following the talk by Vestager 2 February.
ID CBS - A world up for discussion