Four Years After CBS: A plastic adventure through blood, sweat and Google searches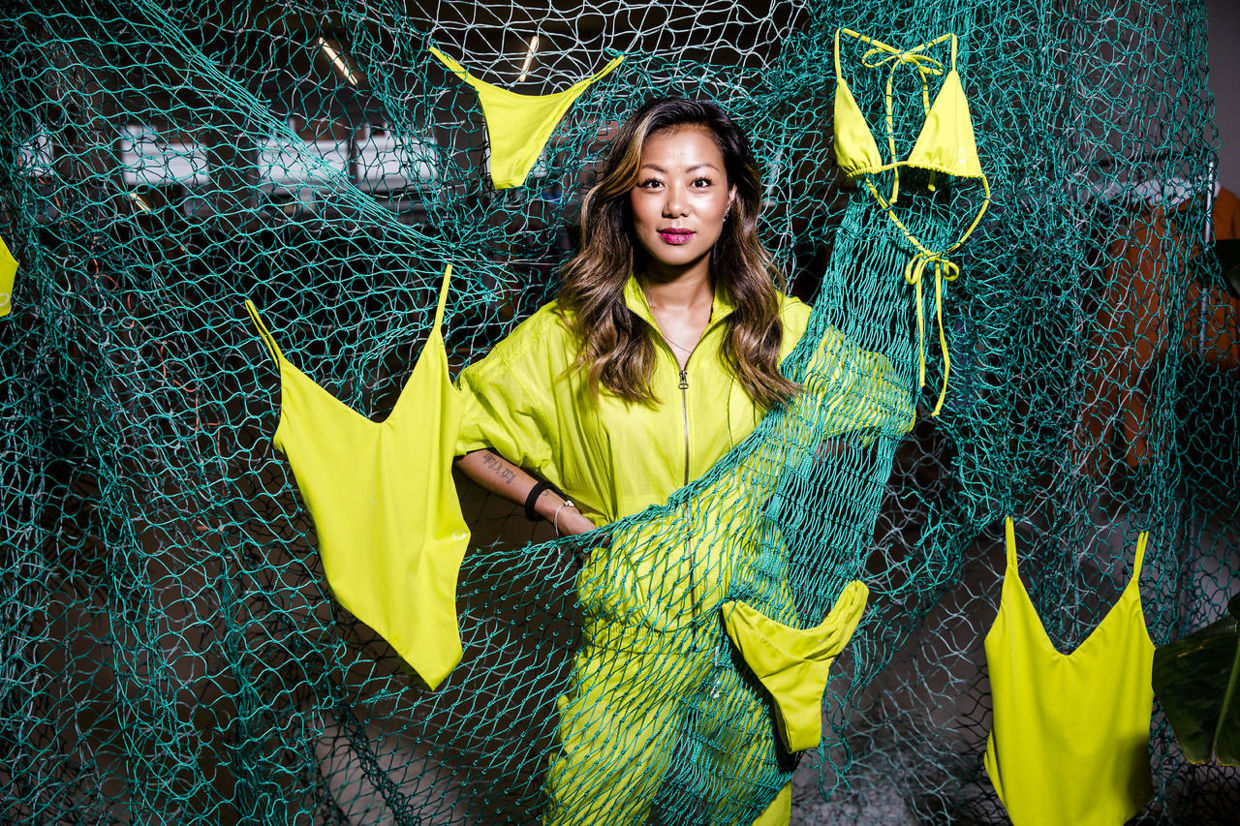 It's pretty common to have seaweed left sticking to your legs after taking a quick dip at a Danish beach. But when Katrine Lee Larsen was diving and surfing in the waters around Bali, plastic bags were what stuck to her body. This was the beginning of a journey in a sea of plastic where she has kept her head above water ever since.
"It's nice to be back. I have spent countless hours here," Katrine Lee Larsen says nostalgically with a big smile on her face.
It has been four years since the last time she walked along the halls at CBS. Back then, she was studying for a cand.merc.(kom.) degree, and although learning about business economy, communication and marketing piqued her interest, she didn't really know what she wanted to do after graduating.
Today, Katrine Lee Larsen is a 33-year-old entrepreneur who produces swimwear from fishing nets that have been discarded in the sea. As a girl wearing a cap, jeans and T-shirt, she had never imagined a career in fashion. But after moving to Bali just two weeks after her graduation from CBS in 2016, everything changed.
A mark in the mind
As long as Katrine Lee Larsen can remember, she has always felt very attached to the ocean. She grew up in Herning, Jutland, and whenever she had the opportunity, she went to the North Sea to practice her favorite hobbies, surfboarding, wakeboarding and diving.
Therefore, when she was offered the chance to move to Bali and work for a year, she jumped at it without hesitation. The thought of white sandy beaches and crystal-clear water around the Indonesian island was a dream come true.
But, when she arrived with her surfboard and diving mask at the picture-perfect beach, everything was not as perfect as she had imagined.
"When we go swimming in the sea around Denmark, the water can be filled with seaweed, which some people find pretty nasty. But in Bali, the water is so full of plastic that when you get out it's not seaweed but shopping bags and beer can wrapping that are left sticking to your body," Katrine Lee Larsen says.
The plastic contamination was not just an issue underwater. Katrine Lee Larsen could also observe the problem without a diving mask on land, where the ocean currents seemed to be bringing all the garbage from Indonesia over to the coasts of Bali. So to her, the problem was obvious.
"Therefore, on my trips to the ocean at Bali, I really experienced the consequences of plastic contamination, which began leaving an indelible mark in my mind," she says.
Plastic swimwear
The mark that the trips to the ocean in Bali had left in Katrine Lee Larsen's mind remained even back home to Denmark, where she began investigating if she could find a productive and sustainable way to utilize the plastic as an already existing resource.
Her research revealed that the plastic bags and straws floating around in the oceans are not the only major problem. Discarded fishing nets are another prime culprit. Besides getting wound around sharks and whales, they also destroy coral reefs and gather plastic garbage while passing through the oceans, which results in enormous floating garbage islands.
And after talking to a NGO that helped her getting in touch with the right people and production companies, Katrine Lee Larsen was no longer in any doubt about what to do with her career.
"I found out that I wanted to produce sustainable swimwear. I thought it made perfect sense to take the garbage from the oceans and turn it into something that you can wear and bring back into the water again in a much better way," she says.
This was when she established Copenhagen Cartel. A startup company that produces swimwear made from waste plastic and fishing nets that have been lost or abandoned in the ocean.
Katrine Lee Larsen now had a defined purpose for her new business. She wanted to make an impact on marine pollution. What she didn't have, though, was a sense of fashion and practical business experience.
"To begin with, I literately had no qualifications whatsoever to succeed with my mission. I'm a jeans-and-T-shirt kind of girl, and I don't know anything about fashion. Furthermore, I had primarily worked with marketing, so I had no real experience of production, inventories or stock control," she says.
The spearhead of the firm
Nine months have gone by since Katrine Lee Larsen officially launched Copenhagen Cartel. During that short period of time, she has already caught up and learned a great deal more about fashion and production.
After only a couple of months, the first swimsuit collection was more or less entirely sold out, and now, she has hired a friend and has a whole team of volunteers behind the scenes ready to lend a helping hand.
And those helping hands are of great importance to Katrine Lee Larsen, because as she says herself, she's an energy bomb that kicks in doors and sees the big picture, rather than focusing on the details.
"I'm a person with enormous amounts of energy. When listening to lectures at CBS, I had problems with sitting still. I need to actively do something and change things," she says and continues:
"I think and work in a holistic manner. I'm not occupied with details. That's why I have hired a team to pick up the pieces behind me while I'm running around and kicking in doors".
Being a very ambitious and energetic person who, according to Katrine Lee Larsen herself, can also tend to be a bit big-mouthed, might be a disadvantage to some. And although being the person that she is has sometimes ruffled some feathers, she mainly sees it as an advantage.
"I'm the spearhead of the firm. The one who dares to be loud-mouthed and say controversial things. This also means that I'm the one who sometimes gets a rap over the knuckles. But that doesn't matter, because compared with what I gain from sticking my neck out, it's all worth it!" she says.
"If I can do it, anybody can damn well do it!"   
Katrine Lee Larsen talks nineteen to the dozen, and this seems to reflect her passion for her work. And when asked what drives her, she talks a lot about the importance of having a purpose with what she engages herself in.
"When I stumble on something that's wrong or obviously not working, I can't stand idly by. Then at least I have to attempt to make a change, and that's what keeps me going," she says.
Indeed, Katrine Lee Larsen doesn't stand idly by. She uses all her waking hours on working. During the day, she works for the Fintech company Lunar, while at night she focuses on Copenhagen Cartel. This amount of work is, of course, at the expense of romance and her social life. But for Katrine, the workload pays off.
"People keep asking me if I'm not on the verge of dying from stress, and my answer is always no. It's actually quite the reverse. It gives me a lot of energy to make an impact on the world in areas where it makes perfect sense to me," she says.
However, she knows the boundaries of the impact she makes. Especially with Copenhagen Cartel.
"I'm completely aware that my swimwear won't save the oceans from plastic pollution. But at least I'm contributing with something that points in that direction."
Besides helping to make an impact on saving the oceans, the personal victory of creating a successful startup with very little practical experience and knowledge about fashion seems to be the major achievement for Katrine Lee Larsen here, four years after she left CBS.
"What's most important for me is showing the world that I – little Katrine who had no qualifications to succeed with a fashion brand, through blood, sweat and tears, lots of passion and Google searches – have successfully started a business that's running well," Katrine Lee Larsen says and concludes:
"And if I can do that, anyone can damn well do it!"